Welcome to a new series on Stats By Will titled Restart Reviews, where I'll be discussing a game from the previous day or two and going in-depth on its result. The goal is to post these three times a week, with next week's edition(s) likely featuring multiple games in each. There will be GIFs, stats, and all of the general moods and feelings you likely expect by clicking on this site. I hope you enjoy.
July 31: Orlando Magic 128, Brooklyn Nets 118
Friday's fixture is the least exciting of these three games. The Orlando Magictook control of this game midway through the second quarter, pushed their lead to as many as 30, and coasted as the Nets (read: Timothe Luwawu-Cabarrot) hit a bunch of shots after the outcome was decided. However, the first half of this game – in particular, the wildly fun first quarter – was pretty great stuff! For about 15 minutes, this game was an offensive show between the surprisingly white-hot Magic: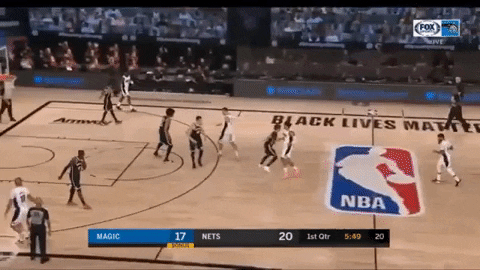 And the Brooklyn Nets: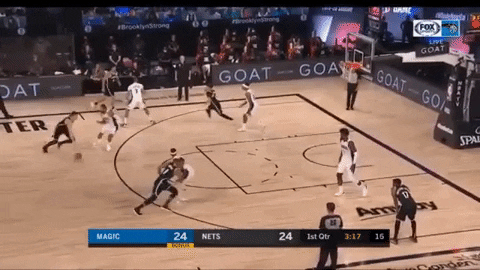 In the first quarter, the Nets posted an astounding 1.5 points per possession; the Magic, 1.39. The Nets were hitting everything in sight, and the combo of Caris LeVert (17 pts, 7 assists) and Jarrett Allen (14 points) had things rolling. The Nets' main lineup stayed fairly strong, posting a 1.217 PPP on 23 possessions in the game and coming out at just -4 in about 11 minutes of action.
Nothing perfect, obviously, but when the rest of your team is very much a work in progress, you take what you can get. The Nets' offense looked better than I think anyone would've anticipated, getting a lot of good looks and hitting a decent amount of them. On a normal defensive night, their offensive outing may have been enough to deliver a win. The issue: every single defensive lineup Brooklyn tried got smoked by an out-of-nowhere white-hot Orlando offense.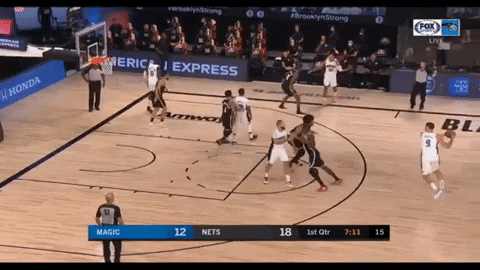 The Nets let the Magic convert 16 of 19 attempts at the rim, and very few of them felt seriously challenged. With no DeAndre Jordan or Taurean Waller-Prince and Jarrett Allen only getting 26 minutes, the Nets spent a large portion of this game without any serious rim protection solutions on the court. Allen is a solid defensive player, but he's the only true center the Nets have on the active roster. When he hits the bench, it's very, very easy to score on this team in the paint.
Along with that, they had pretty much no answer for the Magic's ball-screen game. The Magic run various sets with Nikola Vucevic as the roll man and any of Evan Fournier/Markelle Fultz/D.J. Augustin running off of his picks. They're typically moderately successful when running them – nothing spectacular – but the Nets couldn't stop any of it at all in this one, no matter whether it was Fournier stepping back for a wide-open three:
Or Vucevic rolling off of the action for an easy two: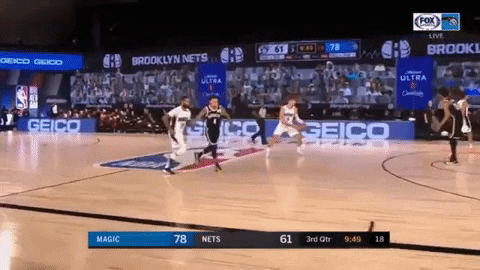 The Nets' only fix for this, at least temporarily, is either to hope that Jarrett Allen can play 35+ minutes in important games or that there's some sort of small-ball lineup that could work for long enough to give Allen some form of rest. Allen is not the most nimble player, but he's pretty good at forcing opponents to pull up before the rim and offers a good amount of skills on both sides of the ball.
The Nets could do this with a couple weird lineups: LeVert and Joe Harris both have to be out there, as does Garrett Temple. If he's hitting shots, you can play Timothe Luwawu-Cabarrot. Then, pick whoever you dislike least among Rodions Kurucs and Dzanan Musa. A lineup with four of those plus Tyler Johnson went for 21 points in 16 possessions in this game! Either way, the Nets are likely to get dismissed from the first round of the playoffs very quickly, and any scenario where they draw the Bucks makes it very hard to envision them winning even one game.
On the other hand, the Magic have looked oddly excellent through two wins against the Nets and the Kings. I don't think anyone thinks this team can win a playoff series, but this small sample size aids me in remembering why I thought they'd be a potential 5-6 seed in preseason. When the Magic hit shots the way they did in this one, the offense makes more sense. Any Steve Clifford-coached team is a fairly reliable choice to play above their means defensively and make life a little harder on opponents, but the Magic offense had been a brutal watch this season. It's possible they've blown two amazing performances in games that aren't the playoffs, but hey, better late than never. I don't think the shooting here is sustainable, but getting to the paint as often as they did, along with their low turnovers, are. If they find a way to sustain this offensive run, this is a team capable of pushing a 2 seed to a six-game series.
August 1: Indiana Pacers 127, Philadelphia 76ers 121
A game that probably ranked third on my personal radar ended up being the best on Saturday. For all 48 minutes, Sixers/Pacers was close and furious, a battle between a known star and a wildly hot role player en route to a game far higher scoring than anyone had the right to anticipate. Like, think about it this way: if someone told you Myles Turner and Victor Oladipo would only play 50 minutes and combine for 30 points, would you have expected the Pacers to have any chance at all in this game?
Enter T.J. Warren.
Warren had the game of a lifetime, scoring 53 points on 29 shots and hitting shots from everywhere on the court. It was one of the most shocking, unreal performances I've seen in years. Warren scored on every single defender the 76ers tried, and God forgive them for probably having him third on the list of potential Pacer threats. No Sabonis, no Brogdon, no problem; Warren was roasting Ben Freaking Simmons every single time the two were matched up to the tune of a 9-for-10 shooting performance against him. (Versus everyone else: a still-fantastic 11-for-19.)
No other Indiana player really stood out, though Aaron Holiday had some really good plays, including this nice pass to Warren (who else?) for a layup:
There's not as much that you can take from this game for the Pacers, other than the phenomenal Warren outing. Victor Oladipo was mostly a decoy in this one, though he did get 14 shots up; Myles Turner only played 20 minutes; Sabonis and Brogdon were unavailable. JaKarr Sampson and T.J. Leaf combined for 28 minutes of playing time, which should not happen in any non-blowout playoff game. You can't take much from the shooting outing, really; it was mostly Warren-driven, and the non-Warren three-point attempts had a 5-for-22 success rate.
There was simply much more at risk and at stake for the 76ers. This Philadelphia team, from July 2019 to now, has always had the level of talent necessary to make a deep run in the playoffs. They have one of the five best rosters in the league, the second-best roster in the Eastern Conference, and, had they figured things out from October to March, be in a fairly comfortable position right now. Nothing at all is comfortable for this team. Joel Embiid had an amazing performance, with 41 points and 21 rebounds:
But it didn't matter, because the team around him is a chemistry experiment gone wrong. Embiid roasted Shake Milton in-game during Milton's first-ever start for a defensive lapse and it predictably went very well:
The 76ers gave up 127 points in 103 possessions and gave up 53 points to a player who'd never scored more than 40 in a game before. T.J. Warren is a good player, but he's no star, and any time you give up 50+ to a non-star, you've got a real problem. This team has never looked together at any point, and now, they're staring down being the 6 seed in a conference they hoped to be co-favorites in at the start of the season. The disparity between the On-Paper Philadelphia 76ers and the In-Game Philadelphia 76ers is as stark as any I can personally recall.
In this game in particular, the Sixers owned the boards, got an amazing 90 combined points from Embiid, Simmons, and Tobias Harris, and it was all meaningless because they lost the turnover battle by 11:
When you do stuff like this, it's not gonna be a fun time.
That said, there were some small positives to take away. The Embiid performance was fantastic, and it's always great to get offensive outings like the Sixers got from Harris and Simmons. (Simmons may seem like a strange inclusion here, given that he scored 19 on 14 shots, but he also picked up four offensive boards and had four assists. It was a good night for him on one end of the floor.) The main two lineups the Sixers ran out featuring Josh Richardson/Embiid/Harris/Simmons went for 53 points in 44 possessions (1.204 PPP) and got a ton of good looks.
Shake Milton's much-hyped inclusion into the starting lineup went…okay. Milton didn't do anything in terms of scoring, but he did create more offensive space for the Sixers, and it showed:
That said, he's probably the worst defender on Philadelphia's roster, and any time he was in, Indiana looked to target him with various options. Milton's opponents shot 7-for-10 against him to the tune of 18 points, which is why he only played 19 minutes and didn't see the court a ton in the fourth quarter. Until he picks up his defensive game to match what he can provide offensively, there's not going to be an ideal solution available for this team.
Unless the new Big Three of Embiid/Harris/Simmons can consistently Be There every night, there is no possible deep run for this team. They have somehow aged Al Horford five years in one, have no serious bench depth to be proud of, and seem to be running the same offensive sets they've ran the entire Brett Brown era. (I finally understand Philadelphia fans' frustration with him.) When Embiid was on the court in this one, the Sixers were +21 in his 34 minutes; you'd think this would be an easy win. They were -27 in 14 minutes when Embiid was benched. That sort of disparity should never happen to a serious contender. This isn't a serious contender, unless we're talking "serious contender to win one playoff series."
August 2: San Antonio Spurs 108, Memphis Grizzlies 106
Most of the way through, the Spurs controlled this one, and it felt like they were consistently on their way to a 5-8 point win. Then, the Grizzlies got hot at the right time, and suddenly, after this amazing Jaren Jackson Jr. heave of a three, it was 106-106.
Regrettably for the Grizzlies, though, they couldn't push this to overtime. DeMar DeRozan drew a foul from Dillon Brooks, hit both free throws, and Jackson missed a three at the buzzer to end this one. San Antonio is somehow 2-0 and Memphis 0-2 in the bubble, and now, it's San Antonio that's in the seat for the 9 seed. A team that most had written off pre-Orlando may yet extend its eternity-long postseason streak another year; in the strangest year of all, continuity reigns supreme.
For Memphis, this is the loss that isn't a big deal but probably should feel like it. It's pretty likely, barring a Pelicans run, that Memphis will end up playing one of San Antonio or Portland in the Western Conference play-in tournament. For them to have lost to both teams in the first two games of their bubble experience is fairly troubling. In both games, the opponent mostly controlled the run of play, though Memphis did hold multiple-possession leads in the third and fourth quarter of the Portland game. The Portland game was a better offensive outing; the San Antonio game better for defense. Neither was enough to get them over the hump, and now, the Grizzlies have to find a few wins against a really tough schedule: the Pellies, Jazz, Thunder, Raptors, Celtics, and Bucks all remain. A 2-4 run among those six is the most likely outcome, and a 2-6 start in the bubble could possibly lose them the 8 seed.
Anyway, Ja Morant was positively fantastic in this game.
Morant was the best player on the court, nearly nabbing a triple-double with 25 points, 9 rebounds, and 9 assists. The only person who slowed Ja down in this one were the players missing shots from his passes. A top-level Morant performance will be absolutely necessary in any Grizz play-in game, as will be high-end outings from Jaren Jackson Jr. and Brandon Clarke (who was kind of bad in this one).
Memphis shot just 7-of-30 from three in this one; even one additional make would've won it for them. I wouldn't be as worried at the percentage here as I would be worried that they didn't take a high percentage of them in the first place. JJJ, who had 15 attempts against Portland, only had three deep shots in this game prior to the final 15 seconds. The team's leading presence from three was Grayson Allen of all people, who had a rare good performance:
They can't rely on that to happen often. JJJ needs to be more aggressive from downtown, as he's probably the team's best three-point shooter. Another area where he, and the Grizzlies as a whole, have got to be better: the boards.
I mean, it's brutal. The Grizzlies got worked on the boards in this one, allowing 12 OREBs to barely picking up three themselves. Jackson, Jr. is not a good rebounder, and it's not his game, but the team as a whole badly needs to find a solution here before their season ends earlier than they'd like it to. It's not as if the Spurs are even a great rebounding team, but they had possessions like this one today that had to be infuriating for Memphis lovers:
Far from ideal, certainly.
For the Spurs, this is a weird win they'll take. They didn't shoot well and they lost the turnover battle, but as detailed above, they got far more second-chance opportunities and got 15 more free throws despite significantly fewer close-range attempts. (Grizzlies fans could have an issue here, but I'd have to run a rewatch to make sure.) However, they simply can't take as many long-range twos as they took in this one. San Antonio took an astounding 23 long two-point attempts, hitting only nine of them. They hit 12 of 29 three-point attempts. Why not take a few more threes instead? It'll help them overcome nights where they aren't doing quite as well on the boards or in free throw disparity.
Also, I was pretty intrigued by how well San Antonio stuffed a lot of what Memphis wanted to do in this game. Memphis had to take 26 short-range twos, AKA shots that aren't layups or dunks but also aren't 15+ footers. These aren't terrible shots, but I was impressed that the Spurs forced Memphis to take far more of these than they probably wanted. They hit 15, so that's tough for the Spurs…but then again, San Antonio contested a lot of Memphis three-point attempts and held them to a 7-of-30 outing. It worked out fine in the end.