January 26: #18 Tennessee 78, Florida 71 (14-5, 5-3 SEC)
January 29: Texas 52, #18 Tennessee 51 (14-6)
And I saw Sisyphus at his endless task raising his prodigious stone with both his hands. With hands and feet he tried to roll it up to the top of the hill, but always, just before he could roll it over on to the other side, its weight would be too much for him, and the pitiless stone would come thundering down again on to the plain.
Here is the final play of Saturday's game with precisely 3.4 seconds on the clock. Zakai Zeigler takes the inbound, uses his Jared Harper-like speed to get down the court extremely quickly, and goes into the final play. Right here, right now, Zeigler is stopped as he touches the top of the key. With Nkamhoua trailing by way of receiving the final inbounds pass, Tennessee is playing 4-on-5, but look at the attention Zeigler draws. This turns the play into a 3-on-2.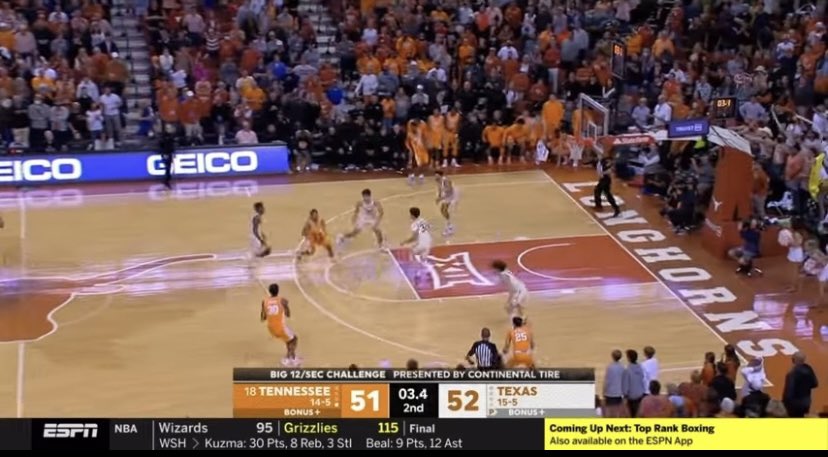 Two players are covered up: Victor Bailey, Jr. in one corner, Santiago Vescovi in the other. Would I have had Bailey on the court? Probably not, because Justin Powell is objectively better. But Justin Powell did not tie the game with a genuinely spectacular rebound and putback, so I get why Bailey is there. When Zeigler pulls up at 3.4 seconds to pass the ball, the highest-quality option on this play, as this screencap suggests, is Josiah-Jordan James for an open three on the right wing.
For his career on this shot – a three-pointer of any kind on the wing – James is a 31% shooter. For his career in general, James is a 31% three-point shooter. For his career on catch-and-shoot threes of any kind, James is 31% from the field. He is remarkably consistent, if nothing else. Yet some context is needed. When James receives the ball, he has scored eight of Tennessee's 16 points as part of a 16-0 run that turned the game from a 51-35 ball of pathetic annoyance to a 51-51 ball of I Am Actually Laughing. He is 3-for-6 from three; every other player on the team combined is 2-for-11, including partner Vescovi, who is 0-for-5 from deep and 1-for-8 from the field.
James receives the ball. Here's how it looks with 2.7 seconds to go.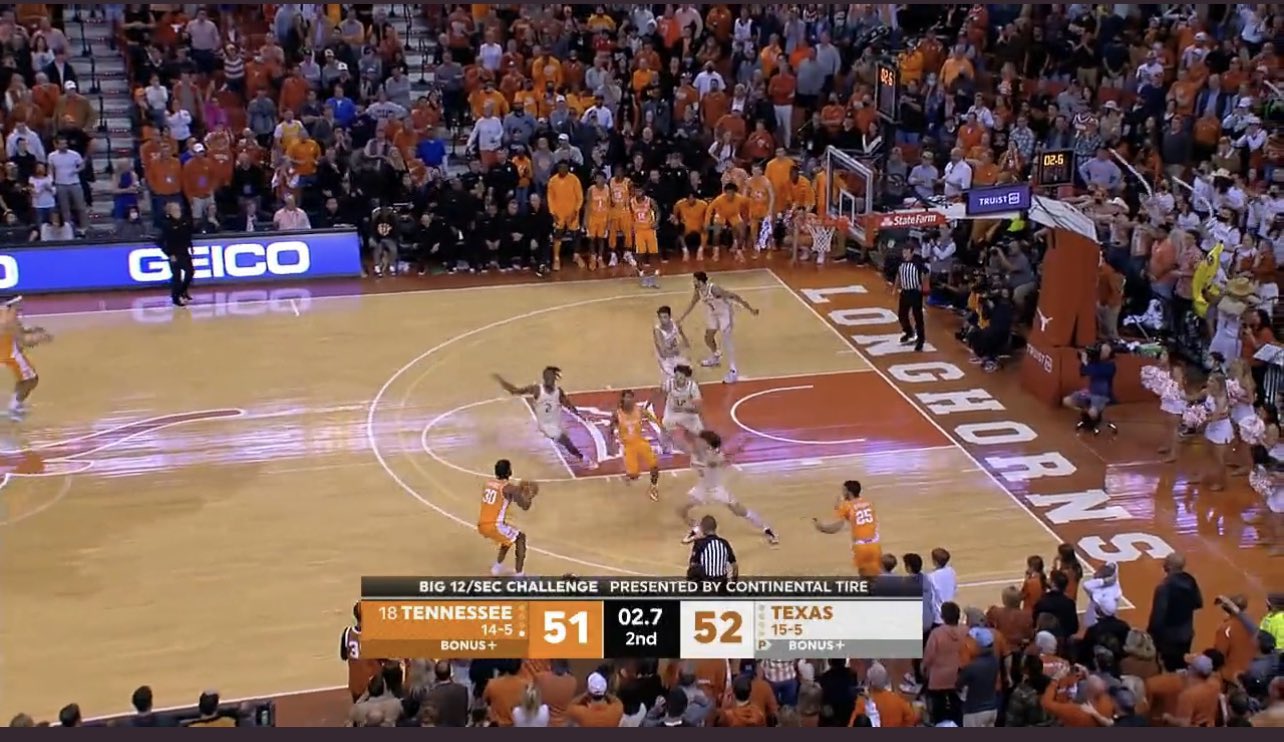 When James starts his shooting motion, I would charitably say that the closest Texas defender is five feet away. In the study Jimmy Dykes showed during last week's LSU game, Tennessee had been shooting roughly 38% on any three where the defender was four feet or further away. James could have passed this to Vescovi, which I would've been fine with, but at that time, the Texas defender (Devin Askew) is closer to Vescovi than James.
The final play, which Rick Barnes drew up out of a timeout, gave Tennessee's best three-point shooter on the night a pretty open look. People online keep screaming "YOU DON'T NEED A THREE!" or whatever. I suppose they are factually correct. Zakai Zeigler could have taken his little body, plowed directly ahead into three players of oncoming traffic, and either attempted to draw a foul that may or may not have been called or tossed up a floater over triple coverage. Considering that Zeigler has attempted all of four floaters this season, maybe you're right. Maybe that is the right call: a shot that Tennessee's roster as a whole hits 41% of the time, or 0.82 points-per-shot.
Or maybe the process of the play provided the best outcome it reasonably could have. If James gets the ball to Vescovi, great. Take off a second for the pass, take off an additional 0.5-1 seconds for Vescovi to get into his shooting motion. Vescovi reasonably gets that shot off with 0.7 or so seconds left, and maybe it goes in. Fine, luckfarts happen, whatever. But Tennessee did that exact same thing in this exact same game two months ago and everyone pretended they hated it then because "YOU DON'T NEED A THREE!"
That was on a night where the entire team shot at the rate the non-James players shot against Texas.
Because neither of these shots went in, everyone hates them, and everyone wants Rick Barnes jailed for some sort of crime against humanity. (Let it be known that Chris Beard should be held equally accountable for an offense that turned it over on a third of their possessions.) Because no one can seem to understand that the process is fundamentally different than the result, and the process can be good even if and when the result is bad, and the process can be bad even when the result is good (remember when a certain beloved player who shot 30% from three his final two seasons somehow made a fadeaway three to beat VCU?) we are here yet again. And boy, what an absolute joy it is to write about it.
---
The good news is that Tennessee overcome what felt a little like a luckfart game in midweek against Florida. It's the exact kind of annoying slop you have to get through to achieve an SEC Tournament double-bye. I no longer have delusions of grandeur that Auburn is somehow going to blow the 1 seed; that seems very well locked up. The more interesting thing is that Tennessee still remains on track to battle Kentucky for the 2 seed. While neither side would admit it, it benefits both to simply avoid Auburn as long as they have to.
The process of Tennessee's midweek game against Florida was pretty fantastic. In that one, Tennessee got off 21 catch-and-shoot attempts; 12 were deemed unguarded by Synergy, which was genuinely surprising and positive against a Florida defense that hadn't allowed that many open three-point attempts in months. Tennessee deservingly had their best day from deep in some time.
That Vescovi open three was the result of Justin Powell, of all people, driving to the lane and dishing it to the corner to the best shooter on the team. Florida and Texas have fundamentally different defensive structures that result in much different outcomes, but in this game, Tennessee's roster simply knew where to strike to create good processes that resulted in good, happy outcomes.
The funny thing about all of what's happening with Tennessee basketball right now is that immediately after I described them as the kings of slop, they went out and produced the most watchable SEC game they've played in since 2018-19. Florida/Tennessee would've been a blast to watch if you were a neutral fan, or if you simply were unaware that Pat Adams was in existence. All sorts of great shot-making; all sorts of quality individual play. Tennessee played really good defense for most of this game and still got a test they probably needed after shutting down LSU. I liked it!
I think I would like it more, though, if Tennessee simply never receives Pat Adams for a basketball game again. For the first time ever Wednesday, my little brother (a freshman at Tennessee) and I attended a Tennessee basketball game 'together.' Well, he's in the student section and I'm in the upper deck where I hear what I assume to be an otherwise-sweet child yelling "BOO VOLS! GO GATORS!" in the middle of every free throw attempt, but whatever.
I bring this up because with two minutes left, I made plans to meet up with him after the game to say hello. That was at 7:56 PM Eastern. The game ended 26 minutes later. This is not a sustainable thing. If the SEC wants to get calls right, that's fine, I get it. But the SEC must find a way to both 1) Get calls right; while 2) Doing it in 30 seconds or less. We do not need full two-minute timeouts for every review. We do not need to hand both teams a chance to get a breather. We can surely officiate a game correctly – which Pat Adams did not do – and surely get in and out of an arena in a reasonable span of time. Maybe next year, when I'm reminded again that being a member of this conference Just Means More.
---
Here are the last 32 Elite Eight teams and how they ranked on KenPom on January 30.
That is a long image. Here is the point: of the last 32 teams to make the Elite Eight, 12 ranked outside of the KenPom top 15 on January 30. 10 had either an offense or defense that ranked outside of the top 50 nationally. The #1 team made it every year – hello, 2021-22 Gonzaga – but #2 had a 50% success rate. #5 made it once. #6 and #7, supposedly both on track for the Elite Eight, went a combined 0-for-8.
It is a long season that culminates in a tournament where you have zero control of your strength of schedule after the first round. Weird stuff happens every single year. Upsets happen every single year. I would advise not pulling the ripcord until the ripcord has been pulled for you, especially when the operators of the ripcord are currently 13th on KenPom.
---
Various notes and stuff that didn't make it in:
Ban 6 PM weekday tips. On a normal day with no game, my wife and I live 20 minutes from the University campus. We left home at 4:57 PM ET, the earliest we could leave. We did not park for the Florida game until 6:07 PM ET; we did not enter the arena until 6:18. I understand that television decides everything now. I understand that money is money. I also understand that doing this horse[REDACTED] to fans for another decade is going to lead to a whole new wave of articles about Why Fans Have Stopped Attending College Sports Events in 2032.
All that said about Pat Adams, Tennessee did get the normal home whistle. Everyone has seen Josiah-Jordan James obviously fouling a three-point shooter and somehow not getting called for it, but there were a few other things Tennessee got away with. The foul differential settled at Florida +3, which is pretty much average for a game involving Pat Adams.
Plavsic minutes, we hardly knew you. Fulkerson played his way into the game-closing lineup against Florida in a deserving manner. Tennessee went with James/Nkamhoua as the closing frontcourt against Texas, which is something I've only been asking for since November. Uros will have good games here and there, but I think I overreacted last week. That's on me.
Texas shot extremely well and still only scored 52. That is wild! Texas posted a 63.5% eFG%. They still somehow only managed 0.918 PPP. That's the lowest offensive efficiency of any team in 2021-22 with a minimum of a 63% eFG%. Tennessee had to deal with an outlier shooting night from three for Texas and still nearly won.
A team finally forced Tennessee back to 2020-21. Part of why the Texas game was frustrating as it was: the play-by-play stats credit Tennessee as taking 18 non-rim twos. I think these were more of the hook shot/floater variety than anything with mid-range jumpers, but it helps explain why Tennessee had such a hard time finding points. Texas really did play a terrific defensive game for 35 minutes.
Zakai Zeigler has earned a starter-level role. After last night, Zeigler now sits in a virtual tie with Justin Powell for fifth on the team in PRPG!, Bart Torvik's all-encompassing Points Above Replacement stat. He's third in box plus-minus. The team is 6.8 points better with him on the court than off, per Hoop-Explorer. The closing lineup should be Chandler/Zeigler/Vescovi/James/Nkamhoua until further notice.