Hello! This is not a post about basketball. That will come later. This, in its own way a recap of the last season of my life, feels more important to get out in a timely fashion.
It was maybe 90 minutes into the drive home from Indianapolis on Sunday morning when I saw this:
And I smiled. I don't know why I smiled; I guess you see something you saw a bunch when you were little for the first time in years and you smile. It was the same reason I left the hotel that morning after my dad yelled "WHO'S GOT IT BETTER THAN US?" as he left the parking lot and I nearly cried. I smiled then. I smile now writing this. I might smile every time I think about this water tower, because it was a virtual halfway point of the drive from Middle Tennessee to suburban Detroit every time we made that drive when I was younger.
The Florence, Y'all tower was an accident. The tower, originally constructed in the 1970s, read Florence Mall, an advertisement for the new mall being built in Florence, KY. Back when malls still held actual importance for shoppers in America, this was probably an effective way to let travelers now you had a mall in your town.
There is one problem: apparently you cannot advertise something that does not exist. (Hasn't stopped many others!) The state told Florence they couldn't keep Florence Mall up. Then-mayor C.M. Ewing worked with locals to come up with new ideas. They had to get an idea submitted before severe fines were implemented. Ewing came up with a simple fix: why not blot out the M, turn it into a Y, add an apostrophe, and make the sign say Florence, Y'all? A fix that cost the city $472 ($2,294.38 in 2021 dollars) has stayed in use for 45 years now and has convinced many a traveler to stop in Florence.
The mall itself is still standing 45 years later. I don't know what point I'm trying to make here. It could be that the simplest of fixes, whether it's turning an M into a Y or making more than six three-pointers in a 40-shot sample, could be the cure to your problems. Your problems may be deep. Your problems may be many. And yet: FLORENCE, Y'ALL is always waiting for you to show you just how easy it might be to dig out of the hole.
---
I think at this point, if you are a Twitter user, you know why I was in Indianapolis. The Big Ten football championship was held on Saturday evening, with Michigan and Iowa participating. Michigan is the team I went to support. Because I get asked about this by seemingly every person I have ever met, here's your explanation.
My father is a Michigan alumnus. For the last 19 years, ever since I found out where he went to college, I have at least been interested in Michigan football. It is hard not to be. The winged helmets are beautiful; the stadium is massive; the play was, generally, pretty good. They were always on TV, because This Is Michigan and whatnot. At the same time, my grandfather was, for a long time, one of the biggest Tennessee athletics fans I knew of. I can remember watching Tennessee football games with him as early as age 7 and listening to a Buzz Peterson-era basketball game on the radio. We didn't miss many games from either sport, if any.
In my youth, I rebelled against my father many a time. I was so much older then; I am younger than that now. Part of this was pretending to not care as much about his rooting interests and more about the ones that I, the Protagonist of History, had developed. I liked the Tennessee teams. I supported all of the ones from here. I still liked Michigan athletics and watched as many games as I could, but it was secondary. I aimed to keep it that way.
It was this way until I moved away from home to attend Tennessee. That was ten years ago now; we were never very good at talking to each other when I was there and it didn't become easier when I wasn't. The only thing you have is to lean on those existing connections, the ones you found common ground on in the first place. The ones that gave you the love you had and still have.
My freshman year at Tennessee, Michigan football made the Sugar Bowl after a horseshoe-up-the-rear season and I went with my dad because I knew it meant a lot to him. My sophomore year, at home for spring break, Trey Burke made a 35-footer that sent a Sweet Sixteen game with Kansas to overtime; I leapt into my dad's arms and we nearly brought down a light fixture. Every week for the last eight years, during various sporting seasons, my father and I have discussed some aspect of Michigan athletics (and Tennessee, yes, stop asking, I support both sides) and it has been what we've leaned on.
It is why I immediately FaceTimed him after Michigan's defeat of Ohio State on Thanksgiving weekend. I have known my father for 19 years; those 19 years, prior to two weeks ago, had seen one win in the greatest rivalry college football offers. 42-27 felt like a new future, one that proves sports can still provide joy and hope and bliss in the least-joyhopeblissful of times. It wasn't a question of if we'd go see them play in Indianapolis; it was a question of when we'd get there.
As the seconds ticked down in Indianapolis, I looked over at my father and I realized something: this man smiled all day long. He never stopped smiling. The excitement radiated off of him for four hours and never ceased. It's like looking at Florence, Y'all up close.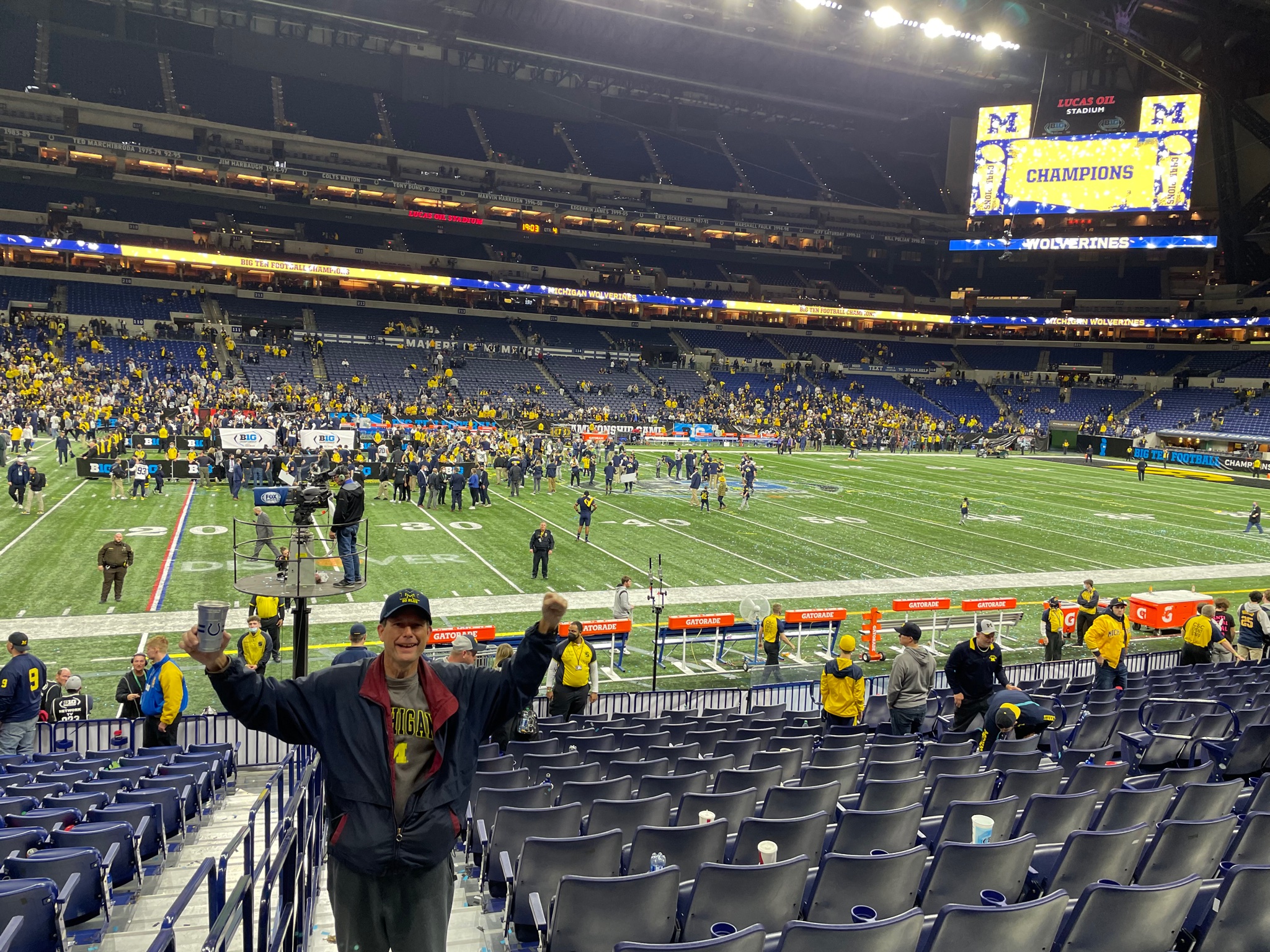 Looking at this picture, I think about all of the games I have watched with him, whether in HD or from section 410. A scant few have resulted in even somewhat-meaningful wins; only this game truly represents something that will matter for decades to come. But even one was enough. It will forever be more than zero. December 4th, 2021 will be a day I remember for the rest of my life, because it took 28 years to get just one and you never know when a second will arrive.
---
Any drive that starts in Tennessee and ends in Indiana has a severe upper limit on excitement. Mostly, for me, these drives are built around attempting to spot Meijer locations, because they're the ones that remind me most of going to the grocery store with my grandmother. But I think about the more subtle shifts of these drives, too. It is not just terrain; it is going from seeing Weigel's and Pilot to Thorntons and Casey's as your gas station options.
There is something about the terrain, though. It flattens out and becomes cornfields, farms, etc. for miles upon miles at a time. The stark, gray Big Ten sky clashing with the post-harvest field below is an image burned into my brain by all of the road trips we took growing up. The cold is merely a thing you have to embrace and believe in. To be able to do this one more time with my father is a joy. We didn't share the same car beyond driving to and from the stadium on Saturday, but it was as if we were with each other in spirit. He sent me this yesterday afternoon with the caption "back at ya."
I don't know what happens next. I don't know if Michigan ends up winning the national championship in football and, for the first time in my sports fandom, I see a team I support win the title in their sport. They certainly aren't the favorite to do so. But it's also something I no longer care about. They've already accomplished so much, and every week, I've been able to talk about the games with my dad and keep our connection alight. I think that is more important to me than the championship now.
Unlike when I grew up, we don't get to watch all of the games in the same house anymore. I'm rarely able to see more than perhaps 2-3 games a season with him. Yet this year, it felt like we were in the same house again, every week. The very first game of the season, when Michigan played Western Michigan University, I told him that I was ready to quit watching college football permanently. Prior to the last month-plus, I haven't felt any joy or sustained interest watching this sport in a few years, and truth be told, I still barely watched any college football prior to mid-November that didn't involve Michigan or Tennessee. It's definitely sour grapes, but can you blame me – us – for being tired of the losing? For being tired of every single season ending with zero surprises? For pivoting all the way to a sport in college basketball that never has two seasons unfold the same way?
His response was this: "You've got to invest. Even if it kills you, just invest in one team, because it's still worth it." It was. It is. It forever will be. For three months in 2021 and 24 hours in Indianapolis, I've felt like the wide-eyed child that loved sports in the first place again. It's all thanks to my father, who will conspire a DDOS attack once he finds out I have posted pictures of him on the Internet. It's still worth it.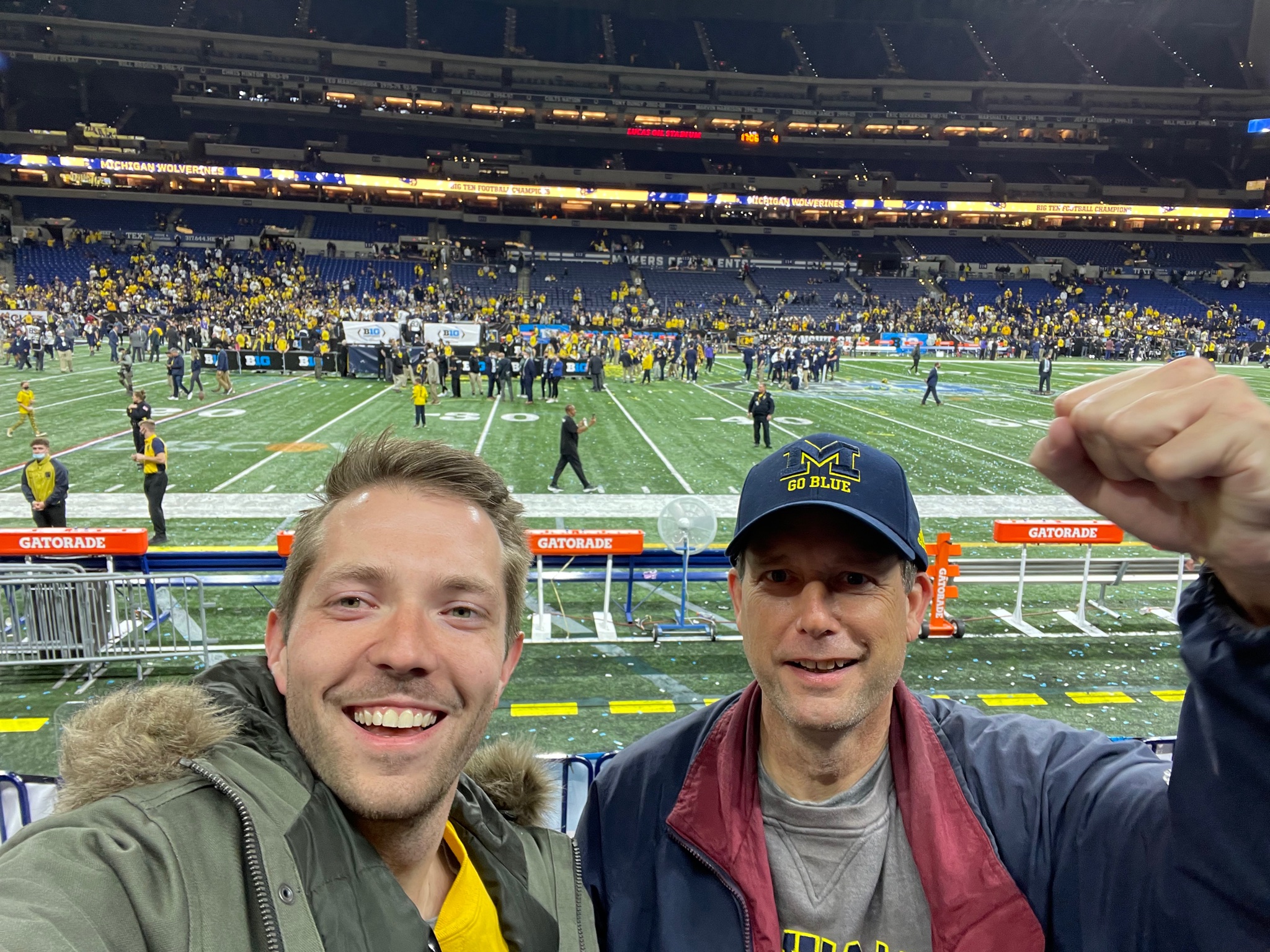 It was all worth it, all this time.
Tennessee basketball coverage will resume tomorrow. For now, I'm taking a day off of fandom and job requirements to simply be happy.