Welcome to a new series on Stats By Will titled Restart Reviews, where I'll be discussing games from the previous day or two and going in-depth on its result. This week, to celebrate the final few days of the regular season restart, I'll be putting up a new post every day dissecting a game from the previous night. This is the last of the multi-game posts for now. I hope you enjoy.
August 8: Dallas Mavericks 136, Milwaukee Bucks 132 (OT)
This is the first time any of these games have felt somewhat normal. As would have likely been the case in a non-pandemic world back in late March/early April, both teams are either pretty much locked into their seeding or totally locked in regardless of the outcome of this game. Nothing was really at stake, beyond both hoping to put on a good show. Thankfully, they did, and it was the showier team coming out on top.
I want to start with the Bucks, because this result probably means a tad less to them than it does to Dallas. No loss is totally meaningless, but considering Milwaukee has their postseason destiny locked in, they didn't need a win here. That said, they could've used something better than what they got, especially on a night where Brook Lopez was blistering the nets from downtown:
Lopez, Giannis, and Khris Middleton combined for an astounding 89 points on 65 shots, one of the trio's best games of the entire season. The Mavericks had very little hope of stopping any of the three, and Kristaps Porzingis was pretty much the only player to slow down Giannis and Lopez for any serious amount of time.
It didn't really matter much, because the bench was just about no help at all offensively in this one. The Bucks experimented with a lot of different lineups to pass the time, and no one lineup cracked even seven minutes together in a 53-minute game. It gave four different bench players the opportunity to grab 20+ minutes of action, and only Pat Connaughton (8 points on 7 shots) really came out looking okay:
All told, these four players picked up 22 points in 95 minutes of action, which is…not enough.
To Milwaukee's credit, they did a great job limiting Porzingis on offense, as he picked up 26 points on roughly 27 shot equivalents. They forced him into several tough mid-range misses that he hasn't normally taken in the bubble. In general, Milwaukee did their usual thing in forcing a good amount of short mid-range attempts as opposed to shots at the rim. Milwaukee outshot Dallas by about six percent and had nine more free throw attempts, but it still wasn't enough to beat the Mavs. That's because Milwaukee had a surprisingly bad night on the boards, surrendering five offensive rebounds to Dorian Finney-Smith alone:
Luka's passing will be discussed momentarily and was worthy of great respect, but the Mavericks don't win this game if Dorian Finney-Smith doesn't hit so many open shots. This was the DFS game: 6-for-12 on threes, 4-for-6 at the rim, and those five important offensive rebounds. The Mavericks' only points on those rebounds were Luka's two points above, but it was still super important to get second chances. Finney-Smith kept getting amazing shots because of Luka:
All you can ask Finney-Smith to do is for him to take advantage of these opportunities, and he did. Tim Hardaway, Jr. couldn't, Trey Burke couldn't, and Seth Curry couldn't. Without Finney-Smith, this would simply be yet another Bucks win.
Obviously, though, this was all reliant on Luka putting together a passing masterwork. It's obviously nice that Luka scored 36 points of his own on roughly 29 shot equivalents, but…well, you're not really surprised by that, are you? It's kind of commonplace for him at this point. As usual, he did a great job pushing the pace where needed, and he helped Dallas take advantage of transition possessions that ended up being a separating factor.
But that's not the story anyone is here to read about. No, it's his passing, which continues to evolve in hilarious and exciting ways. Luka passed guys into wide-open threes:
He found Porzingis some wide-open shots on a night where he didn't get many:
And, most of all, he did this, a thing that I already know James Harden does but we are not here to talk about James Harden until 500 words from now: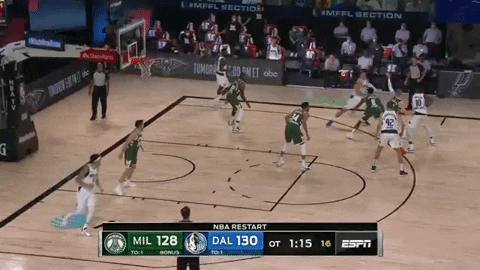 Luka kept passing guys open. He did this in half-court, in transition, at the rim, in the corner, above the break, in mid-range, everywhere. It happened all game long against the best defense in the NBA, and he often made a super-talented roster look foolish. The most amazing thing Luka does and has done is have games like this, where we don't really care that a point guard had 36 points and 14 rebounds. No, we're here to talk about how amazing a passer he is.
At this point, it's hard to say that any point guard in the NBA is definitely better at passing; genuinely, I think it might only be LeBron. There are no better rebounding point guards, as he surpassed Russell Westbrook this season. James Harden is the only definitively better scorer; you could put Doncic on a level with Trae Young and Damian Lillard and basically call it interchangeable. By any real measure, Luka has become one of the ten best players in the NBA at 21 years old, and he hasn't figured out defense yet. If he ever becomes even a league-average defender…well, the sky might be the limit.
August 9: Houston Rockets 129, Sacramento Kings 112
I feel a little bit of regret in even writing about this game, because one team's season officially ended before this game even began. With Portland's defeat of Philadelphia earlier in the evening, the Kings (along with the profoundly disappointing New Orleans Pelicans) were officially eliminated from the playoffs. That game ended a little before halftime, and whether the players knew it or not, it certainly looked like the Kings knew their season was over in the third quarter, where they got outscored 32-15.
The Kings' bubble successes go like this: beat the Pelicans in an offensive explosion; took the Mavericks to overtime. This is yet another lost, disappointing year for the Kings, a team with zero playoff bids since 2006 and no real consistent movement towards a bid that'll break said streak. This game was sort of its own seasonal microcosm. Throughout the season, the Kings would sometimes manage to string a couple of wins in a row, but they pretty much never put a complete game together. Something would be off most games, whether it was the offense or the defense. In this one, the Kings were at least acceptable on defense until the fourth quarter, but the offense missed a ton of threes and couldn't hit much of anything in the midrange:
Couple this with 18 turnovers – 16 coming in the first three quarters – and you understand why they barely cracked a point per possession despite going 18-for-23 at the rim pre-garbage time.
If you want some small positives before we explore these weird Rockets, here they are. De'Aaron Fox is still a fabulous player to watch, especially when he finds different ways to get to the rim. I love watching him change speeds, and I wish he was on a better team.
Likewise, Buddy Hield is still a terrible defender, but he hits a lot of threes and would be a very fun offensive player to have on your team.
This ends the Kings section, and hopefully any discussion of this moribund franchise until midway through the 2020-21 season.
These Pocket Rockets continue to be an oddly entrancing watch. This was a good win to pick up standings-wise, as it moves Houston a full game up on Oklahoma City for the 5 seed and 1.5 games up on Utah for the 6. They're out of playing Denver in the first round, but it places them in a second-round battle with the Lakers, a team they went 2-1 against this season. I don't think they can beat the Lakers in a series, but I absolutely think they're the most challenging possible matchup of the 3-6 seeds.
This is because, on any given night, they can shoot their way to a victory. No team in the West comes close to the amount of wide-open threes, both corner and above-the-break, that Houston produces. On the season, only the Bucks produced more wide-open threes; in the bubble, Houston has produced three more wide-open (meaning no defender within six feet) threes than any other franchise in Orlando. It is all about consistently hitting open shots like P.J. Tucker's here, which they didn't do a great job of last night:
If they ever find a way to somewhat consistently hit these – and, overall, become a better three-point shooting team – their ceiling elevates and they become a lot scarier. They're producing 25 threes per game with no defender within six feet in the bubble. How could that uncertainty not terrify you if you're the opponent?
Likewise, Houston seems to be slowly figuring things out a little bit on defense. They still gave up a lot of points at the rim, but they're starting to force more mid-range attempts and contested threes than they did pre-pandemic, and I've noticed they've been getting better at forcing unwanted errors like this one:
If Houston really does figure defense out somewhat – even elevating themselves to, like, the tenth-best defense in the league – that also makes them a much more serious contender for a deep run. We'll see if they ever get it nailed down.
I had to save the most important thing for last here: the Austin Rivers 41-point game.
Rivers had the game of his life on a night where Russell Westbrook wasn't available, probably for load management purposes. Rivers dropped an amazing 41 points in 33 minutes of action, going 14-for-20 from the field (6-for-11 from three, 8-for-9 at the rim). He couldn't be stopped! While he did grab 18 points in the fourth quarter against a very uninterested Sacramento team, it still counts as the best game of his career. He needed this, and I'm thinking Houston did, too.