WHAT THEY BRING (offensively)
Imagine if last year's team couldn't buy a three in some of their games
Auburn lost some serious key guys from last year's team – Jared Harper, Bryce Brown, Malik Dunbar, etc. – that felt like they'd lead to a bit of an offensive downturn this season. When firing on all cylinders, which happened in about half of their games, the offense felt unstoppable. Auburn fired three-pointers at an insane rate, hit a ton of them (38.1%), and did it all at an above-average pace that emphasized either getting quick buckets in transition or taking their time a little in half-court to find an open shot. Couple that with quality Shot Volume (63rd in TO%, 73rd in OREB%) and you've got yourself one of last year's best offenses.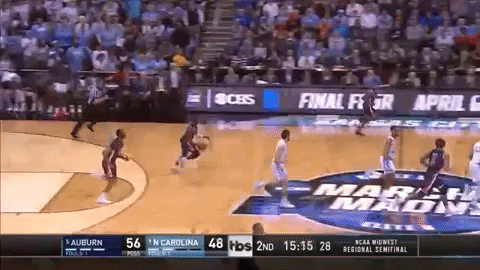 This year's group is not nearly as efficient, and you can boil it down to one very simple thing: where last year's team succeeded in lighting it up from three, this group frequently has massive struggles from downtown. All three of Auburn's losses have seen the Tigers shoot 25% or worse from three, and when you average nearly 27 attempts from three per game, you leave yourself up to a lot of potential swings.
Because of Auburn's wild close game luck (which I wrote about on Monday!), it largely hasn't affected them as much as it should. That said: luck doesn't last forever. Even Dabo knows that. Auburn's now coming off of two straight losses to two of the four worst teams the SEC has to offer, and no amount of Isaac Okoro absence can rationalize that away. They never peaked at higher than #11 on KenPom; they haven't touched his top 20 since January 18. They were never great, and that's okay. They don't have to be. Such is the 2019-20 SEC offering.
As is typical with most Auburn/Bruce teams, there's no stand-alone dominant scorer. There are leading scorers, obviously – Samir Doughty leads the pack at 16 PPG – but, as usual, there's depth. Six players put up 7.4 points or more per game, with four in double figures. We'll discuss each in descending order of points per game.
Samir Doughty is the leader
Doughty, as mentioned, is the team's leading scorer. He mostly gets his run at the 2-guard position, where he attempts a near-equal number of twos and threes and draws a wildly high number of fouls per game for a shooting guard.
About those threes first: they haven't gone in much at all. Doughty is shooting 29.7% from downtown, which makes last year's 43.6% hit rate (after a 28.4% hit rate his one year at VCU) seem like a serious outlier. Luckily for Auburn, there are few players in the SEC we're even able to mention in the same sentence who are as good or better than Doughty at fighting their way to the rim.
Doughty gets several possessions per game as the ball-handler in Auburn's ball-screen sets, and he almost always uses the screen, rarely going away from the pick.
Isaac Okoro is a difference maker, whether he plays or doesn't
The #2 scorer on the team, surprisingly, is future Top 5 pick Isaac Okoro. Per Bart Torvik's PORPAGATU metric, which is an attempt at a WAR-like metric for basketball, Okoro's freshman season ranks 16th among high-major freshmen. Luckily for Okoro, his NBA Draft competition is so weak this year that this actually makes him impressive. Okoro is much more efficient at the rim than anywhere else; he's shot 19-82 (23.2%) on all shots that aren't layups, dunks, or tips this season.
He's been near-unstoppable when driving to the basket, though, and has flashed some good abilities in the post. (Quick note: he almost never goes to his right out of a post-up; Synergy claims he's done it once all season.)
Anyway, I don't know that Okoro will play in this one, due to an injury. I assume Tennessee is preparing as if he will. If Okoro can't go, I think it affects Auburn more offensively than defensively, even though I think he's Auburn's best defender.
Point guard J'Von McCormick
J'Von McCormick is the senior point guard, and while he does get to the rim often like the other starters, he's far and away the most prone to taking long twos.
McCormick's 76 non-rim twos are nearly double that of the second-highest long two taker on the team, Austin Wiley (40). A plurality of McCormick's own offense centers around his ability to pull up off of a ball screen and hit his shots, which he's one of the best in the SEC at.
Like basically everyone else on the roster, he's very inconsistent from three (30.1% this year, 33.3% for career), but he more than makes up for that with quality passes to open shooters.
Rebounding machine Austin Wiley
Last of the 10+ PPG scorers is senior center Austin Wiley. Wiley is basically the only member of the Auburn rotation that won't at least consider attempting a three; his one attempt of the season came when Auburn led Lipscomb by 18 with four minutes left and it looked like he was attempting to hit someone in the upper deck.
The vast majority of Wiley's damage comes at the rim and the free throw line, as he's drawing more fouls than any player not named Mason Jones in the SEC. Wiley gets a ton of work in the post, where he turns to his left 70% of the time regardless of block placement.
He's not terribly efficient here, especially if you can force him to a hook shot. Instead, he's way more damaging on basket/screen cuts, and in P&R sets where he can roll to the basket or slip the pick.
Also, Wiley ranks out as one of the very best rebounders in the nation, both on offense and defense. Tennessee's got to box out at all costs, lest they be the victims of an ill-timed putback.
Others to keep in your brain
Only two other players on the team top 4.3 PPG: Danjel Purifoy and Anfernee McLemore. Purifoy is Auburn's small-ball 5/normal-ball 4 that takes nearly double the number of threes as he does twos. He's not great at hitting them this year (30.3%), but you've still got to cover him.
McLemore is a bit more even of a twos/threes split (64/83) and hits about the same amount of his deep balls (31.3%), but has proven to be a very dangerous piece as the screener in P&R sets, successful both at popping out for open looks and when slipping the pick.
There are other bench guys that will see action, but their offensive range extends from bad (Allen Flanigan, 12.5% from three) to fine (Devan Cambridge, loves transition play) to actually very efficient (Jamal Johnson, 40% from three).
NEXT PAGE: Tiger trap