August 4: Portland Trail Blazers 110, Houston Rockets 102
An important win for these Blazers, and an important loss for the Rockets. A quick explanation: Portland is a half-game up on the Spurs, a worse team, for the 9 seed. The team ahead of them, the Memphis Grizzlies, just lost their second-best player for the rest of the season; they're only 1.5 games back of Memphis. Had they lost this game and fallen behind the Spurs, the road ahead wouldn't have gotten much easier. They're going to be underdogs in at least three of their final five games if not four, and every game counts in the bubble. This was a critical win to bring home.
For Houston, this was not a loss they needed. A win could've put them in serious running for the 3 seed that Denver currently holds, especially with Denver's lineup in constant flux. Now, not only are they two games back with five to play, they're tied for the 4 seed with Utah and just a half-game ahead of 6 seed Oklahoma City. The remainder of the Rockets' schedule is relatively light – the only game they'll be underdogs in is the Lakers game on Thursday – but given how unreliable Houston regularly is, it wouldn't surprise anyone to see them drop another game they can't afford to lose.
I felt like the bubble has given us a good preview of what type of shots Houston's going to get with the Pocket Rockets in the playoffs: a lot of threes.
Houston took 53 in this one, right after they took 61 on Sunday against Milwaukee. Now, let's get the obvious out of the way: a lot of these were open, very good looks, and Houston did indeed hit 19 (35.8%) of them. That said, it was still a pretty rough offensive game for the Rockets, simply because they made just 1 of 12 non-rim twos: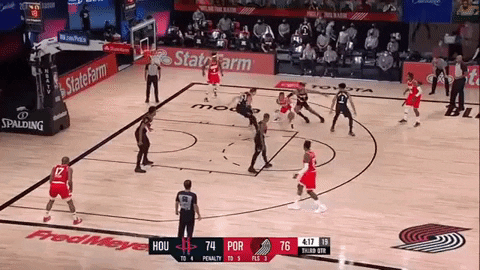 And because they got absolutely demolished on the boards.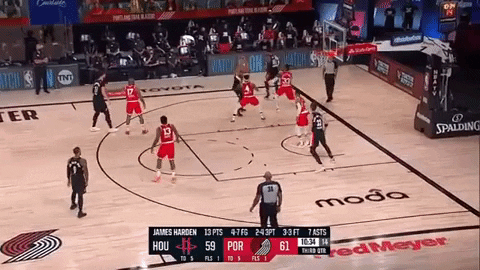 Houston lost the offensive rebounding battle 15-5, which is brutal in a game where they actually shot better than Portland. It feels like Portland's lineup is well-engineered to exploit the limitations of the Pocket Rockets. Houston can get any shot they'd like, sure, but the double-big lineup of Nurkic and Collins had a field day when their guards missed shots. The boards killed Houston and allowed Portland to get the equivalent of ten more shot attempts in a game they won by eight points. If Houston can't find a way to either clear that up or hit enough shots to make it not matter, their ceiling cannot realistically extend past the second round.
On the positive side of things, Houston got a pair of really good bench performances from Ben McLemore and, my God, Jeff Green: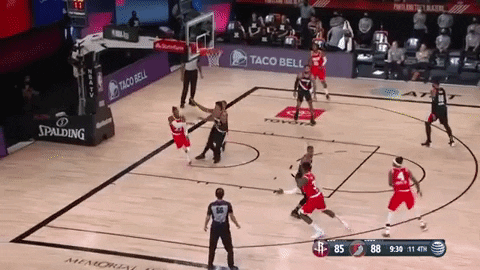 Green came out of nowhere to score 22 off the bench for the Rockets last night, including a 5-for-9 performance from downtown. (All other Rockets: 14-for-44, or 31.8%.) His performance was badly needed in a game where James Harden found himself in surprising foul trouble, picking up his fifth foul midway through the third quarter. (Russ also had five fouls, though he picked up his fourth and fifth later in the game.) If the Rockets can find an outing like that on most nights from any random bench player, this small-ball experiment could end up working pretty well.
Also, I thought Houston did a really good job contesting Portland's shots, significantly better than they did for most of the Milwaukee game or all of the Dallas game. In particular, Danuel House, Jr. (5-for-15 against) and P.J. Tucker (4-for-16) graded strongly: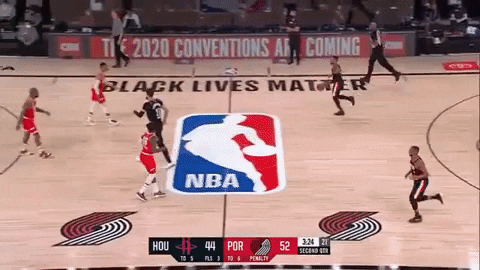 Portland got higher scoring performances, but I felt they won this game on the back of Jusuf Nurkic. He was somewhere between solid and fine offensively – 18 points on 15 shots – but he was absolutely dominant on the boards.
Nurkic grabbed six offensive rebounds and 19 total boards in just 29 minutes of action, which is a remarkable stat. Had he not struggled with foul issues at times, this could've been a 25-board night for him, which is scary to think about. What's held Portland back from being their best selves on the offensive side has been an issue with finding second chances on the boards and consistently getting to the line. Nurkic brings both to the table, with Zach Collins providing a good secondary option. I also thought Nurkic was awesome defensively: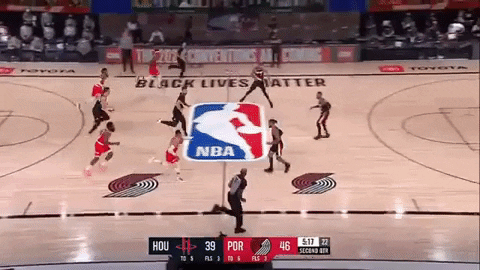 Aside from Nurkic, there were a couple notable performances. Portland had quite a bit of trouble converting attempts at the rim (15 of 31) thanks to a surprisingly tough Houston defense, but the OREBs helped and a good night from downtown helped. The Blazers made 12 of their 31 threes, including a 4-for-9 night from Gary Trent Jr.: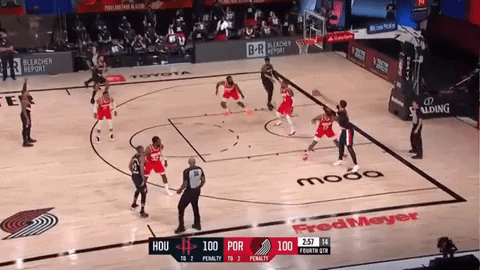 Finally, Carmelo brought this one home. On the whole, I wasn't particularly blown away by his performance – 15 points on 14 shots – and in general, NBA Twitter seems to find any possible excuse they can to declare Carmelo Anthony Actually Back. (Call it nostalgia, bad analysis, or simply being too hopeful.) Anthony had his second-least efficient season of his career this year, posted his fourth-worst shooting season, was well below the league average in both TS% and eFG%, and rates out as one of the least-good players on Portland's roster by pretty much any metric. (He's also a bad defender.) That said, you would be rude to starve yourself of the pleasure shots like these provide: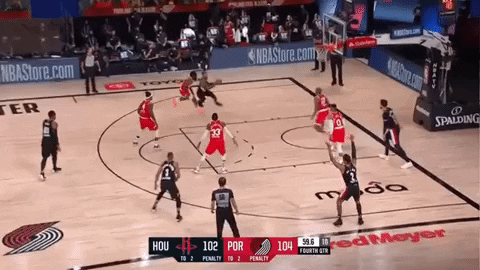 Even I can admit when I miss the good old days.