Aftermath
One of the few constants in Tennessee's constant crack-ups is that, regardless of head coach, regardless of the program status, they always seem to save their best for their in-state rival. Tennessee has more wins over Vanderbilt since 1949-50 (88 in total) than they do over any other school (second-best: Georgia, 76) in that timeframe. This is despite an oddity in expected win percentage. Among the nine teams Tennessee has played 100+ times since 1950, their third-lowest point differential against these teams is…Vanderbilt. Tennessee barely outscores Vanderbilt on average (+0.5 per game), but they're 26-16 in games decided by six or less against the Commodores.
No matter what else is happening, Tennessee seems to be able to conjure magic against Vanderbilt when no one else can. Ask Grant Williams, or Kevin Punter, or Robert Hubbs, or Jarnell Stokes, or nearly anyone involved with the Tennessee program over the last 25 years. Tennessee, more often than not, is able to find that extra point or two that seals them bragging rights.
But even this stands out, particularly in a season where little went right for Tennessee over its final two months. KenPom keeps a record of the least-likely wins in each season, and in the 2014-15 season, 42 games involved a team winning when they had less than a 2% chance to do so at any point of the game. Only four teams had two wins of this variety: Tennessee, Longwood, Texas Southern, and Miami (OH). The key difference: Tennessee was the only team to get their two wins against the same team, much less in the same city.
The odds of Vanderbilt losing both of these games were roughly 0.02%. A demoralized Tennessee's odds probably felt even lower when it was 59-47 with seven minutes to play. To Donnie Tyndall's credit, he failed to let the season die. Perhaps the hallmark of the Tyndall era was that things just…kept going. Despite everything crashing down, he never ceased pumping whatever life he had left into the program.
Tyndall's tenure ended prematurely about two weeks after the season ended (an eight-point loss to Arkansas no one remembers). He'd be hit with an astounding 10-year show-cause a year later, far and away the longest show-cause ever given to a head coach. (Which raises questions in your head such as: Where was this for Dave Bliss?) The strangest year Tennessee basketball had seen to this point had finally come to a close. Yet again, Tennessee had to answer several major questions:
Does anyone with a pulse want this job now?
How can we answer for what went wrong with Tyndall?
In fact, who could be the anti-Tyndall to solve our problems?
At the same time Tennessee was struggling with these questions, a long-running relationship in Austin, Texas broke apart after a 17-year marriage. Five coaches had come and gone at Tennessee in that time-span. If they needed anything, they needed stability. That, to Tennessee's advantage, was now on the market.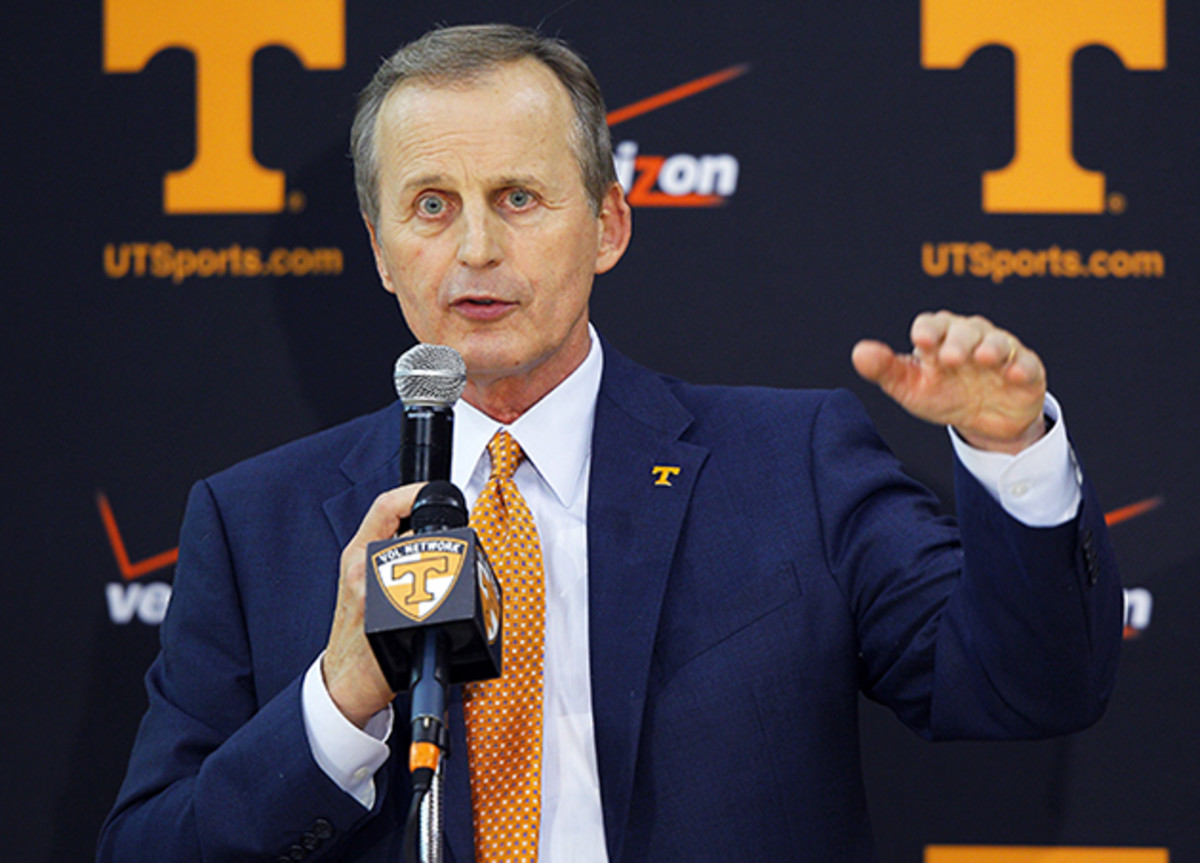 To be continued next Monday.