The 2018-19 Section Where I Go "Remember This?" 20 Times
March 2018 represented heartbreak. November 2018 represented new hope. Tennessee opened the 2018-19 season #6 in the AP Poll, their highest-ever preseason ranking. Even the 2007-08 season didn't have *quite* this much hype, though this could obviously be influenced by social media existing versus mostly not existing 11 years prior. There were a few big questions to answer, though:
Would Tennessee's defense be as excellent as it was a year ago?
Could Tennessee's offense get over the hump of poor two-point shooting?
Lastly, could a third star emerge alongside Grant Williams and Admiral Schofield?
In the hopes of finding out the answer to this relatively early, Rick Barnes crafted a tricky non-conference schedule: neutral-site dates with Louisville (future NCAAT 7 seed), Kansas (#2 in AP Poll at time of game), and Gonzaga (#1) while also tossing up a road date with…Memphis, under new head coach Penny Hardaway. To get to these, Tennessee had to take care of business against lesser competition first.
That first week of basketball – Lenoir-Rhyne, Louisiana-Lafayette, Georgia Tech – was just three straight games of "easy enough." Tennessee was never seriously challenged by any of the three, winning by 45, 22, and 13; there was nothing serious to worry about yet. The first tests would come in Brooklyn over Thanksgiving break.
At the time, Louisville was seen as a fringe-NCAAT-at-best team under first-year head coach Chris Mack. Which made Louisville giving Tennessee a brutal battle for 32 minutes quite frustrating. Louisville went 11-for-28 from three, Tennessee couldn't find a ton of shooting beyond the arc early to respond, but finally, they got over the hump. A 17-2 run took it from 68-68 to 85-70, Tennessee.
Then came #2 Kansas. Any time you're playing the #2 team in the country at a neutral site, you'd generally label this as a "nice to have" game. Not Tennessee. They came out and forced 16 turnovers, equaled Kansas on the boards, and hit two more threes than Kansas. At one point, Tennessee even led 47-38 with 15 minutes to go. Unfortunately, there were 15 minutes to go. Kansas came back, but this still went to overtime…which led to Grant Williams fouling out and Tennessee having to run out a short-handed lineup. Kansas attempted 17 more free throws despite roughly the same amount of action near the basket; Tennessee fans figured if this was played again, they'd have a great shot at a victory.
A pair of interesting storylines began to arise during this time period. After a 28-point demolition of Eastern Kentucky the next week, Lamonte Turner suddenly was ruled out for the next game. He didn't reappear for Tennessee until SEC play started. It was officially titled a "nagging shoulder injury," which one hopes would simply go away over time. In the meantime, Tennessee had to go to Arizona to play the #1 team in the nation – Gonzaga – with a seven-man rotation missing its most confident player.
Tennessee's odds weren't wonderful, but you simply hoped it would be a good game that Tennessee could steal at the end. It certainly looked that way early. Tennessee jumped out to a 17-8 lead, led 34-33 at halftime after a half-closing 7-0 run, and stayed in contention for most of the second half. At a certain point, though, Gonzaga just became too powerful. A 52-50 deficit turned into 64-55 by way of three consecutive Gonzaga threes, all from Zach Norvell, Jr. Per KenPom, Tennessee had just a 7.3% chance of winning with 6:15 to play.
They needed contributions, fast. Two huge ones came; the first was Jordan Bowden. 28 seconds after Gonzaga made it 64-55, he cut it back to six with a three. 43 seconds later, the lead was now three points.
Tennessee began scoring quickly, something they almost never did the season prior. The offense was humming despite Turner's absence. Five consecutive Tennessee possessions ended with a made shot. With 3:18 to go, Admiral Schofield tied it with his 22nd point of the game.
Immediately after this, though, Grant Williams committed his fourth and fifth fouls in a 19-second span. It was a brutal way to go out for a guy who'd had a fantastic statline: 16 points, 12 rebounds, 7 assists. While John Fulkerson was an okay bench option at the time, it wasn't like Tennessee was exactly dying to replace the SEC Player of the Year with him. Tennessee would have to do something Rick Barnes wasn't generally used to: go small, or something like it, for the final three minutes of the game. All of Tennessee's options 1-4 were 6'6″ or shorter; only center Kyle Alexander, who was 6'11", was a true frontcourt player.
I guess they could've put pretty much anyone out there with Admiral. It wouldn't have mattered, really; this was his game. With Turner sidelined, it was Admiral who suddenly looked like the most confident player in the gym. He completely took over Tennessee's offense with the game on the line. He hit a mid-range jumper to make it 71-70. Then he'd hit a three to make it 73-71, Tennessee. After Rui Hachimura tied it with free throws, there were 24 seconds left on the clock. Schofield took one final shot:
And could've walked out of the gym right there. Gonzaga missed a pair of threes on the other end, and Tennessee had done it: #7 Tennessee 76, #1 Gonzaga 73. Schofield took home the final 11 points of this game, capping a 25-point second half and 30-point performance. He also produced this incredible photo.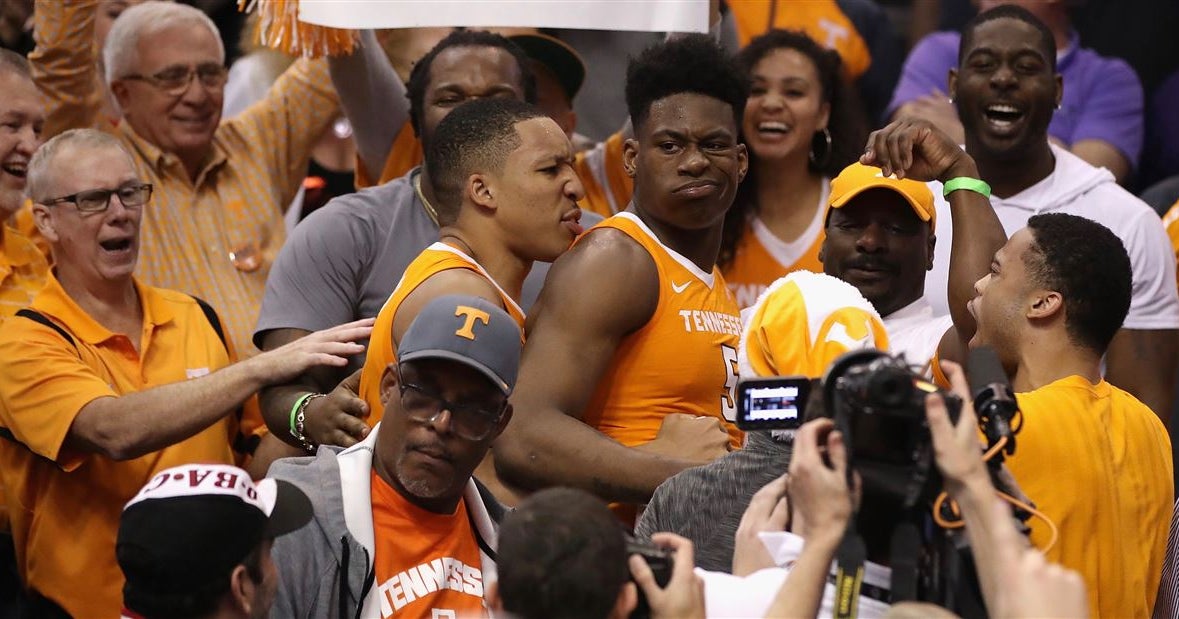 Almost as important as the win itself, obviously. From there, Tennessee began rolling opponents: a 102-92 win over Memphis the next Saturday that wasn't as competitive as that sounds, followed by three straight (13, 19, and 43 points) over overmatched non-conference competition. The first SEC game was against Georgia, who entered with an 8-4 record and a moderate amount of juice. That was drained in record time in the worst beatdown I have personally witnessed in Thompson-Boling Arena.
Tennessee's hype began to shoot through the roof. They demolished Missouri on the road by 24. A Florida game that was close for 39 minutes turned into a double-digit win in the 40th. They posted 106 on Arkansas. Finally, on a January Saturday where the teams ranked #1 and #2 had lost that week, Tennessee had a chance to get their second #1 ranking in school history. They had to struggle with a plucky Alabama team for a long, long time to get it. Thanks to some late heroics by Williams and the returned Turner, Tennessee survived, 71-68.
#1 once again. Just like 11 years ago, their reign at #1 looked like it would last all of one week, and in the most embarrassing fashion possible. Tennessee played at Satan's School for the Rich Vanderbilt on a cold Wednesday night in January, but this was no ordinary Vanderbilt team. Future lottery pick Darius Garland was lost for the season in non-conference play, and the team had floundered brutally since. They'd lost their first five SEC games, only one of which was close. A home date with the #1 team in the country felt like a nightmare for them.
It turned into what would've been a genuine nightmare for Tennessee. Vanderbilt, one of the worst three-point shooting teams in basketball, hit 10 of their 21 attempts. Tennessee, one of the best, went 5-for-20. That alone nearly explained what would've been a catastrophic loss for Tennessee. With 1:32 to go, they trailed, 76-70. Tennessee needed energy like they needed air. They got it, in the form of Grant Williams having the best free throw performance (23-for-23) since 1959.
Williams put up 43 points, one of the greatest performances in program history, on a night where only one other player (Jordan Bone) scored more than nine. To this point, this was Tennessee's worst performance by a mile. And they still won. (Also, this made Vanderbilt fans angrier online than I have ever seen before. A great accomplishment.)
After the season briefly teetered on a cliff, Tennessee rescued it. They won their next six games by double digits and were rarely threatened at all. Instead of the dreaded one-week #1 run, they spent four weeks at the top, tied with Duke for the longest run at #1 of the season. Even Tennessee football fans who were lukewarm at best on the concept of "basket ball" were every-game viewers.
The biggest road game since 2008 took place for Tennessee at #5 Kentucky on February 16. They got ran over by a bulldozer, 86-69. It was, to say the least, quite disappointing. A brutal overtime loss at LSU followed the next weekend. Suddenly, everyone was up in arms again: was this team fake all along? Is basketball the exact same as football where every game is extraordinarily important and you are never, ever allowed to lose?
Tennessee answered these questions in two different ways: firstly, by winning in the most hilarious fashion imaginable over Ole Miss (a game also involving trash being thrown at players)…
And then bringing #4 Kentucky into Thompson-Boling Arena and eviscerating them for 40 straight minutes.
Unfortunately, Tennessee was having their best-ever season at the same time as two other schools (LSU and Kentucky) were also having really good conference seasons. LSU would finish 16-2; Kentucky, 15-3. Tennessee entered their final game of the season, on the road against a very good Auburn team, at 15-2. To put in perspective how unusual this is, the full list of non-2018-19 seasons where three teams finished at 15-3 or better in SEC history is zero. The list of non-2018-19 seasons where three teams finished at 14-4 or better is also zero. In fact, even dating back to when they played 16 games instead of 18, there has never been a season where three teams had three or fewer losses. Only once (1976-77) had two teams potentially finished at 16-2.
Perhaps that's why it makes sense Tennessee simply couldn't defeat Auburn that day (an 84-80 loss). People were angry as hell online over this game, perhaps also because of the buildup of the last month and its less-than-ideal results. Tennessee needed more big wins. Luckily, the SEC Tournament, a place where nothing bad has ever happened to Tennessee in its history, came next.
This time, Tennessee was up for the challenge. Just like 2017-18, they beat Mississippi State on Friday night. Unlike 2017-18, their semifinal challenger would be…#4 Kentucky. At 3:30 PM on March 16, a legitimate Game of the Year contender would tip off in Bridgestone Arena.
You may or may not remember that Tennessee trailed for most of the first half but led 36-34 at halftime. Or that the game was within a three-point margin for the first 12 minutes of the second half. That was before a couple of unfortunate things began to happen: Tennessee couldn't seem to buy a basket, and Kentucky got several favorable foul calls (no way!) that pushed their lead out to 72-64 with 2:58 to play.
It seemed pretty hopeless at this point. My wife (then fiancé) and I had engagement pictures scheduled for 6 PM ET or thereabouts and got in the car. I think almost exactly at the time we turned my car on, Grant Williams hit a three to make it 75-74, Tennessee, with 1:31 to go.
WHAT HAPPENED? In the span of 87 seconds, Tennessee had scored 11 points. Kentucky had completely melted down: two turnovers and a Reid Travis foul, along with poor three-point defense, had swung the door wide open for a Tennessee comeback. Kentucky would get back in front briefly, then Tennessee had their chance to take the lead with 31 seconds left. You'll be stunned to hear who they turned to to make a big shot when they needed one most.
Tennessee 82, Kentucky 78, my wife and I were 20 minutes late to the engagement photoshoot and everyone completely understood why.
Looking back now, I guess I wasn't all that surprised that the SEC Tournament had one last kick-in-the-nuts prepared. Tennessee drew Auburn after Florida had defeated 1-seed LSU on Friday. Tennessee simply looked exhausted, both physically and mentally, after their battle the previous day. Tennessee kept it close for a while, but Auburn turned on the jets in the second half and won by 20. It was a huge disappointment, but hey, NCAA Tournament's around the corner.
Tennessee got a 2 seed, again, and drew 15-seed Colgate (in their first NCAA Tournament since 1996) as their opponent. For 38 minutes, it seemed like Jordan Burns on Colgate was going to be the new Harold Arceneaux; he dropped 32 points and eight threes on a Tennessee defense that just couldn't slow him down. Colgate as a team went 15-for-29 from deep. Yet it was Admiral Schofield who dragged Tennessee to the second round.
Then Tennessee got 10-seed Iowa in the second round and led by 21 at halftime. It felt very, very over. Until it very much wasn't. Tennessee suddenly became unable to string together multiple good possessions in a row. Iowa, meanwhile, got to the free throw line 32 times. Tennessee managed to blow what was once a 25-point lead and had to go to overtime to survive despite never trailing once in the game.
What counted, though, was this: Tennessee was back in the Sweet Sixteen. It was just their sixth Sweet Sixteen appearance in the last 40 years. Now, what came next was a date with 3-seed Purdue and a very high likelihood of an excellent game, start-to-finish.
Purdue failed to get this message, I guess. They completely, totally demolished Tennessee for the first 29 minutes, led by 12 at the break, then led 65-51 with 11 minutes to play. Tennessee's season seemed like it was going to end in a crushing disappointment; the parallels to 2007-08 were being drawn in real time. Most frustrating (though Purdue struggled at this, too) was that Tennessee, one of the best free throw shooting teams out there, turned into a pumpkin: 14-for-28 from the line in this game.
I figure that if you're a Tennessee fan, you already know everything here. So if you get bored, you can skip ahead. But I think you might enjoy reliving minutes 29-39 a little bit.
Carsen Edwards' layup with 10:53 to play made the score 65-51, Purdue. They were on pace to touch 90 in regulation, which felt right, because Tennessee's defense had offered no resistance. Grant Williams' layup made it 65-53. Then Purdue began a meltdown their fans have seen all too often: six straight possessions with zero points. Meanwhile, Tennessee ripped off five straight scoring possessions of their own: a Schofield three, a Schofield layup, two Bowden free throws, a Turner layup, then to tie it at 65, a Turner three.
The race was on; it went back-and-forth for the entirety of the final seven minutes, where neither team led by more than three. Every massive shot by Admiral Schofield:
Would be answered by a massive shot from Ryan Cline of Purdue.
It would go back-and-forth like this the whole way down, neither team giving an inch. What had looked like a blowout had suddenly turned into one of the five or so best NCAA Tournament games I have ever seen. With ten seconds left, Lamonte Turner drove to the lane and wildly missed a layup. He missed so poorly that you could reasonably call it a pass, one of the most accurate passes of his career:
Then the game ended and everyone went home happy and nothing bad happened ever again. The end.
.
.
.
.
.
.
.
.
Tennessee lost in overtime. You know this. I know this. It was the most heartbroken I think a lot of Tennessee fans have been over the result of a basketball game. They didn't deserve to go out like that. But basketball, more than nearly any other sport, has that capacity to be cruel. It can break you. It creates a hurt unlike any other hurt. It constantly devises new points of pain.
There's so much more I had to leave out from this season that makes me smile. Admiral's eff-you dunk to Kentucky with no time on the clock when Tennessee was up by 19. Grant Williams getting tackled by Naz Reid and somehow not wanting to fight him. The Settlers of Catan stuff. The best offense in school history. The best season in school history. Jordan Bone's mid-range jumpers. Kyle Alexander's blocks. The white guys on the bench that got in at the end of blowouts.
You have to let a lot go to be able to find a way forward.
The recovery begins now.
NEXT PAGE: School spirit