This is the eighth in a series of weekly recaps surrounding the 2021-22 Tennessee men's basketball season.
January 5: #18 Tennessee 66, Mississippi 60 (OT) (10-3, 1-1 SEC)
January 9: #21 LSU 79, #18 Tennessee 67 (10-4, 1-2 SEC)
I. Cantona/LaBeouf
In 1995, Eric Cantona, Manchester United striker, entered possibly the most consequential press conference of his career to-date. Two months earlier, Cantona was sent off for a harsh foul on a Crystal Palace player. On his way to the tunnel, a Palace supporter flew down the stairs to yell all sorts of obscenities and, by some interpretations, racial slurs against Cantona. The striker reacted how those of us who were not popular in middle school dreamed of reacting: driving his boot through the guy's chest.
Cantona would be taken to court by the fan, and for a brief moment, it appeared that Cantona would have to go to jail for the crime of doing what I'd imagine 99.9% of people who've played higher-level sports dream of doing to certain fans. Alas, Cantona got out of it mostly scot-free. In his first press conference after the ordeal was finished, Cantona settled in to give his thoughts on the last two months of his life. In 15 seconds, he achieved something beyond anyone's wildest dreams.
When the seagulls follow the trawler, it is because they think sardines will be thrown into the sea. 18 words, 15 seconds, one infamous sentence. Cantona left, because he had nothing left to say. Why would he?
18 years later, in a completely different setting, American actor Shia LaBeouf settled in for a press conference in Germany surrounding the film he was in, Nymphomaniac. (It is not a good movie.) Everyone my age or slightly older knows LaBeouf as a former child actor that starred in Holes, Even Stevens, or even Disturbia, a variety of teen-friendly things that made sense at the time. No one really knew much of LaBeouf's backstory; they just knew him as the guy from Holes and whatnot.
LaBeouf's appearance in this movie, and at this festival, was during a strange time. LaBeouf was too old to be in the teen-friendly movies he'd grown up in, but perhaps too young in some aspect to tackle lead roles in the Academy Awards bait we collectively pretend is superior. He'd been forced into taking some weirder roles to keep his career going. LaBeouf fidgets in his seat, but has the glass of water nearby. 18 years apart, in a different country, LaBeouf offers the same 18-word statement.
I bring this up because the moments for Cantona and LaBeouf were different before and very different after. Cantona received a ban for the rest of the 1994-95 season, but he finished his career out with United by winning Premier League titles in 1995-96 and 1996-97, scoring a combined 34 goals along the way. He received the Footballer of the Year Award in 1995-96, the same year United won the FA Cup. Cantona used his Seagulls Moment, which could've ended his career entirely, to instead turn his twilight years into a grace note.
LaBeouf didn't get banned from Berlin's film festival. What happened after was, at best, a lot of uncomfortable gawking. The next day, LaBeouf showed up with this outfit to the premiere of Nymphomaniac.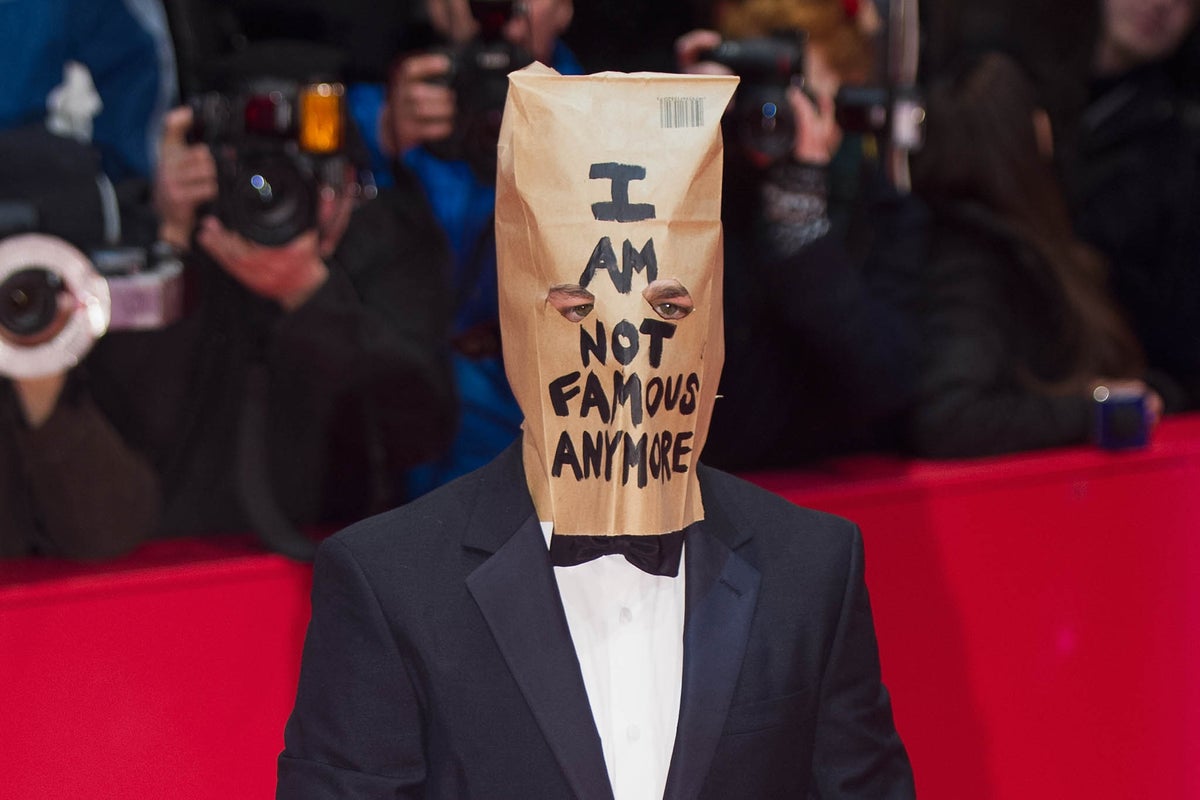 What followed that was one of the most public patterns of bizarre behavior a famous person has uncorked. LaBeouf turned the paper bag into an art exhibition titled #IAMSORRY, where you could visit him in a room for the right to watch him cry silently behind the bag. LaBeouf would go to a Broadway play and get kicked out. LaBeouf leaves jail and heads to an audition for the movie War Dogs, alongside war criminal James Corden. He watched all of the movies he'd been in and streamed it for all to see. LaBeouf protests the inauguration of Donald Trump by setting up a livestream of a wall that says HE WILL NOT DIVIDE US. Finally, that livestream ended in LaBeouf taking the flag on the road to, of all places, Greeneville, Tennessee.
That was merely three years of LaBeouf's life, and it's a lifetime of bizarre stuff. He's recovered somewhat in the public eye now, but, well, he's always finding ways to screw it up.
I am not insane enough to draw a 1:1 comparison to Tennessee men's basketball and Shia LaBeouf. It is merely a somewhat-interesting metaphor to keep myself going as things never change and I wonder what the point of this is. What I would offer is this: the 2021-22 Tennessee basketball team sits at a Seagulls Moment. They have offered it up to fans out of pure frustration and the idea that things will somehow change by doing the exact same thing, over and over. Whether this season goes the way of Heroic Cantona or Villainous LaBeouf, well, we'll see.
II. Variance
I feel that we're at this Seagulls Moment because I, personally, have turned into one of the crypto people that keeps spamming "Buy the Dip." I do not spend my money on cryptocurrency because I think Matt Damon should be jailed for his same-commercial-airs-14-times-every-day crimes, but whatever. I keep wanting to Buy the Dip on Tennessee basketball because, as we'll cover later, the team appears to be more or less precisely what we thought it would be two months ago. They opened the season 13th in KenPom; today, they sit 14th in KenPom. They've yet to lose a game they were not favored to lose and have yet to win a game they were not favored to win.
It is all going according to plan, but I'd argue we all have a very real reason to be frustrated. Here's how Tennessee's three-point shooting breaks down this season:
50% or better: 1 game (7.1%)
40-49%: 4 games (28.6%)
30-39%: 1 game (7.1%)
20-29%: 6 games (42.9%)
19% or worse: 2 games (14.3%)
If Tennessee basketball were following a natural bell curve, you would see this break down as something more like 1/3/5/4/2 or whatever. They've probably been unlucky to have as many poor shooting exhibitions as they've had, but in general, they've been unlucky to not have more average performances. I mentioned the goal recently of even being the 40th-best offense in college basketball; here's what the 40th-best offense (Ohio) did in 2020-21.
50% or better: 3 games (12%)
40-49%: 5 games (20%)
30-39%: 11 games (44%)
20-29%: 5 games (20%)
19% or worse: 1 game (4%)
Look how normal that is. That's a perfectly normal bell curve! Ah, how nice it must be to achieve such things. I guess this is me entering the Black Pit of Negative Expectations somewhat, but, well, could you blame anyone? It's season 7 of Rick Barnes, who I genuinely like and would recommend as a head coach, and Tennessee is staring down their sixth season of failing to finish in the top 100 of effective field goal percentage (eFG%). Only twice have they finished in the top 200 in 3PT%. So, yeah, the variance we're feeling is unusual and it'll probably fix itself in due time…but I cannot blame the person who says "so what?"
III. Fear
That nothing will change and everything will remain the same. It's rational, no?
I voiced my desire for Tennessee to finally shorten their rotation against LSU on Saturday because teams simply do not play 10 guys in March; Tennessee responded by giving 10 players (none of them Brandon Huntley-Hatfield) at least six minutes of on-court action. Maybe that's unfair, because against Ole Miss only eight players got 6+ minutes, but it lends its hand quite nicely to the continued frustration I've felt. Why is Justin Powell, an objectively superior player to Victor Bailey, not taking all of Victor Bailey's minutes? Why doesn't Powell have the same mental green light from three as Bailey despite being a superior shooter? If it's not Powell, why not Jahmai Mashack, whose per-minute stats are far above Bailey's? Why is Josiah-Jordan James still starting when his offensive numbers are the worst on the entire team? Why can't John Fulkerson string two good games together? Why does Brandon Huntley-Hatfield appear to give about 13% effort on defense? Where is Quentin Diboundje, who cannot possibly be worse than a couple of the guys getting playing time?
We're 14 games in and many of the questions I'd had preseason are either still unanswered or the answers haven't left me very satisfied. That's where the fear comes in: what if this is it? What if this, a basketball team that oscillates wildly between Actually Good and Completely Unwatchable, is what we're left with? What if the answers they're giving us are the best they really can provide? And that is a scary thing to consider.
IV. Expectations
Two months ago to the day, Tennessee sat 13th on KenPom to open the season. They were projected to have the sixth-best defense and the 25th-best offense. Right now, they're 14th, with the defense being a bit better than anticipated and the offense being worse. So why does this feel as unusually bad as it does? Is it because Saturday's loss to LSU wasn't nearly as competitive (prior to the final couple of minutes) as everyone had hoped? Is it because Tennessee is failing to hit threes yet again? I mean, I don't know, I guess everyone has a different answer…but everyone wants an answer.
The first question is this: do we adjust our expectations for March downward? As usual on the NCAA Tournament, I'd prefer to punt here. Barely nine months ago, a UCLA team that had lost four games in a row and entered the field of 68 outside the top 40 in KenPom proceeded to get red-hot from mid-range and make the Final Four. In 2019, an Auburn team that ranked 14th in KenPom entering the Tournament nearly lost to a 12 seed, then proceeded to get hot from three and make the Final Four. In 2018, well, you already know.
So I'd prefer to not make some sort of overarching statement on March odds yet without seeing who's in Tennessee's bracket. All you can control in terms of strength of schedule is your Round of 64 opponent; everything after that is whether you get a lucky break or not. The Loyola team that made the Final Four in 2017-18 had the 68th-best offense in America, while the Kansas State team they beat in the Elite Eight to get there was 60th-best. It really, genuinely doesn't matter right now.
The second question: do we adjust our expectations for the season downward? Well, I'd argue this one could be more fair. Before the season began, Tennessee ranked as the #1 team in the SEC by KenPom because they were simply the least-questionable, sitting at 13th overall. Today, there are three SEC teams in the top 10 while Tennessee is basically what everyone imagined they'd be. Tennessee can't control that, but you're certainly staring down a scenario where 12-6 is a good-enough regular season that nonetheless gives you a 4 seed in the SEC Tournament. The February schedule is far more favorable (Tennessee will be favored in all of their final 10 SEC games), but the odds of a regular season title are dwindling with each frustrating road loss.
If you like regular season championships, Kentucky on Saturday is a must-win game. That's as nicely as I can put it.
V. Obligation
Before, during, and after Saturday's game, I felt a mixture of dread and obligation to keep going. This is my fourth full season doing these previews. When I started doing these previews full-time for the 2018-19 season, it was not something I anticipated doing in perpetuity. Tennessee had an excellent basketball team that year; it seemed natural to provide the local market with previews of every game. That team turned out to be the most fun Tennessee basketball team of my lifetime. I didn't necessarily see that coming entering the season, but it made me want to keep going.
You can deal with weak or underwhelming seasons, I guess. But it's becoming harder to deal with what feels like the exact same storylines and game flows every time out. You could design a decent-enough Mad Libs replica with it. Tennessee is [UNDERWHELMING] because they need to [MAKE MORE SHOTS] and stop [LOSING FOCUS OFFENSIVELY]. That joke sentence could have been shared in 2016-17, 2019-20, 2020-21, and now 2021-22.
To be frank, I feel like the people who were hoping Trump would press the Iraqi Dinar revaluation button. It's me and Donna295728194, both hoping for something to happen, both probably knowing it won't, and both eventually being asked by media members to understand why we think this way.
The point here is that I'm going to be completely honest with you all: I'm getting a little tired of writing about the local basketball program. When you write the same article a hundred times over, it gets old. At the same time, though, I feel extremely lucky that I have a following that cares about this stuff, enjoys the breakdowns, and (mostly) seems interested in learning more about how to view basketball through a statistical lens. Plus, at the end of the day, it's just a game. It's just college sports. In theory, it should be the least-serious thing I could possibly write about, and it probably is.
So: that's where I'm at. I'm going to keep going. To quote Courtney Barnett, I'm writing; it's the only thing that I know how to do. Let's collectively hope it gets better.