Belmont and Rick Byrd: the leading innovators of the special situation
Saying goodbye to a legendary figure is never easy, no matter how much time you've had to prepare. Having to say goodbye to said legendary figure on April Fool's Day, of all the days in the calendar, is a special kind of cruelty. That's what happened to Belmont fans this spring, when Rick Byrd, head coach for the last 33 seasons and the source of everything Belmont basketball, retired at age 66. Byrd won 713 games at Belmont, an absurd average of 21.6 wins per season dating back to an era when teams didn't always play 36 games in a season.
Byrd, essentially, single-handedly led Belmont from the NAIA to the NCAA. That's just about exactly as tough of a transition as you'd imagine; countless teams have tried to just make the jump from D2 or D3 to D1 and it doesn't often go well. So of course Byrd's first D1 Belmont team was over .500. Within eight seasons, he'd get the program back to 20 wins (2003-04), and after ten years of D1 play, into the 2005-06 NCAA Tournament. When it was all said and done, Byrd had taken a program that didn't play in a conference until 2001 to eight NCAA Tournaments in 14 years.
As a Middle Tennessee native and Tennessee graduate, I am basically required at birth to have great respect for Rick Byrd. He's from Knoxville, and nearly every time the Tennessee job came open, he was rumored as a potential replacement. Why? Because he was really that good. Why was he really that good? Because, pound-for-pound, he may have been the single best offensive coach in college basketball:
Byrd led Belmont from essentially nothing to a tangible something; to back this up, they have more wins (229) than any other team in the state of Tennessee this decade. All of this, for a $35K-a-year private school in the It City of America where, historically, it's been around the #3 draw. For this article, I would've been happy to just talk about Byrd's accomplishments and their Big Meaning. Of course, that's not the reason this series exists.
Byrd is happily enjoying retirement, but I was able to get in touch with his longtime assistant, Brian Ayers. Ayers is heading into his 22nd season on the Belmont staff this year, meaning he's been with the program for all but two seasons of their Division I existence. There's not a better person to talk to, especially when you need to find out the origin of designs like these:
Ayers, naturally, carries great respect and love for his boss of 21 years. "Coach Byrd was a genius almost to a detriment, simply because he had so many ideas and thought of them every single day," says Ayers. This should come as no surprise to those of us familiar with Belmont basketball.
For comparison's sake, Belmont and Lipscomb, longtime rivals and Nashville opponents, came into Division I within a few years of each other (Belmont 1996-97, Lipscomb 2000-01). Ayers has played on both sides of the rivalry: four-year post player at Lipscomb, 22-season coach at Belmont. "When [Coach Byrd] first got to Belmont, Lipscomb had just won the NAIA Tournament. They were in the same conference, and he knew that was the team he had to beat." If you were asked 20 years ago which one would be the more successful D-1 program, you likely would've said Lipscomb. They had an NAIA championship to their name, had the historical edge over Belmont in the rivalry, and were the #2 seed in the last NAIA Tournament before their move to D-1.
Yet it's been Belmont that's made eight of the last 14 NCAA Tournaments, with Lipscomb making just one appearance. There's plenty of reasons for this split, but a main one is Coach Byrd's offensive capabilities. "I've told people a million times, if Coach Byrd was a football coach, he'd be an offensive coordinator. He's a great basketball coach overall, but he's a tremendous offensive basketball coach," says Ayers. This is borne out by the data: despite not exactly playing in the toughest conference in America, Belmont's offense ranked in the top 100 of KenPom's schedule-adjusted Offensive Efficiency rankings as early as its second year in D-1. It lingered around the low end of the top 100 for the better part of the 2000s, but shot into the stratosphere in the 2010s: nine straight top 65 finishes, with six top 40 finishes.
Something that's held true throughout Belmont's D-1 run is their highly efficient two-point shooting. Byrd's system, incredibly, has given Belmont the highest 2PT% in the country in five of the last seven seasons. The two that weren't highest overall ended up third overall. When you get designs like this:
You get easy buckets. In fact, not since 2004-05 has Belmont finished below 39th nationally in 2PT%, an incredible and remarkable streak that no other team in Division I has matched. Per Ayers, Byrd "had an unbelievable gift to dissect the other team's defense." Byrd's gift of getting his post players open in the paint and finding guards unafraid to drive to the rim is special. This past season, Belmont ranked in the 99th-percentile of all college basketball teams in America in terms of efficiency on shots at the rim. It certainly helps when you have a future first-round NBA Draft pick on the roster:
But it worked just as well before Dylan Windler brought a little added fame to Belmont. Per the Synergy database, Belmont's 2010s rim efficiency rankings are unreal. In order from 2012-13 to 2018-19, by national percentile: 92nd, 99th, 97th, 100th, 99th, 100th, and 99th. When your worst year is still better than 91% of the rest of college basketball, you're doing very, very well:
Ayers says Byrd's inherent ability to think of new ideas every single game was a huge advantage as the season went on. "We'd begin the season with our core plays, but literally with every game, we would add some. There were plays we'd start the year with that we wouldn't even think of doing by January or February," he says. This bears out in Belmont's full-season data, unsurprisingly. In eight of the Bruins' last nine seasons, they shot better against conference opponents than they did non-conference – an unusual occurrence in Division I basketball, even in the less-famous conferences.
Byrd found time to design plays every day for both half-court sets and situationally-specific moments. "We had to spend a lot of time doing 5-on-0 halfcourt sets, BLOBs, SLOBs, rehearsing these plays daily or they would not remember," says Ayers. Practice makes perfect, and this design for center Nick Muszynski is pretty close to it:
In both of his final seasons, at ages 64 and 65, Byrd's BLOB, SLOB, and ATO plays all ranked in the 90th-percentile or higher for the Bruins. They ranked #1 in their conference, the Ohio Valley, in terms of PPP in all three categories. While the BLOBs are, obviously, impressive:
And Byrd's after-timeout designs are just as beloved:
It's the sideline in-bound efficiency that's really striking.
For the most part, the sideline out-of-bounds play (SLOB) is just a half-court set under a different name. Unless it's a late-game or late-clock scenario, I wasn't able to find many examples of coaches who use this play as anything other than a clock-burning half-court set, usually with new players on the court. Of course, Byrd was different. "Some schools really just want to get the ball in and run a play. Coach Byrd saw it as a chance to score immediately from the sideline and take advantage," says Ayers. While this is just as situational as a BLOB or an ATO, it isn't often you see a design like this from the sideline:
"A lot of times on a SLOB, you've got a better chance to get action the lower the inbound is. If it's close to the half-court line, we'll just get it in and run a regular play. If you can inbound in the scoring area, that makes a difference," Ayers notes. This doesn't exclude Belmont from the first group I mentioned, obviously – the SLOB still was used as a half-court set in a good amount of situations. However, Belmont got a lot of good backdoor looks out of it. Whatever works, works.
Lastly, I had to ask about The Play. The One and Only. It has a name for Belmont's staff and players, but to us, it's Panic: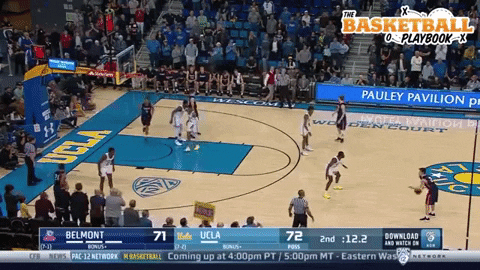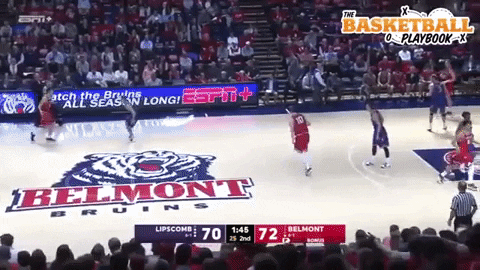 "It's a play that looks great if you convert it and looks bad if you don't. We can afford to take that chance," Ayers laughs. Belmont's run this so many times over the years that it got its own compilation video on Twitter earlier this year:
And, in a move specifically aimed to warm the hearts of basketball diehards, Plainview High School in Alabama ran the play to win a state championship:
Because this play has been around for so long, Ayers was somewhat fuzzy on the details surrounding its origin, but he helped as well as he could. "That's something Coach Byrd saw from a team that overplayed and denied passes," he notes. "I remember the team we ran it against, because we used their name in the call." (Note: He politely left the team's name out as a trade secret.) Belmont was able to pull it off so many times because they practiced it often, Ayers tells me. They ran it every shootaround, and ran it so often in games that the play you saw hit Twitter this year is actually a redesign of the original: "We had to put some counters into it because people figured it out. If it's late in the game and people know we run this, we added a couple other possibilities to score off it," said Ayers.
There's no easy way to sum up a post about Belmont basketball, because the only coach anyone has known for over three decades retired this spring. Byrd won't be an absent figure – his new title, apparently, is Head Coach Emeritus – but his replacement, Casey Alexander (hired from Lipscomb, coincidentally) has giant shoes to fill. He could do far worse than learning from his predecessor in the process. "[Byrd's] ability to see the game and see how you can take advantage is unlike anything I've ever seen," said Ayers. "He thought he could give his team a chance by being really good in those [late-game] situations."
Ayers' great respect for his boss of 21 years bled through in every answer he gave me, but I think Ayers is worthy of his own respect. It's a guy who coaches every single post player that comes through the Belmont program and was largely responsible for the success of this year's Belmont team, led by Dylan Windler and Nick Muszynski. Both were First Team All-OVC this season, but there's a key note to be made here: Windler was a senior that just got drafted in the first round, Belmont's first-ever first round pick. Muszynski was a redshirt freshman. The fact that both of these players could combine for 36 points and 16 rebounds per game is a testament to Ayers' coaching. It certainly helps that he had a coach to work with that could design plays like this:
And this:
To create some truly excellent scoring opportunities. Rarely do offensive coaches as masterful as Rick Byrd hit the game of basketball. When they do, we should all draw great inspiration from their creativity and innovation.