The most fun team in Indiana is an NAIA college named Marian
Surprisingly, it took us four installments to get to the state of Indiana. The Heartland of Basketball, we'll call it. Indiana and our beloved sport are tied together forever, with legends too numerous to name separately here. We'll just go with the overarching thesis: great basketball can be played everywhere, but there's nothing wrong with returning to the heartland to see it played especially well.
At the Division 1 level, this has largely held up over the last decade. Purdue came within a wild, last-second shot of the Final Four. Notre Dame has made multiple Elite Eights this decade. We can't forget about Butler, the two-time national runner-up. Indiana University…has made three Sweet Sixteens since 2002? (Honorable mentions: Indiana State and Valparaiso, combining for three one-and-done Tournament appearances, with Valpo coming closest to second-round glory in 2015.)
Here's the prime issue you could say that about most of the state of Indiana's teams: good, sure, but not often fun. (2017-19 Purdue, 2014-15 Notre Dame, and the first Butler runner-up team are notable exceptions.) If you look exclusively at their D-1 output, you might be a little underwhelmed by Indiana's basketball enjoyability. Let me direct your attention to a team just northwest of downtown Indianapolis:
The Marian Knights are an NAIA squad led by a career high school coach that didn't make his way to the college game as a head coach until two years ago. If you've heard their name before, it's probably because they've won two NAIA titles in football this decade or won back-to-back NAIA titles in women's basketball in 2016 and 2017. The men's basketball team holds one sole NAIA Final Four appearance: 2019. So what makes them fascinating, anyway? Two things: unusual shot selection and some exceptional OOB/ATO designs.
Marian is led by Scott Heady, an Indiana high school legend. (If this is false, an Indiana basketball lifer can let me know.) Heady spent 24 seasons between Connersville High School, Warren Central High School, and Carmel High School in Indiana, winning 357 games and taking Carmel to back-to-back state championships in 2012 and 2013. (Side note for my fellow Tennessee fans: it is my duty to let you know that Heady is responsible for the development of Purdue sharp-shooter Ryan Cline, who attended Carmel and later dragged Purdue to the Elite Eight. I'm sorry.) It's not often that you see high school coaches make the immediate jump to college head coach, and it's even rarer that you see this for a coach that's in his mid-50s make the leap. But here's Heady, and here's Marian:
First off, we'll talk shot selection. Of the 20 best offenses in men's college basketball last year, just three attempted more than 25% of their shots as non-rim twos. Considering the way basketball is trending – the Morey Route, if you'll allow – this shouldn't be a surprise. Few shots have garnered more animus this decade than the mid-range jumper. Statistically, it's mostly reasonable disgust. However, Marian is proudly going against the grain. 31.6% of their shot attempts in 2018-19 were non-rim twos, and they took them because they were really good at hitting them:
The Knights hit 46.9% of their non-rim two-pointers, which would've ranked third-best in all of Division 1 last season and first among teams taking 20% or more of their shots from this range. A Morey-based logic generally works, but when you have players hitting 56.4% (Cameron Wolter) and 56% (Reggie Kissoonlal) from mid-range, it's perfectly fine to design plays for them where they're comfortable:
While I wasn't able to talk to Heady for this piece, it wasn't too difficult to see what makes Marian such a unique offense. Most of Marian's offense revolves around a pick-and-roll to start, but it allows for the post player to do…well, just about whatever they'd like to do. Big man Kissoonlal is a unique draw in NAIA basketball in terms of his size: 6'11", 220. When that guy is able to go to the rim and hit threes at a 37.1% rate, it's really tough to defend:
However, Marian's starting lineup featured a growing rarity in college basketball: two post players. Both Kissoonlal and PF/C Cameron Wolter got at least 39% of their overall possessions from post-ups, with Wolter being particularly adept at bullying his way to the basket off of them (71% Rim%):
Having two uniquely talented post players on your roster is a luxury at this point, and Marian/Heady frequently designed plays for both, regardless of situation. Here's an out-of-bounds play designed to get 6'11" Kissoonlal a catch-and-shoot three:
And a design that gets Wolter the ball exactly where he wants it:
Here's a working theory that Heady can refute if he wants to: Marian's offense looks and feels fairly similar to some of the stuff Purdue has run for guys like Caleb Swanigan, Isaac Haas, and Matt Haarms. As an example, here's a post-up Marian runs for Kissoonlal late in a game against Indiana Northwest:
And here's something very similar Purdue ran for Swanigan in 2017: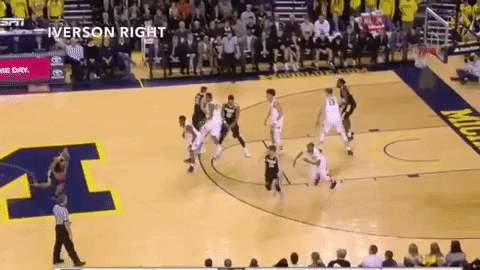 As mentioned earlier, there's nothing wrong with borrowing a little inspiration from Matt Painter at Purdue. The Boilermakers have won more games than any other D-1 team in the state of Indiana this decade. They've also had a top 25 KenPom offense in six of the last nine seasons. What Painter does isn't rocket science, but it's beautiful in its simplicity: he is happily, cheerfully old-school in desiring post players that can bully their way to the hoop out of post-ups and pick-and-rolls. Heady clearly enjoys this, and while he's less reliant on threes than this past season's Purdue team, there's nothing wrong with a relatively simple, efficient offense.
The clear pattern I've seen in covering teams this summer with quality post players is the following: there's no longer a set size, whether height or weight, for a post player. You can have a seven-foot bully, a 6'7″ agility master, or something in between, like Kissoonlal. At the lower levels, it's rare that you'll find a talent like him: 6'11", 220, nowhere near his hometown of Jacksonville. Still, he's unique in that he can do a little bit of everything offensively at that 6'11: hit threes, mid-range attempts, post-ups, rolls, and quality basket cuts. Despite playing two post men, Marian still manages to have a lineup with spacing as good as the no-post teams I've covered like West Virginia Tech.
The quality post players are one thing; the guards are another. Wes Stowers and T.J. Henderson were the 35-point backcourt, and they routinely sprung off of picks and screens for open looks, no matter if they were catch-and-shoot or off the dribble:
Marian took all the shots analytics nerds like me hate – mid-range pull-ups, off-the-dribble threes, ISO twos, etc. – and hit them. Sometimes, you've just got to appreciate a team with the ability to do this:
When you have five players on the court that can either hit shots, get to the rim, or do both, you're gonna have a fun time. Part of the continued sentiment among coaches I've talked to for this series has been the following: "we don't recruit players that can't shoot." Marian, to its credit, mostly covers this. Six of their top seven plays hit 26 or mote threes this past season, and even Wolter stepped out to hit two. However, not every team has a lineup full of players willing to drive inside the line and get the shots they're most comfortable with. While Heady's only been at Marian for two years, he deserves lots of credit for turning the offense into something it wasn't before he arrived.
Here's a couple more of my Marian favorites, all of which can be run by any coach reading this piece. This is an ATO developing from a SLOB. It's a Princeton-esque Point play that starts with Wolter dribbling into a handoff for Henderson, who swings it to Stowers, all while Henderson sets a post screen for Kissoonlal. Did you get all that?
This was already posted above, but it's an excellent play. Here's a BLOB design that features Heady using the full extent of his five allowed seconds for the inbound to create three separate actions for T.J. Henderson: a post screen for Kissoonlal, a run off of a mid-range screen by Wolter, and an open 20-footer.
Basically: Marian was blessed with great, efficient scorers all over their roster. Your team may not be this lucky. That said, you can gain a lot of inspiration and information from what they did. Scott Heady loves post players, and he was able to use two-post lineups to his advantage the entire season. If your roster happens to have more size than you'd normally expect, use it to your advantage! Frequent pick-and-rolls and post-ups out of a Purdue-like Motion led to an NAIA team that few outside of Indiana know of creating the fourth-best offense in America. Who's to say it couldn't do something similar for you?