South Carolina offense
As usual, it's very tough to watch
EDITOR'S NOTE: I wrote all of this section Monday evening, before it was announced that both Justin Minaya and Jermaine Couisnard would not be available for South Carolina. They aren't terribly important to this section, but do keep that in mind.
I'm kind of unaware how exactly you're supposed to begin an offensive preview of a team that:
Has had three different COVID shutdowns

Has seen their head coach test positive for COVID

twice

Made it to January 16, 2021 before playing their sixth game of the season
But, well, here we are, so we've got to at least try. Which honestly could work just as well as a summation of South Carolina's offensive strategy under Frank Martin, to be honest. The Gamecocks haven't ranked higher than 218th – 218th! – in eFG% in any individual season under Martin. Only two offenses have cracked the KenPom top 100, and none has gotten higher than the Final Four team in 2016-17 hitting 91st. 
It would be one thing if the team just never had good shooters, which has certainly been the case at times, but the 2018-19 team shot 36.5% from downtown. This year's team is only at 31.2%, which is pretty bad, but they do have at least one good three-point shooter in A.J. Lawson (yes, he's still here; yes, more on him shortly). The bigger issue, as it has been every season under Martin, is a complete inability to be even an average two-point efficiency team. No Gamecock squad has finished higher than 170th (last season), and three times, they've finished in the 300s. 
The problem isn't even rim efficiency, where they finished 19th last year and rank above the national average this year. They just take a ton of shots from roughly 5-15 feet and don't get enough shots at the rim. Too often under Martin, the Gamecock offense is quite happy to settle for a 7-foot runner: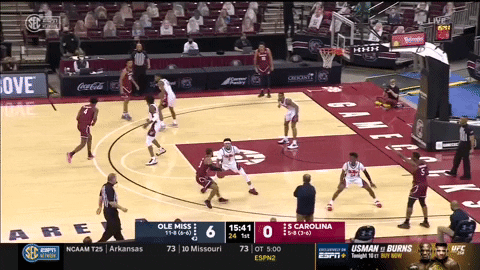 Or a longer mid-range jumper, which is a fine enough shot if you have anyone that can regularly hit it. South Carolina generally does not, and when you're a below-average shooting team on non-rim twos (36.1%, 213th nationally), it isn't a good idea to take a bunch of them. Good thing South Carolina has only taken 32.2% of their shots in this type compared to over 40% last year, I guess.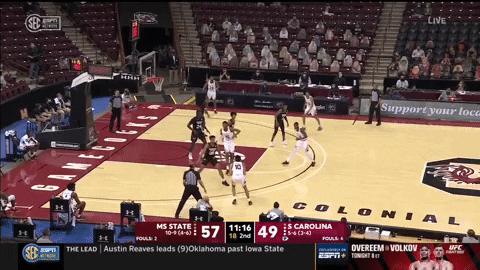 A.J. Lawson is the last man standing
So how does South Carolina score points when they can't make shots anywhere further than 4 feet from the rim even somewhat regularly? In years prior, the Gamecocks generally had one frontcourt player who could draw fouls like crazy and provide a source of easy-ish points at the line when everything else fell apart, as well as a guard who could drive to the rim and either score fairly well or get to the line. From 2016 to 2020, this list contained guys like Sindarius Thornwell, Chris Silva, and A.J. Lawson. Lawson is still on this team, but his free throw rate has dwindled year-over-year and he's much more likely to leak out to the three-point line to be South Carolina's only reliable deep shooter.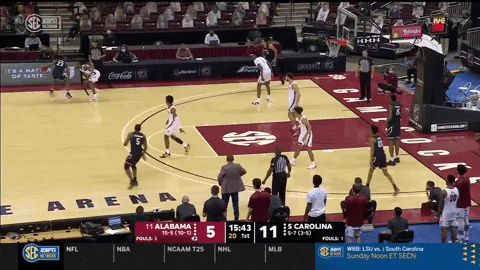 Lawson leads the team with 42 made threes; no other player has more than 21. The other four starters are shooting 15.8% (Seventh Woods), 27.3% (Jermaine Couisnard), 26.3% (Justin Minaya), and 0.0% (Wildens Leveque, who has not attempted a three and is named Wildens Leveque). It is generally Lawson or nothing from downtown, and even then, it really isn't enough.
Just in the last week, Lawson made nine combined threes against Ole Miss and Alabama, scored a combined 43 points, and watched as his Gamecocks lost both games by a combined 10. This has to be painful, especially when he's the only main backcourt player that can drive to the rim and score fairly well and also one of a couple that generally doesn't take bad mid-range jumpers.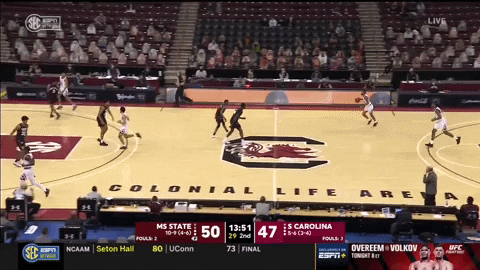 Mixtape star Seventh Woods is here, along with lots of offensive rebounds
While no one else really provides much of interest from 20+ feet out, there is some stuff of varying interest inside the perimeter. Seventh Woods is a legitimately very good mid-range shooter despite being awful from three. Remember the Seventh Woods high school mixtape? I know you do.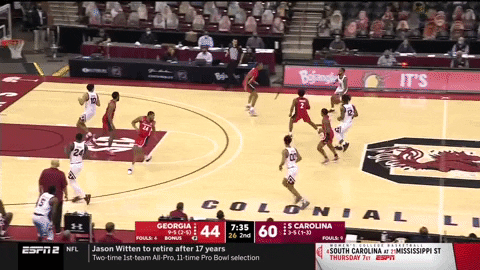 There's also Keyshawn Bryant, a dunking machine at 6'5" who has 20 dunks in just 14 Gamecock fixtures. Bryant has some turnover issues that limit him offensively and he can't shoot well at all, but he's really good at finishing at the rim even through contact.
Lastly, there is the thing that seems to stay consistent among all Frank Martin offenses: rebounding. South Carolina ranks 18th in OREB%, literally the only category on KenPom they rank above the national average in. They've gotten to a 30% OREB% or better on all but four of their opponents, including getting an impressive 15 OREBs against Alabama last week. Every South Carolina Martin team has ranked at least 67th or better in OREB%, and five have ranked in the top 50. They're always very good at it, so you've gotta box out and not lose your man.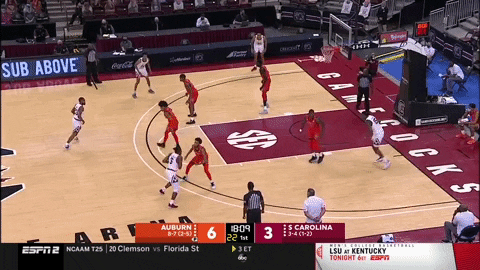 Here's a quick scout of South Carolina's rotation. Only players who receive at least 10 minutes per game in SEC play are considered. The first five players are projected starters. Positions in parentheses are from Bart Torvik's algorithm. A reminder that Jermaine Couisnard and Justin Minaya, both regular starters, are out.
#23 Seventh Woods (scoring PG).

The mixtape guy. Woods is somehow a senior in college now, which is pretty stunning. Unfortunately, he never lived up to the mixtape. Woods is a career 21.4% 3PT shooter, has a career Offensive Rating of 78.5 (if you're below 100, you're in trouble), and turns it over on 31.3% of possessions. But he'll always have the mixtape.

#1 T.J. Moss (scoring PG).

Very rarely shoots (12.9% USG). 32.4% TO%. The offense is 10 points worse per 100 with him on the floor, per Hoop-Explorer. This is a total, complete guess that he starts, but Martin typically doesn't play both Woods and Hannibal together.

#00 A.J. Lawson (wing G).

Easily South Carolina's best overall player. The best shooter and the only reliable threat from downtown. Not an

elite

finisher, but a good one. Generally has excellent shot selection and a low turnover rate. At times, he seems to be the only guy running at full speed.

#24 Keyshawn Bryant (wing F).

Is the second-best South Carolina offensive player from my view, but isn't a good defender and lost his starting job (probably) because of it. That said, do not let him get to the paint.

#15 Wildens Leveque (center).

Genuinely might have the best name in college basketball. I smile every time I see it. Leveque draws about 4.6 fouls per 40 and is one of the best rebounders in the conference. However, he commits 6.5 fouls per 40.

#12 Trae Hannibal (combo G).

4-8 on threes, 16-42 on twos. Gets fouled a lot, is tied for the highest steal percentage, but barely cracks 14 minutes a game.

#4 Jalyn McCreary (PF/C). On the team. That's not entirely fair: McCreary has an absurd block percentage of 10.6%, which would be 1.1% below Arkansas' 7'3" giant if it qualified. He is horrendous on offense, though – 27.5% TO%, no value at all away from the rim.
NEXT PAGE: Restaurants I have eaten at in Columbia, SC, ranked: 1. Cantina 76