South Carolina defense
Heading in the wrong direction, thanks to a lack of rim protection
Not bad! It's also the worst defense Frank Martin has fielded since 2013-14, but who's counting? The Gamecocks rank 74th in Adjusted Defensive Efficiency per KenPom and, after ranking in the top 100 of eFG% allowed for five of the last six seasons, have fallen all the way to 206th this year. I don't doubt that a lot of this is due in part to their insane COVID-paused season, especially considering South Carolina had one of the highest returning production numbers of any team participating in this season. (The highest is also in South Carolina: USC Upstate.)
Last year, South Carolina was a hyper-aggressive defense that forced lots of turnovers, blocked lots of shots, and committed more fouls than anyone else playing college basketball at 23.3 per game. It was a hilariously interesting way to participate in a season where they were one of the sport's youngest teams, and it kind of worked. Despite non-conference losses to Boston University and Stetson, South Carolina turned it around in conference play to wrap up the season at 10-8 in the SEC.
This year, no such turnaround appears to exist. The Gamecocks lost Maik Kotsar to graduation, meaning they lost one of the best shot-blockers in the conference. They don't block as many shots as they have in years past, which is a problem, but they're also struggling to force the bad shots in the first place. Last year's defense wasn't elite even at the rim, but they blocked 14.4% of all attempts at the rim and forced opponents to at least for tough finishes. Without Kotsar, they don't have a truly great rim protector to back things up. This has led to Carolina allowing a 63.3% conversion rate at the rim (293rd nationally) and only blocking 9.3% of rim attempts.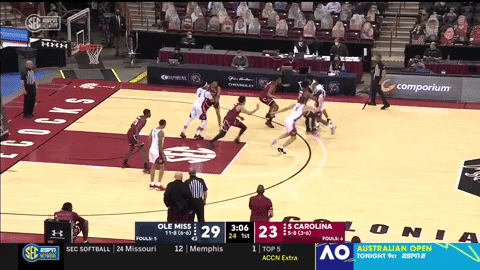 Whether you want to blame it on COVID, no true rim protector, or both, it seems relatively easy to agree on this not being quite what Frank Martin probably hoped for on defense. The Gamecocks have allowed at least 1 PPP to eight of their 14 opponents, and teams that can score consistently inside the perimeter have shredded them. Part of this issue is that no one South Carolina player is a dominant perimeter defender in the vein of a Thornwell type or even a P.J. Dozier. Seventh Woods is fine, but he can't do it alone. South Carolina's allowing about 5% more attempts in the paint than they did a year ago because of all these factors: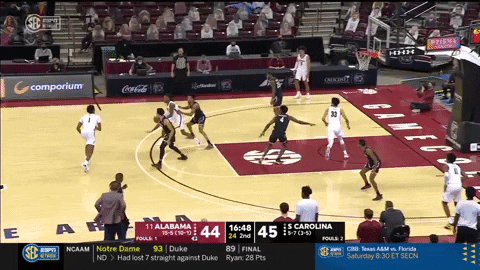 Horrid at closing out
Traditionally, the way to break open the South Carolina defense was to shoot over the top of Martin's system to open driving lanes up. That hasn't gone away, and in fact, no SEC team possesses a worse Guarded/Unguarded rate on Synergy than South Carolina's 43/57:
Predictably, teams that can shoot the ball well each night are going to do very well against this defense. The Gamecocks are an astounding 1-8 in games where the opponent cracks just 30% from three, and their only win was a 78-71 squeaker over Florida A&M in early January. Things simply aren't going well at all right now for Frank Martin.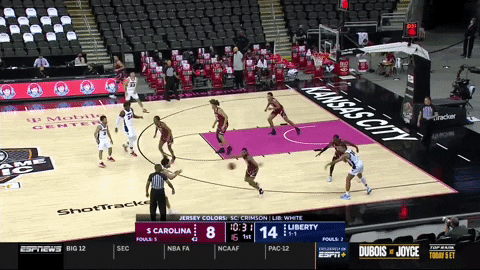 Pick-and-roll defense appears to be a significant issue
A key source of their struggles right now: pick-and-roll defense. South Carolina ranked third in the SEC in this category last season, but they've fallen to ninth this year (per Synergy Sports) and appear to be giving up significantly easier shots out of these sets. A.J. Lawson has had trouble covering the ball-handler at times, and no one South Carolina frontcourt player is threatening enough at the rim to discourage shorter runners like this one.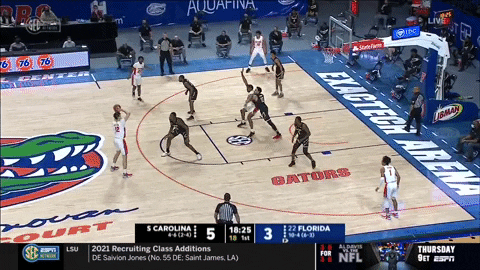 However, they still force lots of TOs
I don't like being this negative, so I'd prefer to end on a positive. All South Carolina has going defensively is the same thing it's had going nearly every season under Frank Martin: the ability to produce turnovers in batches. The Gamecocks still pressure the ball and the ball handler as hard as possible, and their ability to deflect passes and force bad decisions has been the primary reason they've stayed in certain games this year: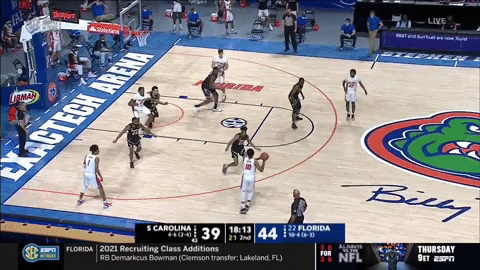 South Carolina ranks 20th in defensive TO%, forcing turnovers on 22.9% of opponent possessions. They don't really do a ton of special things (though they do flash a 2-3 zone from time to time); they just get in your face and let you know they're there. Sometimes, in the midst of the craziest season any of us can remember, it's all you can do.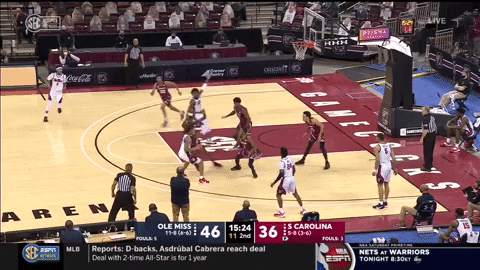 NEXT PAGE: I know this is a basketball post, but goodness, did it feel good to see the sun again today. First time in a week!