America East through Big South
America East: Vermont (48.3% chance of making the field of 68)
One of the most consistent programs in basketball, not just mid-majors, is back again for another potential Tournament run. Vermont suffered through multiple COVID pauses, didn't play a game until December 21, and will make it through the season without playing a non-conference opponent. However, they look like a pretty good offensive team led by center Ryan Davis: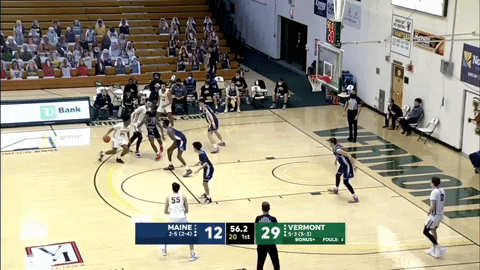 Davis is averaging 18.9 points and 6.6 rebounds per game while shooting 64.6% on twos and 43.3% on threes. All of this is coming while barely cracking 21 minutes per game, mind you! Every member of the Vermont rotation has made at least two threes this season, making them a scary proposition for any first-round opponent with a less-than-mobile frontcourt.
American: Houston (100%)
Normally, we'd be talking about the winner of the American as a potential second-weekend threat, but Houston may legitimately be favored to make the Final Four depending on where they end up. Houston ranks 5th on KenPom and 4th on Torvik, and thanks to an absolutely dominant defense: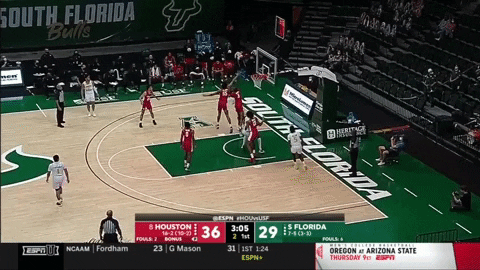 This is the best team they've had since Hakeem Olajuwon was on the roster. A deep Houston run would be very fun, and, as a bonus, would make Dan Dakich's head spin off of his torso.
Atlantic 10: Richmond (32%)
This feels like four years ago at this point, but remember when Richmond defeated Kentucky back in November and looked like the most exciting team to come from the Atlantic 10 in years?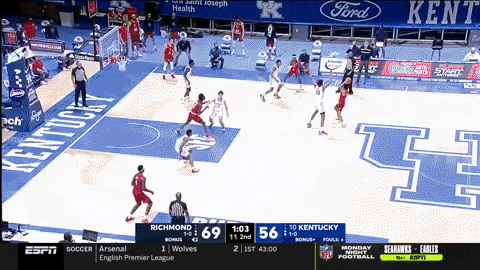 It hasn't quite panned out that way; Richmond sits at 4-3 in conference play (with several cancellations) and owns a pair of losses to teams outside the KenPom Top 100. And yet: this is the most enjoyable team the A10 has to offer. Richmond has the sixth-best turnover margin in America (+5.5 per game), ranks 31st in eFG%, and all five starters score at least 11 points per game. They own wins over Kentucky and Loyola Chicago, and if they make the field of 68, they'll be a scary team to draw.
ACC: Florida State (100%)
The second-best team in the ACC this year is its most exciting, somewhat by default. This is the worst ACC since the conference got to 15 teams, with only two true NCAA Tournament locks and maybe three others expected to get in. So much for the days of double-digit bids! The Seminoles are single-handedly saving this conference from total boredom with an array of dunks and threes, the two most enjoyable shots in basketball: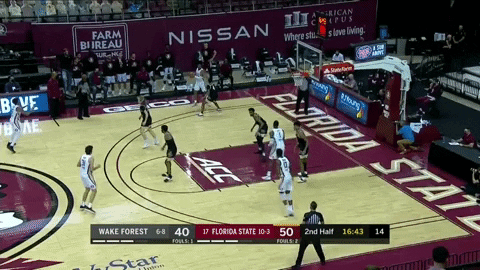 Florida State's offense ranks ninth on KenPom, easily the highest-ranked offense the school has seen in the last three decades. They make nearly 40% of their threes, which is nice on its own, but their roster has so many exciting pieces (led by M.J. Walker) that it would require a couple thousand words to truly dissect. If you haven't seen this team play yet, watch them as soon as you can.
Atlantic Sun: Liberty (76.8%)
(quietly withholding any takes I may have on this school as a university) ANYWAY, the Atlantic Sun is one of basketball's more purely enjoyable conferences. There's several distinct styles, and my actual favorite school here (Bellarmine) is ineligible for the NCAA Tournament due to transitioning from Division 2. So I guess we'll just have to ride with a team that ranks 14th in eFG% and has five players with 16+ made threes.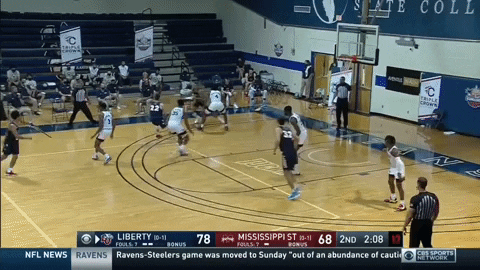 The best of these players is Darius McGhee, a 5'9" junior who takes 16.1 threes per 100 possessions and has posted six 20+ point games this season. This Liberty squad isn't nearly as ferocious as the last couple, but they've won 13 of their last 15 games and appear to be the best the ASun has to offer this March.
Big East: Creighton (100%)
This is the single-most underrated capital-F Fun squad in America. Creighton has had excellent teams before, but this group contains some of Greg McDermott's best shooters to date and has easily his best interior defense he's ever possessed. For the first time ever, you can tune into a Creighton game and see something that resembles actual rim protection: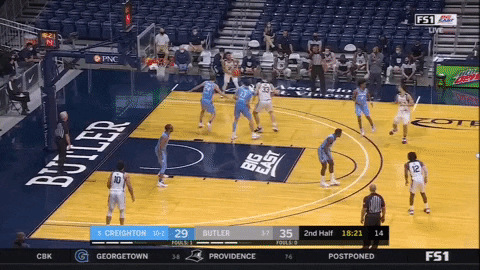 Christian Bishop is barely 6'7", meaning he stands a decent chance of being the smallest center on any roster this March. Luckily for him, size doesn't matter. Bishop has the seventh-best block rate in the Big East and, in conference play, is converting twos at the second-best rate of any Big East player (67.6%). He's very efficient, very smart, and makes a lot of winning plays.
Big Ten: Michigan (100%)
Not just because this is where my dad went to school, though it is a decent-sized reason. Michigan is not only the best team in a very deep Big Ten, they're also one of the best shooting teams in America: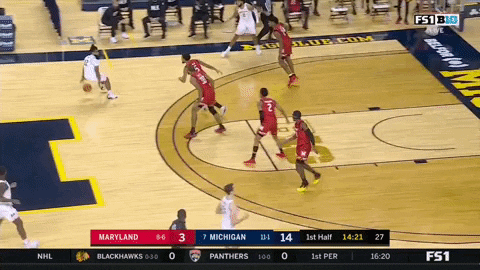 And have the lowest opponent two-point percentage of anyone out there, by way of a defense that forces opponents to chew the clock and take 38% of their shots away from the rim but inside the three-point line: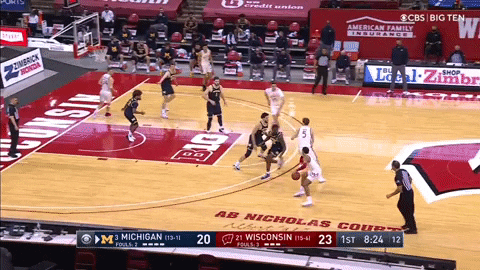 I get lots and lots of joy watching this team play.
Big 12: Texas (100%)
The obvious answer here is Baylor, but everyone already wants Baylor to go far in this year's Tournament. So why not go off the board a little? Texas isn't nearly as good as Baylor, but they look like a solid 4 or 5 seed that should win a game or two in March. That's nice and all, but what we're here for is excitement. With an astounding 82 dunks on the year (over 4.5 a game), Texas rattles the rim and keeps your eyes open: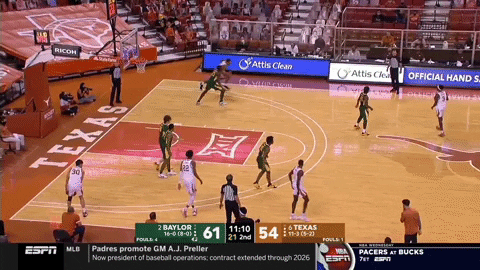 Kai Jones, seen above, has 29 dunks. Jericho Sims has 28. Greg Brown III, a freshman, has 12. Together, they help Texas be one of just five teams in America with three players that have 12+ dunks. Of the five, they're the only team that feels like a certainty to make the field of 68. Therefore, Dunk City 2021 resides in Austin, TX.
Big Sky: Eastern Washington (27.3%)
This is always generally a fun squad, but they appear to have taken it up a notch this year. The Eagles are 9-2 in conference play and are hitting 38.9% of their threes against Big Sky opponents. They rank first or second in every shooting category in conference, and six players have made ten or more threes. Most importantly, they have the best player in the Big Sky on their team in 6'9" center Tanner Groves, a player averaging 17 & 8 who is utterly masterful in the post: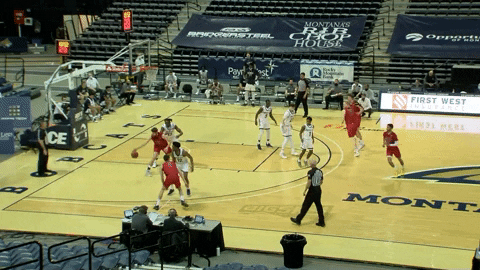 With Groves on the court, Eastern Washington ranks out as the second-best post-up offense in all of America (min. 100 possessions), just behind Michigan. They took KenPom #41 Arizona to the wire, led #38 Oregon for most of the first half, and have won nine of their last 11 games. Keep an eye on 'em.
Big South: Winthrop (61.7%)
You may have heard about this team. Winthrop started the season by winning 16 straight games, though only one came over a KenPom Top 100 team (Furman). They've lost once against UNC Asheville, but they're otherwise spotless. The offense has gotten most of the buzz online, but it's actually the defense that does the thing I find most interesting. These Eagles are a turnover machine on defense, forcing turnovers on 23.4% of opponent possessions: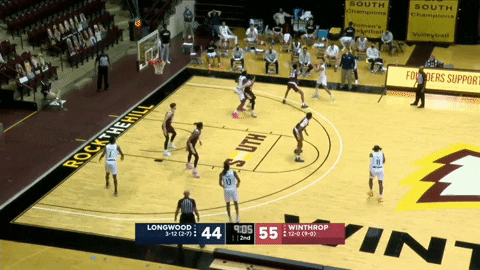 Winthrop's actual shot defense is middling, but they make up for a lack of true size (their main starting lineup features a 6'4" power forward) by doing two hilariously fun things: throwing everyone at the boards and playing hyper-aggressive defense. If they can't force you to miss a shot, they'll strip the ball right from your hands. I'm excited to see them play important games.
NEXT PAGE: Big West through Northeast