Ohio Valley through Western Athletic
OVC: Belmont (48.3%)
It wouldn't have been wrong to think Belmont could suffer a small drop in production after Rick Byrd's retirement. The Rick Byrd Bruins had been one of the most consistent things going, and even a very good coach in Casey Alexander might struggle to keep things rolling. And yet: he is 48-8 and 31-3 in conference play through roughly two seasons, with a two-point percentage of 61.9% that beats all but one Byrd team in Belmont history.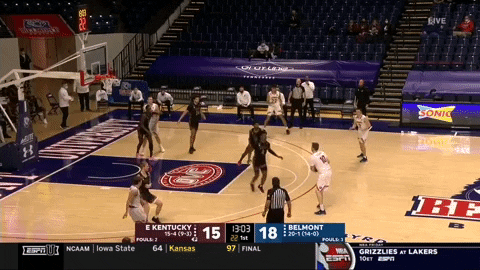 Every Belmont starter scores in double figures and makes at least 56% of their-two point attempts, with scoring led by junior Nick Muszynski. Alexander has kept Belmont's 4-out, 1-in motion foundation and somehow improved things by rostering seven rotation players that hit 36% or more of their threes and a steadfast commitment to getting the best shots possible. By the way, every single member of this Belmont roster is slated to return for 2021-22. How scary might that be?
Pacific 12: USC (100%)
As is moderately routine at this point, the Pac-12 is probably the least-good of the six major college basketball conferences. It's likely that none of their NCAA Tournament teams will go very far, but things can change based on a good draw. Also, things can change if you roster the #2 pick in the upcoming NBA Draft:
Evan Mobley is a legitimately special player and clearly the best talent on USC's pretty good roster. With Mobley on the team, Andy Enfield has engineered an instant turnaround and has the Trojans as a legit top 16 team in America. I don't know that they're quite as good as their 17-3 record suggests, but no one should want to defend Mobley, a 7-foot center who can hit threes, block tons of shots, score at will inside, and draw foul after foul.
Patriot: Colgate (64.9%)
Another shoutout to Colgate, a team that has become a personal favorite over the past couple of years. I got to talk to head coach Matt Langel during the early stages of quarantine, which was nice, but I'm also really impressed with his support staff. Dave Klatsky is an assistant that hosts a podcast on basketball analytics that I recommend, and the team has roped in student Simon Gerszberg, whose work I cite frequently, to help them determine their best shots.
All of that is fantastic, but this is really about getting Jordan Burns one more shot at March glory.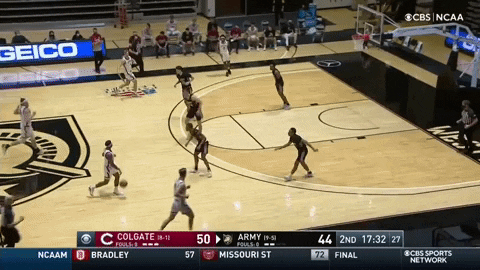 Burns is a fabulous point guard who dropped 30 points on Tennessee in the first round of the 2019 NCAA Tournament, making me sweat for far longer than I wanted to. Now, he's merely one of nine players in America with a >30% Usage Rate and a >110 Offensive Rating. He's as dangerous as it gets in the pick-and-roll, and the only real way to stop him is to find any way possible to get the ball out of his hands. He needs one more shot.
Southern: Furman (34.1%)
Unsurprisingly, Alabama ranks #1 in America in overall percentage of shots that come either at the rim or from downtown. It's 88% of all attempts for them, which is, of course, very impressive. But did you know that Alabama played Furman earlier this year, a team that gets 85.4% of their attempts from the rim or from downtown? It was a wonderful 40-minute display of how much fun college basketball can be, and it featured Furman getting some fantastic looks from downtown.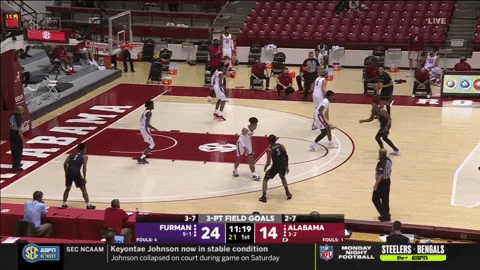 Furman is 7-4 in the Southern Conference, but they're the highest-ranked team the conference has on KenPom and, if the conference tournament happens, they figure to be the odds-on favorite. Furman makes 59.6% of its twos (4th-best), forces turnovers on 21.7% of opponent possessions, and takes 25 threes a game. They can shoot their way into or out of any game they like, which is a very real part of the draw of any 13/14 seed to me.
SEC: Arkansas (100%)
"But Alabama!" "But LSU!" Butt off! I don't think that's an actual phrase, but whatever. Here is my 200-words-or-less defense for why I think Arkansas, not Alabama or LSU, is the most intriguing and fun team the SEC has this season:
Arkansas has seven players that score 7.2 PPG or more per game.

The team's second-leading scorer is J.D. Notae, a player who doesn't start and barely gets over 21 minutes a night.

Arkansas has

six

players that have 20+ made threes this season.

Arkansas's center is 7'3" Connor Vanover, a hilarious giant that is 22-for-66 from three this season and has more three-point attempts than layups or dunks.

The Razorbacks have the fastest average possession length in the SEC defensively; opponents spend an average of 16 seconds per possession with the ball in their hands before Arkansas gets it back.

Most importantly, Arkansas has Moses Moody, a future 3-and-D NBA stalwart who takes great shots and does so many things well.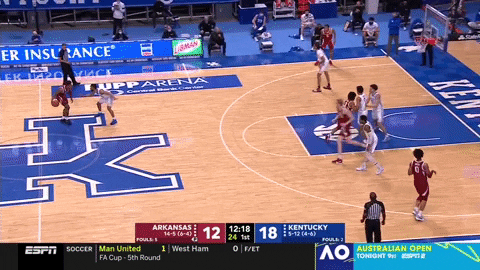 Arkansas is one of the most hot-and-cold teams out there, but if they're hot in March, they're a 7 seed with serious Sweet Sixteen potential. Musselman did it in 2018 with Nevada; he could very well do it again here.
Southland: Abilene Christian (54%)
The single-most interesting team on this entire list, in terms of teams I've actually watched play. Abilene Christian is 18-3 and 10-1 in the Southland, but they're just okay offensively (190th KenPom). They don't play fast (124th in tempo). They don't press all that often. They don't even have a player that averages more than 12 points a game. But what they do have is the nastiest, most aggressive man-to-man defense I have seen in college basketball all season.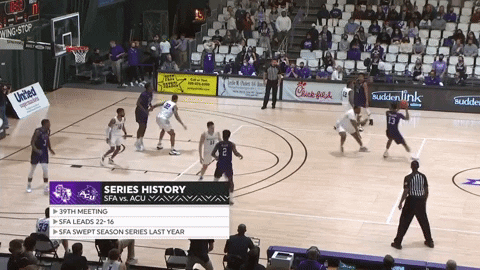 Abilene Christian forces a turnover on 28.6% of opponent possessions, easily the highest rate in America and the highest rate recorded by any team in 15 seasons. They only press a few times a game, so it's not a Havoc-like situation. They simply get in your face, make you extremely uncomfortable, and force a giant amount of turnovers. Joe Golding's team made Texas Tech sweat for a full 40 minutes, forcing turnovers on 25% of possessions. In all but two of their 21 games, the opponent has turned it over on 20% of possessions or more; they've forced a turnover on 30%+ of possessions in 12 games. And it's not just turnovers: the Wildcats are holding opponents to a 44.2% eFG%, making them the only team in America to rank in the top 10 of both defensive eFG% and TO%. 
SWAC: Prairie View A&M (47.2%)
Right behind Abilene Christian is Prairie View A&M, who forces turnovers on 26% of opponent possessions and runs a similarly aggressive man-to-man scheme. Sometimes, the Panthers will flip into a full-court press or a zone defense, but generally, this is just a group that makes you very uncomfortable in half-court situations:
When I interviewed Byron Smith (Prairie View head coach) back in May, he said something that really backs up how this team plays: "On the court, we want to be the grittiest, grimiest team. We're going to be the underdog a lot of nights, and we want to be the hardest-playing team on the floor. It gives us an opportunity to win some games we shouldn't." That it does, as the Panthers are 6-0 in the SWAC thus far.
Summit: Oral Roberts (13.2%)
This is a pick that hurts, because all three of North Dakota State, South Dakota, and South Dakota State are superior squads. In particular, South Dakota State runs a lovely offense that scores lots of points and doesn't rely on any one player to carry them. (I also considered South Dakota, whose Todd Lee has some of the best out-of-bounds designs in the college game.) But Oral Roberts has two great players that can take over a game and they get more points from beyond the arc than all but five teams in America:
And, well, if you can't get behind that, March may not be for you.
Sun Belt: Texas State (41.4%)
A big, hearty shoutout to my friend Ishmael, one of my longest-running Internet friends. When Danny Kaspar resigned in turmoil this past offseason, Texas State's season looked pretty much over before it began. How could a team that lost its coach and best player carry any real momentum into the strangest season of all time? The answer: by forcing a ton of turnovers on defense and gutting out close games.
Texas State offers up the sixth-slowest pace in America to go with taking just 26.6% of their shots from three, obviously highly unusual in 2021. Instead of trying to sprint to the finish, the Bobcats try to slowly Crockpot an opponent to death with a tight man-to-man defense. It's working. Despite allowing opponents to post a 51.1% eFG% (208th nationally), Texas State is 15-6 and 8-4 in games decided by 10 or less. In 12 conference games, they've won the turnover battle in six straight games and in eight of the last nine. It's a bizarre season, and the Bobcats are slowly but surely navigating their way to their first NCAA Tournament bid in 24 years piece-by-piece.
WCC: Gonzaga (100%)
You know who this team is. I hope they win it all and beat everyone by 20+ points, except for Tennessee.
WAC: Grand Canyon (54.6%)
It has to feel pretty good to be Bryce Drew right now. Not only is Vanderbilt in even more turmoil than they were when they canned him after three seasons, he's leading a Grand Canyon program that had gotten stuck in the mud to a very likely WAC title and the first-ever NCAA Tournament bid the school has had. In order to get there, Drew is looking back to how things worked at Valparaiso: lots of easy twos, a focus on defensive rebounding, and an emphasis on the right shot rather than the first shot.
Asbjorn Midtgaard – yes, I looked up how to spell this at least four times – is a 7-footer from Denmark who has gone from an also-ran on Wichita State's roster to the best player in the WAC. Midtgaard is making 75.8% of his twos, which is the second-best rate in America. He's one of the best defensive rebounders out there. He gets to the line a ton, too. Against Colorado, the best team on their schedule, Grand Canyon made 66.7% of their twos and posted a 39.3% OREB%. Those are the worst figures surrendered all season by one of the nation's 20 best teams. They'll be a 14 seed, but given the right matchup – preferably a team that isn't a great two-point defense (Iowa) and doesn't force a lot of turnovers (Iowa) – you could see them do some damage.
Thanks for reading this post. If you're new to my site and would like to learn more about my work, you can follow me on Twitter @statsbywill or email me statsbywill@gmail.com.