Big West through Northeast
Big West: UC Santa Barbara (35%)
I'll admit that I have yet to see a full UCSB game as of yet. They're on the top of my list to watch a few games of when I have some downtime in a couple of weeks. This is not necessarily because they've beaten several great teams or even played any; it's entirely out of curiosity. This is because in my online pal Simon Gerszberg's system, the Gauchos rank 34th nationally, coming up in the 94th percentile on offense. I'm most excited to dive in further on the work of senior JaQuori McLaughlin: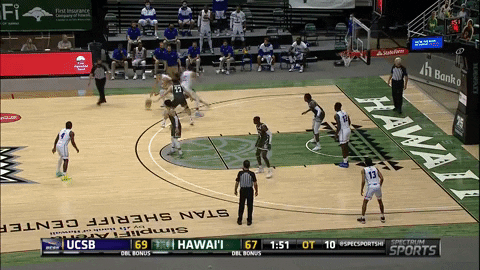 McLaughlin is one of just 11 players in America with a usage rate above 25% and an Offensive Rating above 120. (Tanner Groves of Eastern Washington is also included.) Any club you're in that includes Luka Garza, Drew Timme, and Jared Butler is a great one. It's not just him, though: UCSB's defense has held nine of their last ten opponents below 1 PPP and has outscored their Big West competition by 12.3 points per game. I'm very, very curious to peek under the hood.
CAA: Hofstra (17%)
A sentimental pick, but also a rational one. Joe Mihalich (head coach on medical leave) and Mike Farrelly (assistant, acting head coach) are two people I interviewed for a story on Hofstra in summer 2019 and are two of the coaches I talk with most frequently. They're just smart, nice people, which goes a long way. It also helps that they've constructed the most enjoyable offense in the CAA.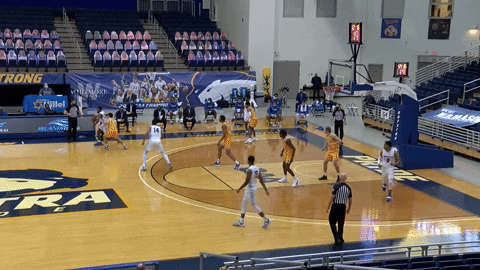 The key pieces in their puzzle are two seniors and a junior: Jalen Ray, Tareq Coburn, and Isaac Kante. Together, they average 47.3 points per game, with Ray and Coburn being #1 and #2 in the CAA in made threes. (Third-place Payton Willis of College of Charleston is a distant third at 36 made threes.) Hofstra limits bad shots, has two terrifying deep threats, dropped 1.213 PPP on Richmond, and has scored 1.1+ PPP in seven of their last nine games. Plus, there's a serious sentimental side to this. 2020 should've been Hofstra's first NCAA Tournament bid since 2001; instead, COVID took that away from them. I hope they make it to Indy this March.
Conference USA: Marshall (16.1%)
One of the strongest C-USAs since Memphis left features five Top 100 teams, all very close to each other in KenPom and all serious threats in March. You could pick any of the five and be fairly happy with your choice, but I'm riding with Marshall for the same reason I would any other year: they are as fun a basketball team as this conference provides.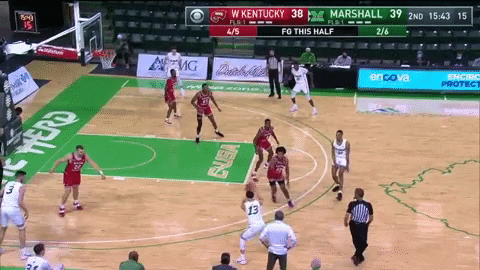 The Thundering Herd have 86 dunks on the season, the second-most of any team in the country. (Auburn is ahead of them.) Chief among them is Taevion Kinsey, a Conference USA Player of the Year frontrunner who has 36 dunks, 16 made threes, and an absurd 79-for-98 hit rate on shots at the rim. He's a high-flyer that makes Marshall a hard-to-guard offense.
Horizon: Wright State (73.8%)
The above Marshall team smoked this Wright State team, but that's about the only time a team has really thoroughly beaten Wright State. Scott Nagy's team is back for another crack at the March pie, and they're pretty clearly the best team in this league. It's hard to figure out if I should highlight their offense or defense in this short blurb, seeing as both are about equal and are astoundingly good in both shooting and preventing good shots. As a compromise, here's Jaylon Hall nailing a three for a Wright State offense that's fallen below 1 PPP just twice in 21 games: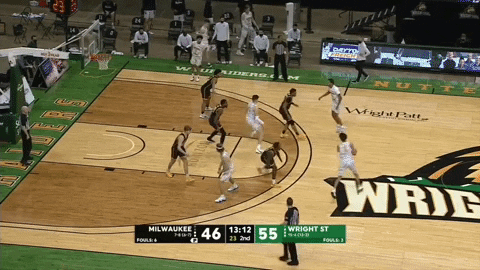 And here's Loudon Love – remember him? – blocking a shot to boost Wright State's 25th-ranked rim defense:
You really, really do not want to see this team as your 13 seed in March.
MAAC: Saint Peter's (18.1%)
This year's MAAC is lacking in quality options, to be honest. No team ranks higher in KenPom than 144th (Siena), and only one team has an individual side of the ball that ranks in KenPom's top 100. Why not make the most extreme pick on the board in taking a team that ranks 315th offensively and 54th defensively, with far and away the best rim defense in America?
Saint Peter's, thanks to rostering the absolutely incredible K.C. Ndefo (16.6% Block%, #1 in the nation), is blocking more two-point attempts than all but one other team out there. More importantly, opponents are being held to a 41.6% hit rate at the rim. This is 5% lower than the next-best rim defense in America (Marist, also in the MAAC). I've never seen anything like it, and yeah, I want to see if it sustains against better competition. Worth trying!
MAC: Akron (11.6%)
Loren Cristian Jackson.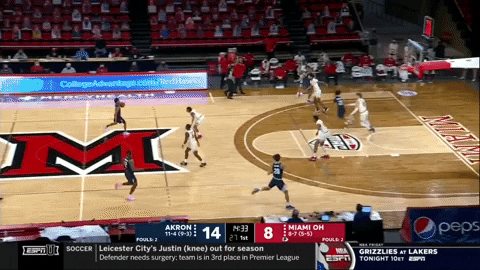 This could stop right there and be fine, and I did a video on LCJ last season when it looked like Akron was going to make the non-existent 2020 NCAA Tournament. Jackson is one of just nine players in America with a Usage Rate above 30% and an Offensive Rating over 110. Again, if you're on the same list as Luka Garza, Ayo Dosunmu, and Cameron Krutwig, you're doing something right. More importantly, no other player on this list is even close to the tiny height LCJ stands at of 5'8". You need to see this jitterbugging, generally unguardable player before he graduates.
MEAC: Morgan State (40.1%)
Not a ton of quality options here, and the MEAC, by way of low funding and (gestures at everything), is frequently either the worst or second-worst conference in Division I basketball. It hasn't helped this year that three teams opted out of the season and two others (South Carolina State and Delaware State) are a combined 1-27. So we'll go with the biggest positive I can produce, which is that Morgan State has the #2 scorer in the MEAC in Troy Baxter (17 PPG).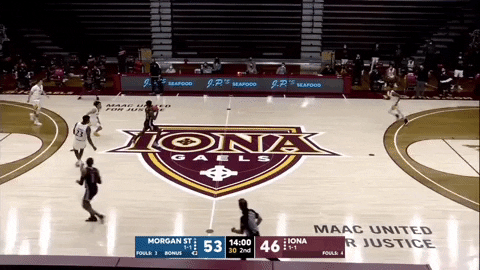 Baxter is a 6'9" center on a team that gets far worse – like, 14 points per 100 possessions worse – when he's off the court. It's probably no mystery why Morgan State is 5-1 when he plays 30+ minutes and 6-5 when he doesn't. He's worth checking in on this team if they're in the First Four.
MVC: Loyola Chicago (99.6%)
Aside from Gonzaga, this Loyola squad is the best mid-major basketball has to offer by miles this season, and I'd honestly say they're as good as both Dayton and San Diego State were a year ago. The main difference: both of those teams had a full non-conference slate and several good ones to boost their resumes. Loyola got seven non-conference tries with only three games coming against Top 100 competition. That's unfortunate. It's also unfortunate for their MVC brethren that it allowed the Ramblers to fly under the radar into conference play, where they've utterly demolished all competition behind MVC Player of the Year (probably) Cameron Krutwig.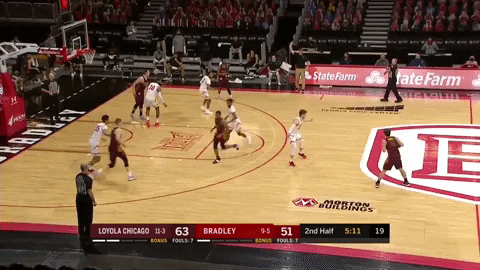 Krutwig, who is the goofiest-looking star player college basketball has given us in at least a decade, is simply a monster. Not only is he efficient (113.9 ORtg with a 31% Usage)…not only can he rebound really well (12.5% OREB%, 19.4% DREB%)… but he also passes the ball extremely well (26.2% Assist%) and does all three despite being game-planned for in a unique way every single night.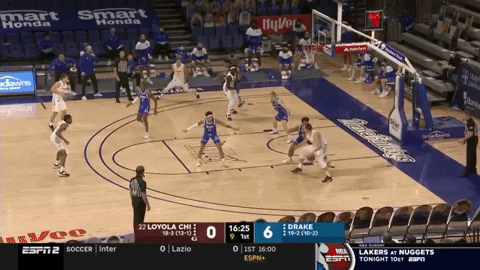 In Bart Torvik's 14-year database, Krutwig is one of three players to ever accomplish the above stats. Krutwig has carried his team to a top ten KenPom ranking, and the shame is that, for now, I can't get to how Loyola Chicago forces more off-balance jumpers than any other team in the country or how they might have the best defense out there. That'll be for when I get to write about them next month when they're in the Sweet Sixteen or further.
MWC: Colorado State (71.2%)
Because the previous section is so long, I'll keep this one very simple: Colorado State takes 45.1% of their shots from downtown and hits 38.3% of them (20th-best). Every rotation player averages at least one three-point attempt per game, and while he isn't the best shooter, David Roddy – a 6'5", 252 pound bowling ball – is a legit shooting option every time he hits the floor.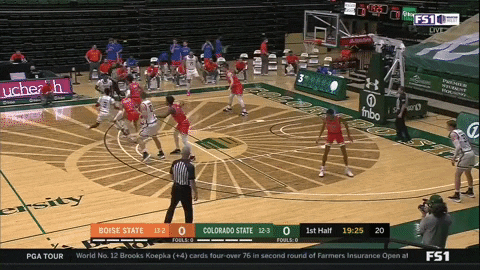 NEC: Bryant (39%)
Bryant hasn't made the NCAA Tournament before, and to be honest, they likely won't make the radar of most observers even if they do get in. The Bulldogs rank 195th on KenPom, are likely to be a 16 seed if they win the Northeast Conference, and own just one win over a top 200 KenPom team. But I am asking you to Consider Bryant, a team that plays at the second-fastest pace of any team in America and is the 16th-best three-point shooting squad in college basketball: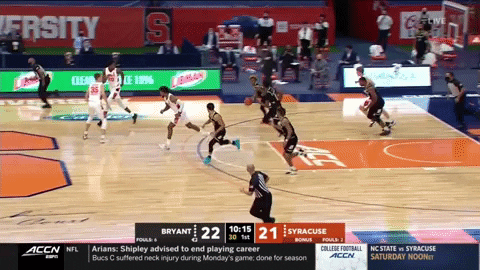 Four Bryant starters average 13.5 points or more per game, and the Bulldogs can dump points on just about anyone they play. Syracuse was caught very off-guard in an 85-84 survival in November. Decent A-10 squad UMass gave up 93 to the Bulldogs. Six times this season, they've scored 90+. Against a 1 seed, I imagine they'll give up 90+, but it won't be boring.
NEXT PAGE: Ohio Valley through Western Athletic