LSU offense
Terrific!
I could've sworn that when Will Wade was hired at LSU it was under the guise of being a defensive head coach. Alas, it simply turned out that Will Wade is merely the designer of one of the best offenses in college basketball instead. Barring a run of bad hoops down the stretch – always possible, of course – LSU is going to finish a second straight regular season as a top 10 college basketball offense and a third straight in the top 15. Outside of Wade's first team, three-point shooting has never been a huge part of what LSU does. To be certain, six of the seven members of LSU's main rotation have hit at least one three this season, with Cameron Thomas and Javonte Smart leading the way.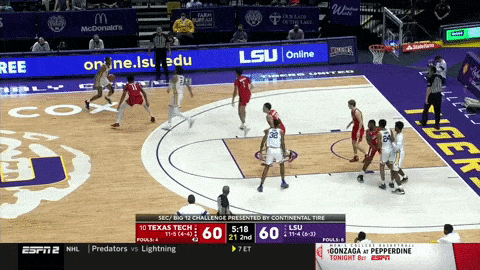 But there are two things that are quite unusual about this unusually efficient offense: LSU only gets 29.2% of its points from threes, which is a lower percentage than any other top-six offense not named Gonzaga. (The rest are all at 32% or above; Gonzaga is also in the middle of a historically-efficient season from two to the tune of 64.3%.) LSU only hits about 34.4% of its three-point attempts and has actually been a below-average threes team in conference play.
That's one thing. But the other is something most strange: LSU doesn't rank in the top 50 of any of Ken Pomeroy's four factors. Only one other top-ten offense in the entire KenPom database has done this over a full season: 2019-20 Iowa (the fifth-best offense in a weak offensive year). So: how does a team still manage to be this excellent despite not being elite at any one thing? By being very good at literally every aspect of offensive play, with almost no weak points to display.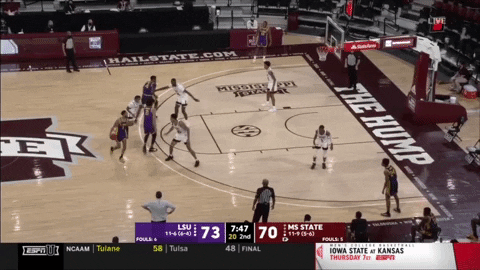 While LSU's offense does indeed fail to crack the top 50 in any of the four factors, it does crack the top 100 in all four areas, making them one of just three offenses in America to do so (Gonzaga and Iowa). They rank in the top 100 in all of the miscellaneous components, too: 38th in 2PT%, 42nd in FT%, generally low block and steal rates, relatively few self-inflicted turnovers. The only stat they're outside of the top 100 in is 3PT%, where they still rank above the national average at 133rd. Even the Synergy stats line up pretty well: among the six play types that make up at least 5% of offensive possessions, only true transition play gets a grade other than "good" from Synergy's service. And even that isn't bad, ranking 82nd in eFG%!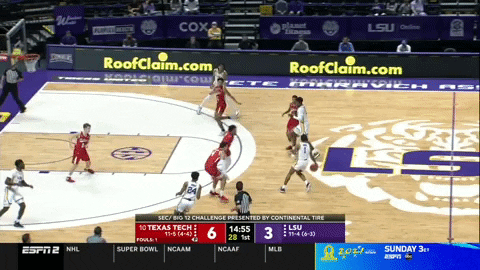 Cameron Thomas is a scary offensive player
While only seven LSU players get double-digit minutes per game, every player brings a diverse set of skills to the table. Four of the five starters take at least two threes per game, all five starters hit at least 50% of their twos, and four different players touch at least 12 points per game. If you aren't prepared to defend for a full 40, LSU has the capacity to utterly roast you into oblivion. Well, maybe Cameron Thomas alone can roast you into oblivion:
Freshman Thomas came in as a lower-profile five-star this season. Ranked #25 by 247, Thomas wasn't even a top five SEC recruit coming into this season and was expected to be overshadowed by the likes of Brandon Boston, Jr. and Jaden Springer, among others. (Sharife Cooper was one spot ahead of him.) However, he's ended up being easily the most impactful freshman in the SEC and has been battling it out with possibly the top three picks – Evan Mobley, Jalen Suggs, and Cade Cunningham – for most impactful overall freshman. (Hunter Dickinson at Michigan as well, assuming their season ever resumes.)
Thomas is hyper-skilled offensively in a few different ways, the most notable of which being that he can create his own shot from almost anywhere on the floor. Thomas is elite at pushing the pace off of an opponent miss and speeding from end-to-end to get easy points: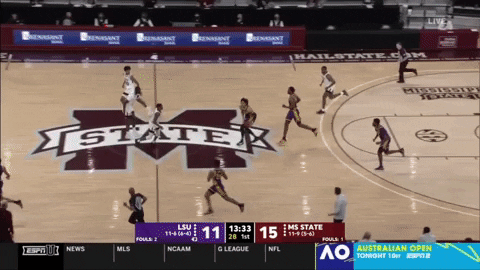 And in half-court, he frequently uses screens to get into an advantageous situation where he can pull up off the dribble. Only three players in the SEC take more jumpers off the dribble than Thomas does, and he's quite a bit better at hitting from mid-range than he is from downtown at this point: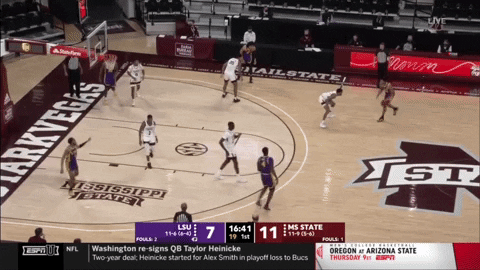 Yes, Javonte Smart is still here
Thomas doesn't get to the rim a ton – just 39 attempts, the fourth-most on the team – but he's hyper-efficient there at 74.4%. The real driving force at the rim from the backcourt is Javonte Smart, somehow only in his third season at LSU. Smart is the same hyper-streaky, erratic, jittery player he's always been, but he's become a much better three-point shooter and better finisher while retaining his good base of skills he entered college with. While Thomas is the guard that pushes the pace and works his way to the mid-range, Smart is more of the half-court driver, using LSU's ball screen sets to pull up from downtown (45-101, 44.6%):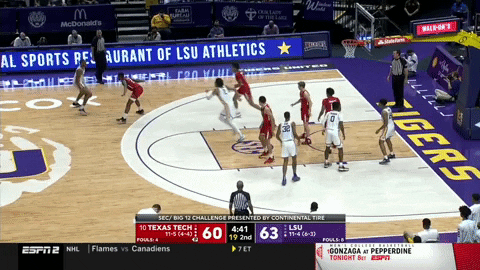 Or to use the same screen to force his way to the rim. Smart still doesn't get as many free throw attempts as he deserves, but he's turned into an excellent finisher this season even through traffic: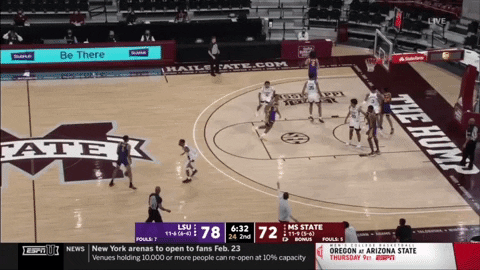 Smart can also use these sets to explore ways to find players like Darius Days (32-74, 43.2%) and Trendon Watford (12-38, 31.6%) open from beyond the arc. Or, in Watford's case, something inside the arc:
Darius Days and Trendon Watford are also excellent, but in different ways
Days takes about one extra three per game than twos, and he continues to have one of the more unique offensive skill-sets I can recall for a likely four-year power-conference frontcourt player. Days is a 6'7" wrecking ball that can kill your team on the boards: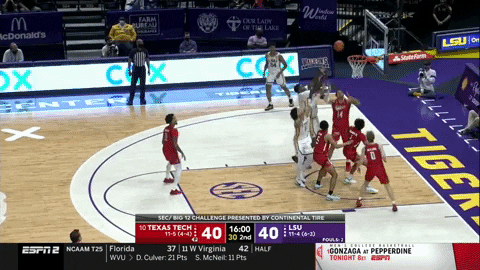 But he's also one of the best spot-up shooters in the SEC. Among players with at least 60 half-court jump shot attempts this winter, Days ranks fourth-best in the SEC at a 45.3% hit rate. LSU tries pretty hard to work the ball to him in a no-dribble spot-up situation, and he's only taken one off-the-dribble jumper all season long. A lot of these derive from kickouts: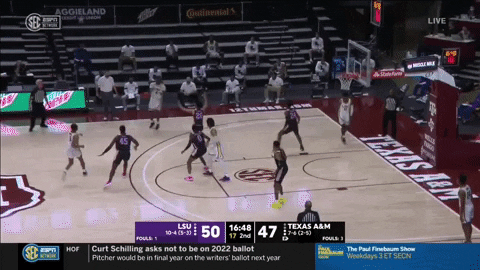 Lastly, we'll explore the Trendon Watford conundrum. Watford is an exceptionally skilled 6'9" would-be small-ball center who hits about a three per game and is terrific at finding his way to the free throw line, particularly in isolation: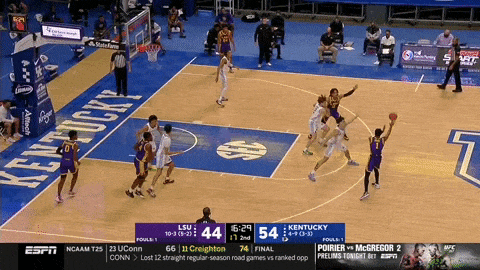 However, Watford is also pretty easily the least-efficient scorer of LSU's top four guys. Watford doesn't commit a terrible amount of turnovers or anything, but outside of being one of a wide array of great rim attackers on the team, he's kind of…underwhelming? I don't know if that's the right word, but I do know that the least enjoyable part of watching LSU on offense is whenever the ball dies in Watford's hands for 10+ seconds in one of the numerous ISOs he draws up for himself each game. This has a pretty strong mid-2000s feel to it:
If Watford cut his ISO possessions in half and focused more on posting up (where he's very good) and being one of the few 6'9" ball handlers in college basketball (where he's actually pretty terrific), he would be a better overall player. But it's kind of a small complaint if this is the main issue I have with the sixth-best offense in America. The athleticism at LSU is nearly unmatched; it's just about if they can mentally put it together each night.
Here's a quick scout of LSU's rotation. Only players who receive at least 10 minutes per game in SEC play are considered. The first five players are projected starters. Positions in parentheses are from Bart Torvik's algorithm.
#1 Javonte Smart (scoring PG).

As explored above, Smart has gotten exponentially better from downtown and has improved his shot selection inside the arc, though he's still prone to taking bad jumpers sometimes. 20.2% TO% is the main blemish, but pretty hard to guard.

#24 Cameron Thomas (wing G).

The leading scorer on the team and the guy that should probably be the SEC Player of the Year, despite being an awful defender. (We'll explore sortly.) Thomas is one of the best shot creators in college basketball, never turns it over, and scores efficiently despite a high difficulty of shots. A worthy first-round pick.

#0 Mwani Wilkinson (wing G).

Has literally the

lowest usage rate of any high-major starter

at just 8.3% of all possessions. Wilkinson takes a shot about once per 8.3 minutes of on-court time, which is insane. It comes as no surprise that he is extremely efficient and exclusively scores off of basket cuts and rebounds. Missed last game due to the flu.

#4 Darius Days (stretch 4).

A stretch 4 shaped like a bowling ball. Days is a dominant rebounder, very good shooter, fantastic finisher, and all-around very good player. Do not let him get open from anywhere.

#2 Trendon Watford (wing F).

Possibly the most talented player on this very talented roster, which makes him a frustrating watch. Watford ISOs on 18% of his possessions, which would be great if he shot better than 38% on said possessions. Can score consistently within 15 feet, though, and gets fouled a lot. 

#11 Josh LeBlanc (PF/C).

Another small-ball center, though LeBlanc just never shoots and has a 9% Usage Rate. He's the best rim protector on the team, but because of his lack of offensive game and an awful 6.3 fouls/40 metric, he only plays about 13-16 minutes a night.

#25 Eric Gaines (combo G).

Has had a nightmare offensive season: 8-30 on twos, 3-20 on threes. It seems just like a temporary thing because he's an average free throw shooter and plays good defense. Also has a 29.3% TO%, though.

#32 Shareef O'Neal (PF/C). Shaq's son didn't play against Mississippi State but has randomly become a 10-15 minute player over the last couple of weeks. O'Neal can block a shot and is a very good rebounder, but aside from that, he doesn't do much.
NEXT PAGE: The only movie set in Louisiana that matters is 1986's Down By Law. I know there are others, but to me, it is just Down By Law