How Tennessee matches up
Pretty dependent on how well the ball moves in zone offense…as well as against a normal man-to-man
Reading the end of the last section will make reading this section hit like a freight train, but we do have to face facts: Tennessee's zone offense this year has been unusually awful. They haven't been able to hit their usual array of mid-range jumpers well enough, and while they have shot 36.2% from three against zones, it hasn't resulted in the paint opening enough or in players being mobile and wise enough to recognize gaps in opponent coverage.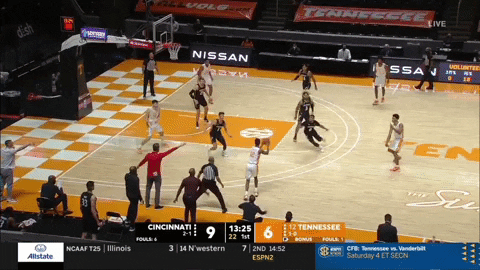 Still, you have to put that aside and apply what you've learned from past issues to turn in a stellar performance against an openly bad LSU defense. The last four teams were all somewhere from good to fantastic at breaking down a zone, and a commonality among the better groups was that they didn't waste their time taking bad mid-range shots when they could either take a three or get to the basket instead.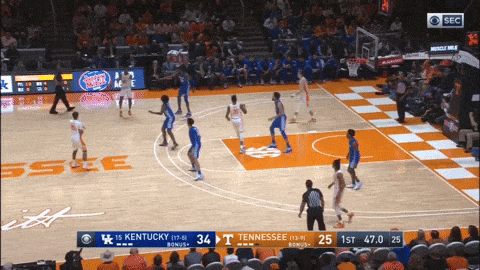 This is on Tennessee to simply take better shots. If we are to believe Rick Barnes, and why not do so, he's been begging Tennessee's freshmen to eschew some of their longer twos and get to the rim instead for the last two months. I think we've seen some positive work in that direction, more so for Keon Johnson than Jaden Springer: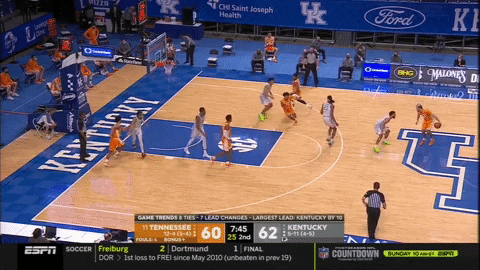 But then again, Springer is the better, more efficient offensive player. If Tennessee is willing to let these two control the pace and control how the offense runs, you've simply got to live with some of the lows you see. LSU isn't a turnover-machine defense by any stretch, but they've got active hands on the perimeter, and these two players have struggled at times with some silly turnovers that they've got to eradicate. If they simply limit these mistakes and still manage to play the same style of basketball we've seen over the last week, Tennessee's offensive ceiling greatly elevates.
Lastly, as mentioned: you're going to have to work the ball inside-out to create holes in LSU's defensive coverage and force them to overcompensate at the rim. Tennessee has the athletic ability to score at the rim at will if they want, but it isn't often their mode of operation. I'd be happy if Tennessee got a lot of good drives to the basket from their legion of backcourt options, all of whom can kick out to an open shooter: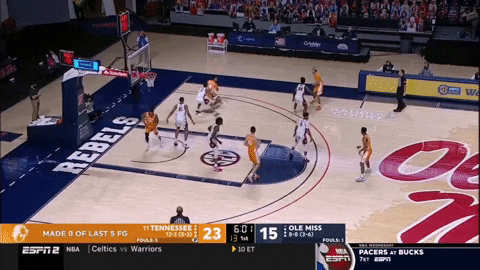 Tennessee simply has to run with more small lineups going forward, and against a team where the tallest non-injured rotation player is 6'9", this is pretty much an ideal chance to do so. All five members of the LSU starting lineup are athletic and able to score from 20+ feet out, and it seems like a good time for Tennessee to continue to try more Pons-at-the-5 lineups. Also, Tennessee is going to get a good amount of offensive rebounds in this game no matter what they do, simply because LSU is that bad at boxing out.
Toughest defensive matchup of the year, but Alabama provides the blueprint
Defensively, I won't lie to you: this is going to be Tennessee's toughest test of the entire season. LSU isn't shoot-the-lights-out great from downtown and they really aren't elite at any one thing, but because they have so few offensive flaws, it's incredibly hard to limit them on the scoreboard for 40 minutes. Only two teams have held LSU below a point per possession all year, and Alabama did it twice. With help from the Crimson Tide, we can generally see how one can at least limit the LSU offense, even if stopping it outright is very difficult.
First is a pretty simple one: Alabama did a fantastic job of forcing LSU inside the three-point line and into shorter mid-range twos. Across two games, the Tide only let LSU take about 31.6% of their shots from downtown. They fiercely closed out every attempt they could, to the tune of the Tigers shooting a combined 9-for-43 (20.9%) across both games.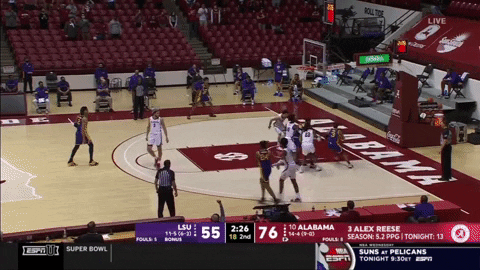 Tennessee's done a great job of this for most of the season, but it's also worth noting that 20.9% is pretty unsustainable in either direction. (Tennessee is also overdue for an opponent to shoot 35% or better from three, as their last five opponents have all gone 26% or worse.) To limit this, Tennessee must also close out hard to eliminate the option of the three-point attempt in the first place. LSU took about 7% fewer threes than expected against Alabama and had two of their worst 2PT% games of the season by way of Alabama forcing 56 non-rim two-point attempts: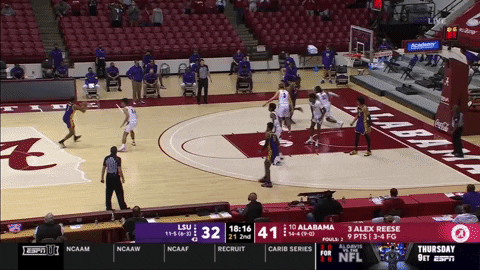 The easiest way for Tennessee to replicate this is genuinely pretty simple: you have to keep four of your main six (the starting five + Josiah-Jordan James) on the floor as much as possible. A wise man would reply to this and say "obviously, you moron," and I would agree with them while politely declining the "moron" descriptor. Tennessee probably can't straight-up match athleticism with athleticism, but they can match athleticism with constantly putting out lineups that give 100% effort on defense and close out hard. I would love to see Tennessee rush out on three-point shooters like this and force them inside the line for a point less: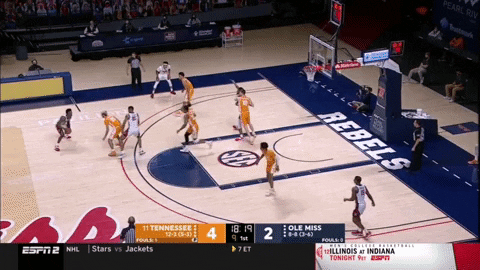 And similarly, I would love to see Tennessee to continue to wall off the rim the way they have for most of the season and for 31ish minutes against Georgia.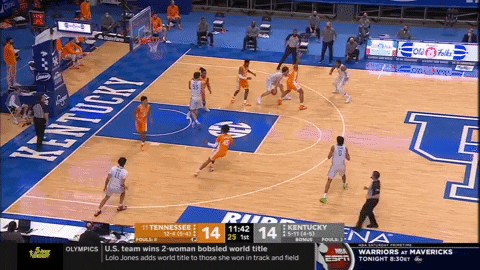 Alabama has taught a lot of teams good lessons this year, and Tennessee is certainly among them. After all, it was the Alabama game that primarily exposed Jaden Springer's importance to the roster and to the season's potential outcomes. It's only fair that Alabama would also teach Tennessee the lesson of forcing LSU into as many 5-20 foot shots as humanly possible.
NEXT PAGE: Lineup notes, key matchups, three predictions