Kentucky offense
Generally the same, though Brandon Boston has started hitting threes
The upside of the SEC basketball season: I get to write about 13 different teams. The downside: sometimes you play one team twice in a two-week span. Nothing has fundamentally changed about the Kentucky offense since the last time Tennessee played them. Kentucky blew their best three-point shooting night of the season (14-for-26) against Arkansas in an 81-80 loss. They shot it really well against Auburn four days later en route to an 82-80 victory, but had to squeak one out against Vanderbilt on Wednesday by four points in a game they probably should've won by 10-15. Congrats, you're caught up on everything that's happened to Kentucky since Tennessee defeated them by 11 two weeks ago.
I guess the biggest development, if any, since the last time these two played has been the sudden emergence of Brandon Boston, Jr. as a three-point shooter. Boston was a wretched 11-for-55 after the Tennessee game on the season, and opponents were sagging off and allowing him to jack up as many 17+ footers and threes as he wanted. Thanks to a fairly random hot spurt against Arkansas and Auburn, that may have changed: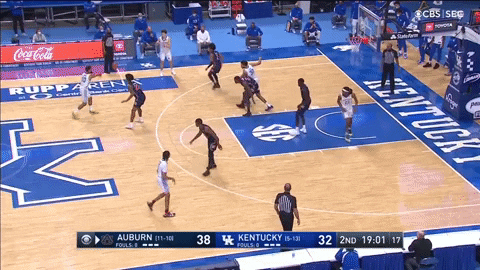 In those two games, Boston made nine of his 13 three-point attempts. Again, a reminder that he had made eleven total threes across his first 17 games of the season. This almost certainly won't last, and it already showed signs of regression in a Vanderbilt game where he shot 4-for-14 from the floor. Still, you can no longer openly ignore Boston from downtown; he is definitely worth defending out to 20+ feet for now.
Secondly, and perhaps the most important piece, is the continued emergence of the fantastic Isaiah Jackson. Despite having no jump shot and being more of an old-school center, Jackson appears to be playing his way into the low end of the NBA Draft lottery after generally being a late-first round/early-second round guy for most of the offseason. His importance is more prevalent on the defensive side, but Jackson has gotten 23 free throw attempts in the last three games and is utterly fantastic at drawing fouls: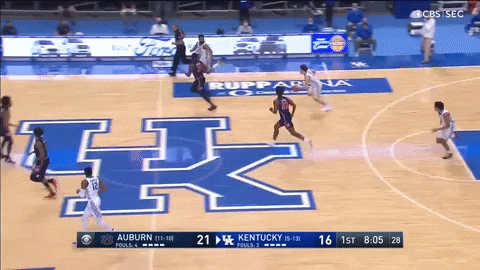 Tennessee's obviously got to watch on overcommitting when Jackson has the ball, though I do think the officiating won't be quite as hilarious as it was in the first half in Rupp Arena last time.
Still lots of awful shots, still lots of non-rim twos
Other than that, everything is generally the same. Yes, Keion Brooks, Jr. had the game of a lifetime for 28 minutes against Tennessee in Rupp Arena with 23 points, but he's scored a combined 24 points in the three games since. Kentucky's third-best player during this run has been Jacob Toppin, Obi's brother and a player that generally takes maybe one three-point attempt every other game. So, with your updates above, here's a quick summary of what I wrote two weeks ago that's still mostly true.
Kentucky's offense is much, much worse than almost anyone had real reason to believe. I don't like dumping on college players that I assume are trying their hardest, but it really is unbelievable how many things Kentucky is openly bad at. The Wildcats rank 296th in eFG% at 46.7%, which is both easily the worst figure they've posted in the KenPom era and only the fourth time ever they've ranked outside the top 100 in the stat. It would be one thing if, as in November, Kentucky only couldn't hit threes: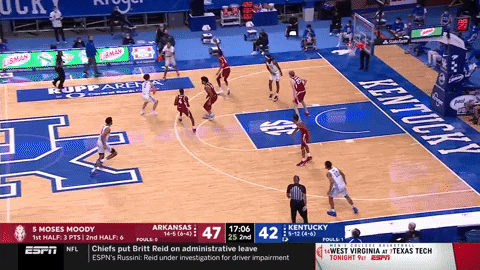 I mean, they still can't do that for the most part (32.7%, 226th-best nationally), but it's not the whole problem. Threes account for 31% of all Kentucky shots, anyway. The more annoying thing that Kentucky does, from a "I like good basketball" standpoint, is taking an absolutely absurd number of awful mid-range shots: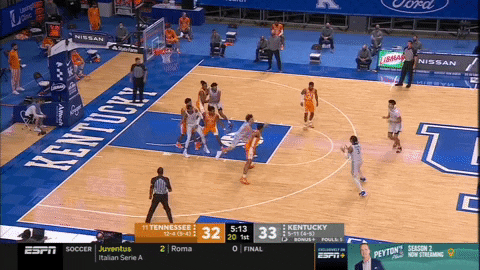 Per Hoop-Math, 37.9% of all Kentucky shots are non-rim two pointers, which ranks 10th-highest in the nation and second-highest (behind Mississippi State, who scored 53 points against Tennessee) among power-conference teams. If Kentucky was really good at hitting them, I guess you could rationalize this away. After all, the team that takes more non-rim twos than anyone in America, UC Irvine, hits 40.5% of those shots. Kentucky does not.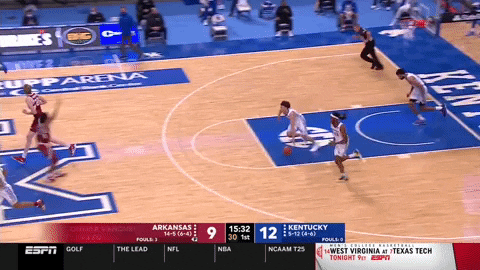 Kentucky has gotten marginally better at eschewing some of these uglier attempts for closer twos/longer threes, but it isn't enough to make a season-long difference. Tennessee forced Kentucky to take 30 of their 65 field goal attempts from non-rim two-pointer land, and it took a heroic effort at the line to get Kentucky to 71 points and overshadow a game where they shot 14-for-47 on everything that wasn't a layup or a dunk attempt. Down the stretch, Tennessee did a fabulous job in making Kentucky take lots of shots that coaches would cringe at: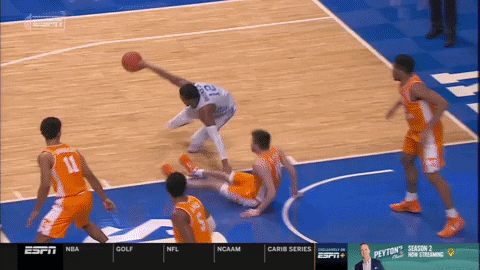 More of this on Saturday, more rim protection, less absurd first half fouls, and it should be business as usual (sort of) for Tennessee. This Kentucky offense has had three straight good games, but it's pretty hard to really believe that they've turned a corner after we all watched 17 straight games where they were mostly awful.
Here's a quick scout of Kentucky's rotation. Only players who receive at least 10 minutes per game in SEC play are considered. The first five players are projected starters. Positions in parentheses are from Bart Torvik's algorithm.
#2 Devin Askew (scoring PG).

Sorry, "scoring" "point guard." Askew is 14-49 on threes and 31-79 on twos. He possesses an absurdly bad 42.4% hit rate at the rim. He also isn't much better than an average passer and commits turnovers on 25.6% of possessions. But quite literally, he is

all Kentucky has

at point.

#10 Davion Mintz (combo G).

Creighton transfer, 36-105 on threes. He isn't really a great shooter with all things considered, but he's good enough to be the second-best one on this roster. Mintz can take it to the rim and is at least a fine defender, which is why he plays a lot more than the best shooter on the team, Dontaie Allen.

#3 Brandon Boston, Jr. (wing G).

Former projected top 7ish pick, now barely hanging on to the tail-end of the first round. Why? I don't know if you've noticed, but the NBA is kind of a shooter's league now, and guards who hit 29.3% of their threes and 28.7% of all shots away from the rim aren't very attractive. Takes a

ton

of awful mid-range twos.

#30 Olivier Sarr (PF/C).

Wake Forest transfer. Sarr was expected to be the Olivier Star of Kentucky heading into the season. That hasn't happened, but I don't know that it's all his fault. Sarr has been forced to share the court with a similar player in Jackson, which has led to a lot of double post-ups and poor attempts. Despite this, he still may be Kentucky's best offensive piece.

#23 Isaiah Jackson (center).

Jackson doesn't normally start because Kentucky's offense takes even

more

mid-range twos with him on the court, but he is an elite rebounder and the single best rim protector in the SEC. Has an NBA future of some sort because of those two things, though he doesn't do much on offense.

#11 Dontaie Allen (wing G).

Very much Just A Shooter, but a deadly one – 25-60 (41.7%) on threes, making him easily Kentucky's best deep threat. Why doesn't he play more? Two things: he provides almost no offensive value

other

than the threes and Kentucky's defense is nearly 5 points worse per 100 possessions with him on the court.

#12 Keion Brooks, Jr. (PF/C).

Disagree with the algorithm here; Brooks has played all his minutes at the 3 and 4. But he spends a lot of time in the paint and would generally prefer to drive to the rim instead of shooting it. 15-58 on everything that isn't a layup or dunk. For 28 minutes, he demolished Tennessee's defense until Josiah-Jordan James shut him down.

#0 Jacob Toppin (wing F).

Obi's brother. Toppin is a poor shooter (surprise!), but is pretty good at scoring at the rim. He's probably been Kentucky's third-best player over the last few weeks, which is kind of nuts.

#55 Lance Ware (center). Very weird to put a team together with one guard-ish player and no other guards off the bench, but whatever. Ware has committed a turnover on 33.9% of his offensive possessions, but is a good rebounder that gets fouled a lot.
NEXT PAGE: Will's top three podcasts of the first 50 days of 2021: 1. Reed's Ranch 2. Swindled 3. BirdNote