Kentucky's defense
Nothing meaningful has changed, though their rim protection is even more Isaiah Jackson-dependent
Again, not looking at a ton of changes here. Every player who played in the game two weeks ago is available to play this time out. If anything, the Kentucky defense has taken a small step backward since the last time most Tennessee fans saw them play. All five of the most recent Wildcat opponents have topped 1 PPP offensively after Kentucky allowed just four of their first 15 opponents to get there. Part of this is due to the last five Wildcat opponents converting 68 of their 109 shots at the rim, or 62.4%: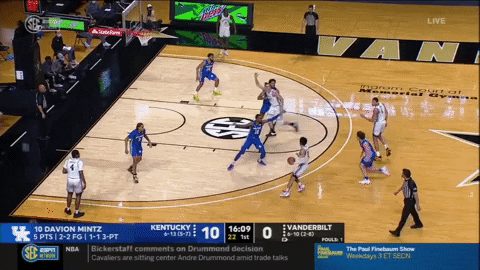 Kentucky has done a fantastic job of blocking shots this year, as they always do. However, the Wildcats don't feature the ball-stoppers they used to have on the perimeter, and instead of having multiple dominant rim protectors, it's really just Isaiah Jackson, who owns 51 of Kentucky's 122 blocks and 32 of their 67 at the rim.
When Jackson is on the floor, per hoop-explorer.com, the Wildcats (after adjusting for 3PT luck and their schedule) are nearly six points better per 100 possessions defensively. They're allowing roughly 92.2 points per 100, which would make them a low-end top 25 defense. Not bad! However, when Jackson is off, that number falls to 97.9, which would make them a low-end top 100 defense. That is…less good. The entirety of that decline comes from opponents shooting 5.4% better on two-point attempts, simply because Jackson isn't out there to block or deter their shots.
However, Kentucky barely had Jackson on the floor at all against Tennessee, because Tennessee figured out how to work around the roadblock of all roadblocks. In 24 possessions where Jackson played, Tennessee scored 38 points and got all sorts of easy points at the rim. Not all of this was due to Jackson, of course: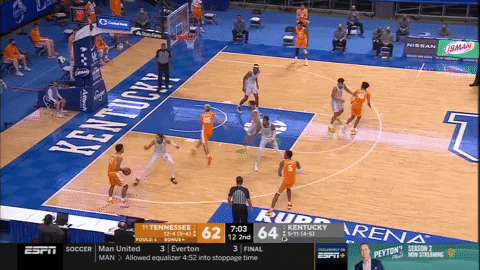 But it was notable that Tennessee got Jackson away from the rim pretty consistently and generally kept him from having any real impact on the game. The three teams Kentucky's drawn since Tennessee haven't had quite the same amount of luck, as Kentucky's defense is consistently about five points better with Jackson on the court. If Tennessee happens to have the offense that busts Kentucky's design, that's perfect. Let's see if they can continue to open up lanes for drives to the rim.
Still hard to make threes against, still hard to complete your runners
Otherwise, this is…the exact same defense. Kentucky is still doing an absurdly good job of forcing difficult non-rim twos, as opponents are converting just 27.5% of their non-rim two-point attempts. Kentucky may rank 236th in FG% allowed at the rim, but that non-rim figure of 27.5% is the second-best by any defense in America. When you see as much length as Kentucky offers on the court, it can be difficult to convince yourself to get all the way to the rim: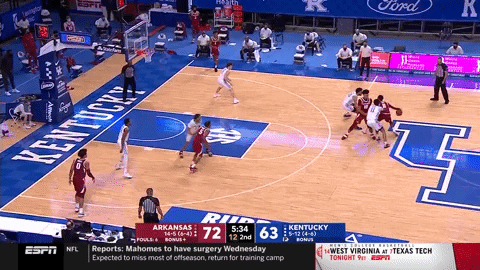 Beyond Jackson, one of the constants about Kentucky basketball under John Calipari has been to sustain the unsustainable: an every-year good-to-great three-point defense. While three-point defense is still heavily luck-based, Calipari gets around it by sheer height. If Kentucky can't have four or even three-shooter lineups, they're always going to have lineups where at least four players are 6'7" or taller and it's very hard to shoot over the top of them. This is true off-the-dribble, obviously: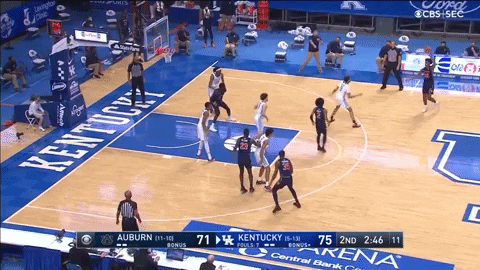 But it's equally true out of a spot-up situation. Kentucky is barely above the national average in Guarded/Unguarded shots (56/44) in half-court, per Synergy, but an unguarded Kentucky three is not the same as a lot of other unguarded threes. You still have to alter your shot, whether mentally or physically, and that alone lowers the chance of it going in: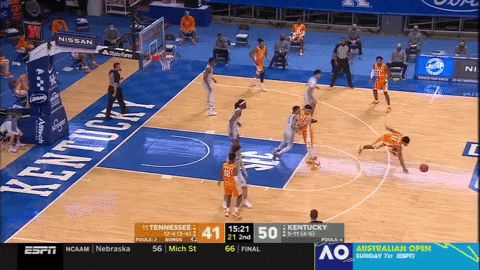 If today's numbers hold, Kentucky will finish its 11th season in 12 years under Calipari in the top 100 of 3PT% defense. That's pretty remarkable. And yet, as ever: six of the nine times Kentucky has allowed 1+ PPP have come in games where the opponent hit 37% or more of their threes.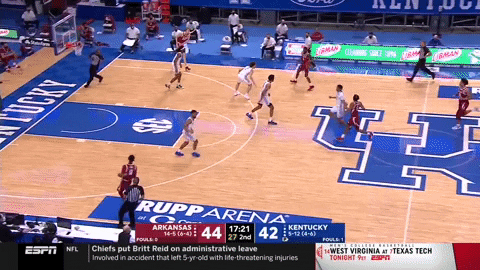 You still have to take these shots, and generally, the better an opponent is at constant inside-out movement, the less likely Kentucky (or anyone) will be to guard the shot properly. Tennessee has to keep the ball constantly moving in this game. In Rupp two weeks ago, a lack of proper ball-stoppers allowed Tennessee to greatly pick up the pace in the second half, take over the game, and reveal a new sort of offense to Tennessee fans that they figured probably didn't exist: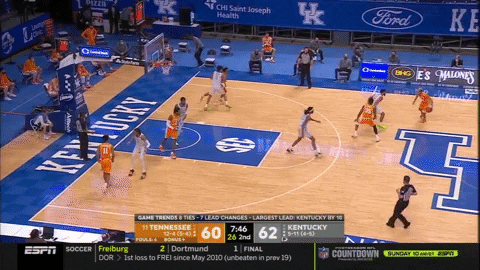 The path here remains similar. Kentucky's going to adjust by way of blocking off the rim and forcing Tennessee to shoot over the top of them. Tennessee will have to adjust with quick, crisp passes, fearless driving, and an insistence on getting to the rim even if it means some painful contact.
NEXT PAGE: Just make shots