How Tennessee matches up
Athletically, they match up very well, and Tennessee is leaning into it
Kind of like how I wanted to start last game's preview with a Tweet and run away, I would like to do the same, though I am shamefully pimping out one of my own.
First things first: I apologize for posting my own tweet AND for "Runnin' Vols." I know that they are not as fast as early-'90s UNLV. I just don't know what goes with Vols. Turbo Tennessee? I don't know. We'll work on it. Secondly, when most observers are asked about pace and efficiency, they'll typically respond with some sort of "there's a million different ways to win" take and it's accurate. You don't have to play fast to be efficient offensively. Great half-court offenses (examples: John Beilein, Bo Ryan, etc.) can play a slow pace, but because they're littered with shooters, they don't have to play fast. They can score however and whenever they want to score.
Tennessee hasn't had that same luxury for much of this season. There is no true point guard on the roster. The preseason favorite for the role was Santiago Vescovi, a player who rarely drives to the rim and is generally just a catch-and-shoot threes guy at this point. Victor Bailey, who had a fantastic game on Wednesday, had some time at point this year and was ineffective. So it's fallen to a combo of Jaden Springer and Keon Johnson, two lightning-fast freshmen who are smart and unafraid to drive the paint, whether it's for their own good: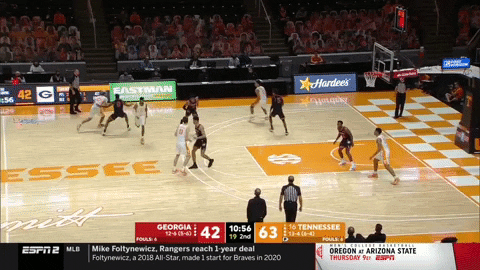 Or someone else's: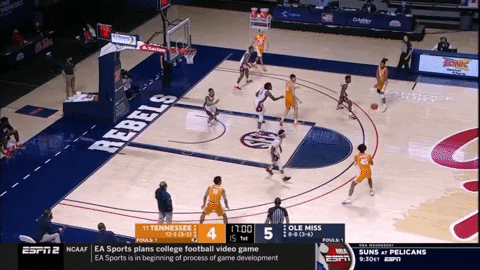 And that's simply what Tennessee needs. It's taken a while, and I'm not sure many of us saw it coming this year, but this really does seem to be Tennessee's final form offensively: a team that plays at the offensive pace of a Belmont (85th in percentage of shots within the first 10 seconds of the shot clock) rather than the Notre Dame (227th) pace they played at previously. Honestly, who can argue it isn't working?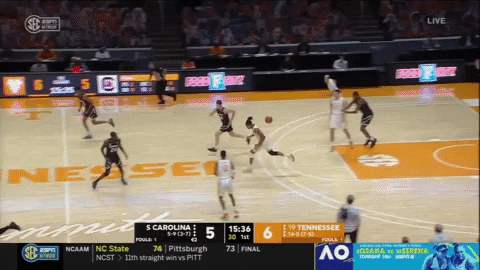 80% of Tennessee's shots in transition over the last four games have either come at the rim or from three, a figure that's up a full 7% from the first 16 games of the season. Not only is Tennessee playing faster, they're using this pace to actually take better shots. To which I say: FINALLY! Like I've said all year, if Tennessee was hitting their non-rim twos at 40% or better, it would be understandable as to why they take so many 5-10 footers. (As was noted in the last preview, and as was referenced by friend of the site Jimmy Dykes on SEC Network, Tennessee takes more 5-16 foot jumpers per-possession than any other team in America.) They don't do that, so to see them start to turn these shots down for better, easier shots at the rim is a fantastic sign.
The passing has been much better as of late, and perhaps in February, where everyone knows champions are made, Tennessee has found what might make them special in March.
Do the same things you did well two weeks ago on defense
Defensively…kind of the exact same thing as last time, isn't it? When the ball is actually settled in half-court, Kentucky's general offensive direction is to either work it into the post for a post-up/kickout opportunity or for Brandon Boston, Jr. to fart around for 20 seconds. Tennessee has been fantastic in post-up defense this year, whether it's just been a simple one-on-one opportunity for either Pons or Fulkerson to take care of or, less often, a chance for Tennessee to flash a double team. This is not a true double in the "two guys stay on one player" sense, but it's an opportunity for a quick steal if the post player isn't prepared for it. David McCormack survives Victor Bailey's rush here, but he misses a contested shot in the process:
Here is my suggestion for dealing with Brandon Boston, Jr.: block off the paint and force him to shoot over you. He is more than happy to do so, as we showcased in the Kentucky offense section. If Boston wants to take a wet fart of a 17-footer off the dribble, let him. Honestly, if his first one goes in, that might be the best case scenario; it will simply invite him to take six more of them and miss four.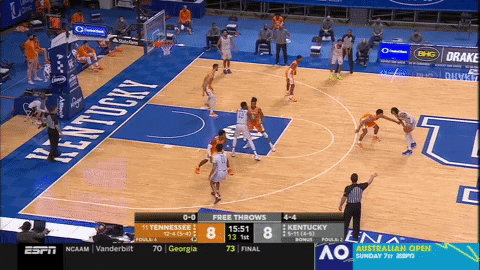 I would be utterly thrilled if Boston takes 10+ mid-range twos or threes in this game. (It actually might be even better to send him packing from three-point land.) The real goal is to keep Boston out of the paint. He's a good ball-handler and is an athletic finisher. Yves Pons can rectify some of this, but again, the real key is to force Boston to slam on the brakes and either attempt an off-balance 7-footer or pass out to, in all likelihood, a player that can't shoot. I know he's shot well lately but, well, it's lately. It's just two games in a 20-game season. Keep forcing him to take these nasty shots.
NEXT PAGE: Lineup notes, key matchups, three predictions