Vanderbilt offense
Surging, but not for the reason you'd expect
This has seen a surprising surge upwards, as much as a 6-12 basketball team can see a surprising surge. Over the last 10 games, the Vanderbilt offense, once adjusted for schedule, is ranked as the 37th-best in America per Bart Torvik. That may not sound like much, but over this specific 10-game sample, they've been better offensively than Alabama, North Carolina, Oklahoma, and Arkansas while being on the level of teams like USC and Purdue. Objectively, that's good.
The driver of Vanderbilt's surge, unlike most surges, is not that they've suddenly started shooting the lights out of the ball or anything. Vandy ranks 128th in eFG (51.4%) over this 10 game sample. They also have a negative turnover margin and barely rank above the national average in offensive rebounding. What gives? The free throw line, for starters, led by – who else? – Scotty Pippen, Jr.:
Only one player in the entire conference (Sharife Cooper of Auburn) is drawing a higher amount of fouls per 40 minutes than Pippen. Scottie's son is racking up 7.2 foul calls per 40 right now and has averaged 7.5 free throw attempts a game in conference play. This didn't feel super-apparent until last week, when Pippen took on Alabama and Kentucky and gathered a combined 25 free throw attempts between the two games.
To go along with this, Pippen is still doing his usual thing of sucking up more possessions than everyone but Sharife Cooper and forcing defenses to guard him out to 25 feet with a variety of packages. As we explored last time, Pippen's posting 19.1 points per game against SEC opponents on a wide and wonderful array of attempts, including threes (18-for-57):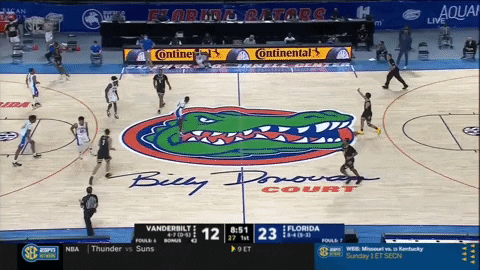 And some less-smart mid-range pull-ups (9-for-38 on jumpers, per Synergy):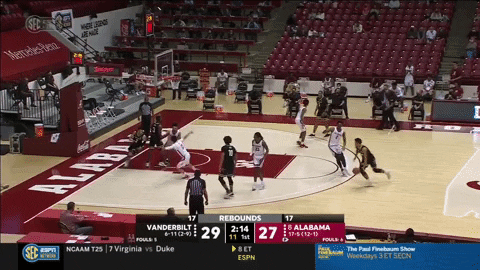 But, largely, a lot of successful drives to the rim are what makes Pippen so threatening. Again, he's just about the only guard in the SEC who can hang in the conversation with Cooper of "guards you really don't want to let in the paint." If Pippen was just a quality finisher, as shown above, it would be one thing. However, he's also proven himself as a really good passer this season and has created a lot of open looks on the perimeter for Vandy:
Dylan Disu has turned into a co-#1 scoring option
Pippen is the straw that stirs the drink for this offense, but Dylan Disu might be the team's best player and the critical piece in the offensive resurgence. Over the last ten games, Disu has averaged 17.4 PPG, with 29 against a Kentucky defense that could not stop him in the paint or from downtown. In a game with probably four potential NBA Draft picks in it, Disu was the star of the show: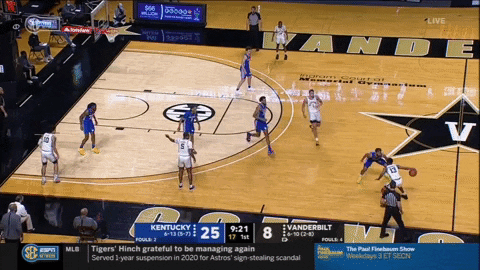 For a 6'9" big man, Disu is a fabulous shooter, hitting 24-for-65 (36.9%) from deep this year. That may not seem like much, but I did just spend almost 7,000 words yesterday partially talking about how nice it can be to have a big man that actually shoots out to 25 feet.
The rest of the Vanderbilt offense is sort of a scattershot list of role players and/or guys that don't really move the needle, but an important piece we need to discuss is one Maxwell Evans. The same player who barely broke 33% across his first three years of college basketball has turned into a knockdown shooter, hitting 23 of his 47 three-point attempts in conference play. Evans is on a hot streak, and Stackhouse has been more than happy to find different ways to get him the ball.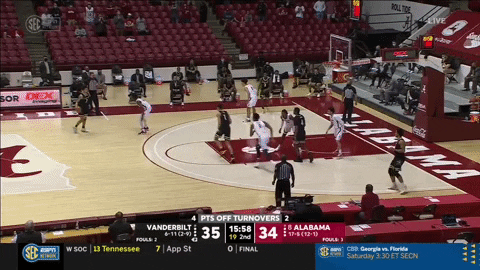 This section feels a little small, but to be honest, this is the exact same team that Tennessee beat by 20 a month ago. Vandy's gotten better at scoring at the rim and getting to the line, but the company line remains the same: if you can stop one of Pippen/Disu, it gets much, much easier to have a comfortable night at the office.
Here's a quick scout of the Vanderbilt rotation. Positions in parentheses are from Bart Torvik's algorithm. The top five players are the projected starting lineup.
#2 Scotty Pippen (pure PG).

The main driver, shot creator, scorer, and really, the only true exceptional player on this roster. Pippen will shoot it from anywhere and has shown some serious passing skills, along with an ability to draw lots of fouls. Struggling with fouls as of late…which could be a problem, as Stackhouse doesn't like playing guys until they pick up a third foul.

#3 Maxwell Evans (wing G).

Completely different value compared to a month ago. Prior to playing Tennessee, he was 4-for-21 from three. Since? 22-for-43. He's white hot, and Tennessee can't let him get open.

#11 Braelee Albert (combo G).

Out of nowhere, Albert got the start against Alabama and played 27 minutes. We'll see if this is a consistent thing, but he's 2-13 from the field on the season and has three times as many turnovers as assists.

#4 Jordan Wright (wing G).

I said that he should be starting prior to the first Tennessee/Vandy fixture, and lo and behold, here he is! Does most of his damage at the rim, very good rebounder for his size. Best defender on the team.

#1 Dylan Disu (PF/C).

Second-best player on the team. Disu is 24-65 from three and an exceptional 28-55 on non-rim twos. Posts up sometimes, but largely look for him to stay 15+ feet out.

#5 DJ Harvey (wing F).

Transferred from Notre Dame. 19-54 on threes. Gets a ton of off-ball screens run for him to shoot off of, so Tennessee has to fight through/around those.

#15 Clevon Brown (wing F).

Somehow still here. Brown is 14-for-18 at the rim and 3-for-17 everywhere else. Commits twice as many fouls as he draws.

#12 Trey Thomas (combo G).

22-for-64 on threes, 8-for-25 on twos. Just A Shooter and doesn't create his own shot.

#13 Issac McBride (combo G). Another Just a Shooter type, as 38 of his 46 field goal attempts are threes. Does have a very low turnover rate, at least.
NEXT PAGE: I mean, someone has to say it: Hattie B's is legitimately really good and is not a New Nashville thing that everyone should hate