How Tennessee matches up
#ReadThePiece
To be honest, I spent the vast majority of the stretch from Sunday morning to Monday night working on a near-7,000 word piece about Tennessee's affection for the mid-range jumper and why it's probably causing a good chunk of the offensive issues you see. Prior to 10:20 PM last night, I had nothing written for this section, so be warned: what you are about to see is likely pretty mediocre and you might need to read that article instead.
ANYWAY. The last time Tennessee faced Vanderbilt, they struggled for a while to get things going offensively before a well-timed surge of layups and threes helped them push the lead consistently to double-digits. Hey, you know what happened in this game that seems pretty well-timed for a mid-range debate? Tennessee only took seven mid-range jumpers against Vanderbilt, their second-lowest amount against any conference opponent this season. Just a wee coincidence that these games came back-to-back (Texas A&M the previous Saturday) and represent two of Tennessee's three most efficient outings in conference play this season!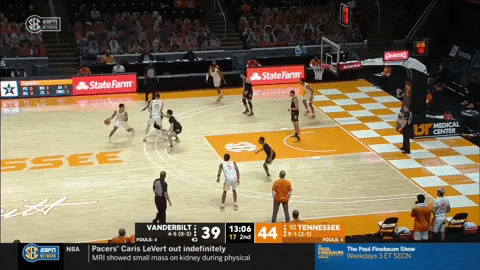 In all seriousness, Tennessee really shouldn't have to rely on any sort of mid-range game to break down Vandy's defense. The Commodores have only truly stopped one team in conference play (Mississippi State), and said team got locked into a constant state of taking mid-range jumper after mid-range jumper. Tennessee shouldn't fall for the same thing. Last time out, Tennessee had a ton of success making the extra pass down low for an easy basket cut bucket: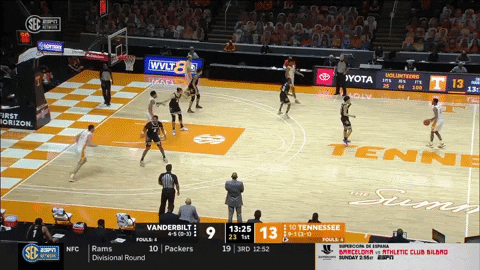 If Tennessee can commit to driving inside and making a play that gets them closer to the rim, I think we can all be happy. It's more about the process/attempt to get there rather than the result for me, and personally, there's stretches of these games where Tennessee doesn't seem terribly interested in completing the process of getting to the rim. I'd imagine we can all agree we'd like to see a change there.
Lastly, as discussed above, you're going to get a lot of open shots from deep against this defense. Tennessee was a perfect 4-for-4 in transition against the Commodores from deep, and while that's extremely hard to replicate, every single shot they took from downtown early in the clock was open. If they're able to, Tennessee should look to push the pace off of rebounds and, of course, off of steals. It'll lead to better, higher-quality shots from downtown that everyone can agree upon.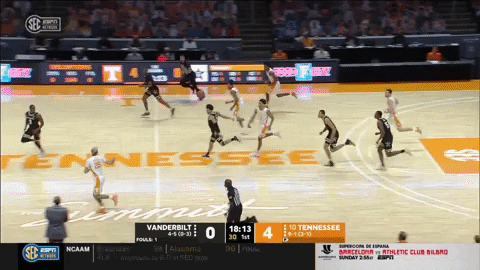 Make Pippen and Disu earn their points
Defensively, this does offer a chance for Tennessee to have a performance more appropriate with what fan expectations have been. The last couple of games have been skewed by unusually hot starts from deep for two teams that aren't loaded with great shooters in South Carolina and Kentucky. The odds of these teams starting 7-for-9 and 5-for-7 are obviously pretty low, and you can't go with the "every team shoots well against Tennessee" theory when this is a top-10 defense nationally that had held teams below 30% from deep on the season prior to South Carolina. Three-point defense is not that much of a thing.
So, in that spirit, I would obviously like Tennessee to force Scotty Pippen, Jr. and the rest of the 'Dores to take as many off-the-dribble threes as possible. I don't mean "pump-fake plus a step to the left" off-the-dribble threes; actual, late-clock, "I gotta get this thing up" threes are strongly preferred. They are by every staff, but entertain me here. Tennessee forced Vandy to take 12 off-the-dribble jumpers last time, which they got just 10 points from. In particular, Pippen had to take some brutal ones that just weren't at all what Stackhouse wanted: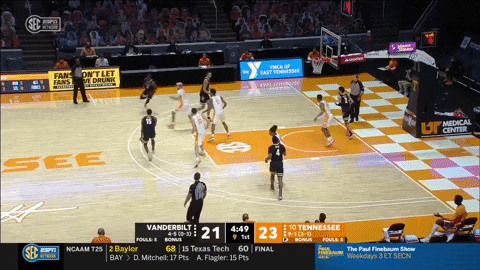 The more Tennessee locks off the rim and forces Pippen to take bad mid-range twos, the better everyone will feel tomorrow morning.
Also, there's the matter of Dylan Disu. This is going to be a tough matchup for John Fulkerson, who badly needs a win. Disu can shoot it well out to 25ish feet, but he's most damaging when he finds his way to the rim. Last time out, Tennessee actually forced Disu into some tough shots…and he hit them all. Literally! Disu went 6-for-6 on twos, including 4-for-4 on non-rim attempts. If you force this shot, you've gotta be happy with it; just hope he misses them this time out.
All you can do is laugh. If Tennessee can force Disu and/or Pippen into shots like that, you've got to like your odds of slowing down a relatively good Vandy offense. Tennessee's got to avoid foul trouble as well, which they generally have for the most part in conference play outside of the Kentucky game and perhaps the first Missouri game. No one is terribly jacked up for this game, but everyone wants a win. Make the right plays, focus on the details, stop playing Nkamhoua and Fulkerson together, and you might have some positive momentum rolling.
NEXT PAGE: Lineup notes, key matchups, three predictions