1. Why does Tennessee take so many mid-range shots?
I mean, it's been this way for a while now. Every Tennessee team under Rick Barnes has taken at least 32.7% of its overall field goal attempts from the "non-rim two-pointer" land, per hoop-math.com. What "non-rim two pointer" means to you may be different than what it means to another person, but we can essentially call it this: any two-pointer that isn't a layup, dunk, or putback attempt.
Throughout Barnes' tenure at Tennessee, he's focused on a motion offense that has attempted to score at all three levels. Pretty consistently, each Barnes team has gotten between 30-32% of its shots at the rim, 32-36% of its shots from three, and the rest (around 32-37%) from mid-range, which I'm giving a loose definition of "shots taken anywhere from 5-20 feet away from the rim." Again, it's not perfect, but it at least gives you an idea of what we're working with.
Most of what Barnes runs is modeled off of what Bob McKillop runs at Davidson. For at least two decades now, McKillop has run a 4-out (now 5-out) motion offense built around being able to score at what Barnes would call all three levels of the court. Up to the early 2010s, this held fairly true. In three of the first four seasons of the 2010s, Davidson got about 28-29% of its total shot attempts from mid-range, with a lot of them coming as catch-and-shoot attempts: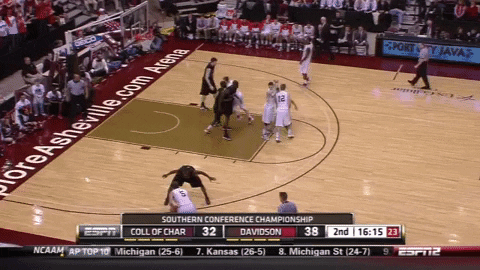 If you watch this play in full, it's hard to differentiate it from a lot of what you'd see on the average Tennessee half-court possession. Davidson runs a lot of off-ball screens, features their center flashing to the top of the key to help swing the ball from side to side, and results in shooting guard J.P. Kuhlman, whose Google Alert just went off for the first time in seven years, getting an open 17-footer. Ultimately, it is hard to argue with the result.
And yet: eight years later, Davidson has largely stopped taking mid-range jumpers. The 2012-13 NCAA Tournament squad took 210, per Synergy; this year's team is sitting at 81 and barely gets 20% of their shots from non-rim two-pointer land. (We'll do a greater exploration on them later.) Davidson always took significantly more threes than the average team – their 3PA/FGA ranked 14th in America in 2009-10 – but they've kept up with the pace. What got them ranked 49th in the stat in 2012-13 (38.5% of all shots from three) would only get them to 154th in 2020-21.
Largely, what Rick Barnes does still resembles a lot of what you see above. Whether that's a good thing or not is ultimately up to you.
2. Has Rick Barnes focused on three-level scoring for his full career? Has this worked for Tennessee (or Texas) before?
I decided to combine both of these questions into one because they end up having very similar answers. This is now Barnes' sixth season at Tennessee, which is as many as Bruce Pearl spent here. It makes him tied for the fourth-longest tenured coach at his current school in the SEC. (Eight of the SEC's 14 schools have seen a coaching change since Barnes took over the job in 2015.) Essentially, we have quite enough data to determine if this second act is different than his first at Texas, which we then can infer to see if it's worked at both schools.
What Barnes runs now is quite a bit different than what one would've seen in, say, the 2011 NCAA Tournament. At that time, Barnes had a team with a pair of long-term future pros on it (Tristan Thompson and Cory Joseph, both freshmen), but neither were the stars of the show. (Remember J'Covan Brown?) Anyway, Texas got an astounding 45.5% of their shots from non-rim two-pointer land on the season. Why? Because, somehow, a team that started three players that didn't shoot threes somehow got a 4 seed and made the Round of 32. Wild times!
Anyway, this was at a time in college basketball when such things could still work. (To Barnes' credit, J'Covan Brown was a great three-point shooter and became the third real shooter in crunch time.) The final top 30 Barnes offense at Texas got there by way of never turning it over, hammering the boards, and, yes, making solid enough use of their mid-range attempts by hitting 37% of them.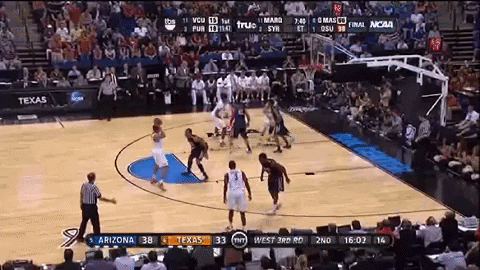 By the time 2014-15 rolled around, Barnes had at least moved to a 4-out, 1-in offense that saw his team take 34.1% of their shots from three – the highest amount they'd taken from deep in seven seasons. One problem: they didn't have guards good enough to hit these shots. However, Texas did have a relatively easy time scoring at the rim (62.6%, 68th-best) and you'd think they would've moved towards getting to the rim more frequently since they had only one truly excellent jump shooter in Javan Felix. (Google Alert!) Barnes began to move away from the catch-and-shoot mid-range jumpers that defined the early 2010s. Don't worry, they still took a lot of them off-the-dribble: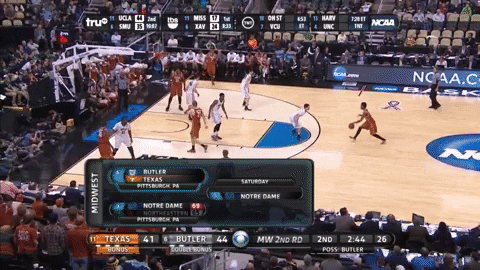 Even though these mid-range jumpers resulted in just a 35.6% hit rate (185th-best), they still managed to take more of them than shots actually at the rim. And so it's gone for pretty much the entire last decade: every Barnes offense I've watched really does try to score at all three levels of the court. It's a noble goal, of course, and it worked extremely well for him from about 2002 to 2011, when Texas had nine top 25 offenses in ten seasons and four in the top ten.
So far in his second act, Barnes has overseen just one top 25 offense at Tennessee: the 2018-19 machine that featured Grant Williams, Admiral Schofield, Jordan Bone, and a host of other players you all remember. In both 2017-18 and 2018-19, Tennessee posted their first 3PT% numbers of 36% or better since 2006-07, and it was clear that Tennessee had several talented jump shooters on both rosters. So, yes, they still took a lot of mid-range jumpers, both of the organized variety: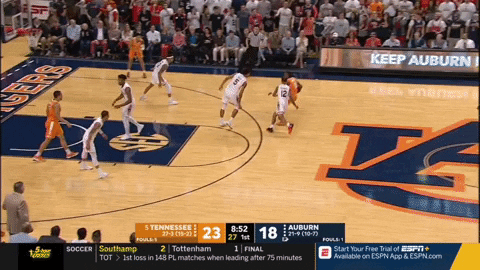 And of the "we have an extremely talented group of shooters that we trust off of the dribble" variety: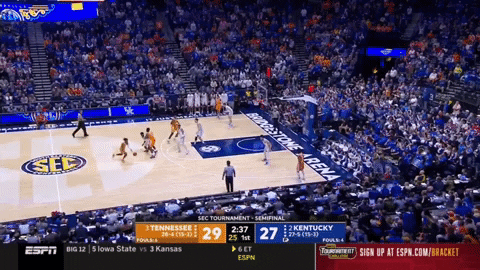 2018-19 Tennessee got 35.1% of its shot attempts from non-rim two-pointer land, the highest rate by a mile of any team with a top-25 eFG% that season. (Next highest: Hofstra at 28.1%.) It was clear that Tennessee's success was an anomaly compared to everyone else. Of the 17 teams ahead of Tennessee in eFG% that year, eight took less than 20% of their shots from non-rim two land, and only two of the 17 cracked 25%. No one else was doing what Tennessee did as well as they did it, which helped them crack zones wide open with ease.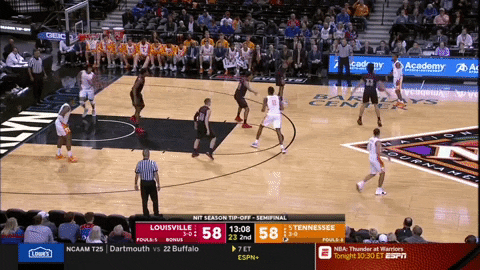 So I'll answer both, as promised: yes, Rick Barnes has done this for a very long time. Yes, Tennessee has done this very successfully before. However, something seems worth noting here: in that 2018-19 season, Tennessee made an amazing 46.2% of their non-rim two-pointers, the third-best rate in America and easily the highest percentage among any team getting 30% of more of their shot attempts from this range. On mid-range jumpers exclusively, Tennessee shot 45.7% on 420 attempts and 48.7% on 298 jumpers within 16 feet, per Synergy. To put that in perspective, among the 40 teams with at least 100 such attempts this season, none of them are making more than 47.1% of their attempts. Only 12 of the 40 have cracked 40%.
Tennessee's 2018-19 was historic in nearly every way imaginable. It was also an outlier, and one that seems to portend a troubling trend.
3. Has Tennessee's offense stopped working because of…
Jaden Springer and Keon Johnson, AKA the five-star freshmen?
This take is growing in popularity among a certain segment of Tennessee fans. Because Tennessee has essentially turned the offense over to these two, they've become the highest-profile players on the roster and the faces of the offense. (They're the only players in the rotation with Usage Rates above 21%. Victor Bailey is the #3 option.) Tennessee's returning pieces from 2019-20 didn't quite develop as planned, and now, two players who started the season on the bench are now the guys you're asking to drive the offense.
Here's my official answer to this: definitely not. With both Johnson and Springer on the floor, Tennessee's offense has an eFG% of 51.8%, which is 2.3% higher than when one or the other (or both) is off. Tennessee shoots better at all three levels of the court – 35.7% vs. 33.9% from three, 39.6% vs. 36.4% on mid-range, and 64.3% vs. 62% at the rim. The offense is both statistically better and eye-test better with both on the court, and the TO% is pretty much the exact same: 17.2% vs. 17.5%. Despite Tennessee accepting that two players who were in high school a year ago are running the show, turnovers aren't significantly higher with them out there together.
Still, there are some worrying signs, namely that Tennessee gets 38.2% of their attempts from non-rim two-pointer land when both Johnson and Springer are on the court. It certainly helps that they've hit 39.6% of these shots, but again, 39.6% would only rank 98th-highest. As I mentioned up top and as we'll get to later, I charted all 324 mid-range jumpers Tennessee has taken this season. Of those 324, 119 belong to Johnson and Springer alone, who have a combined hit rate of 44-for-119, or 37%. Johnson has been significantly better at hitting these than Springer, possibly because he's gotten a wider variety of looks. It certainly helps that Johnson has the ability to post up with relative ease:
Springer doesn't have that luxury, necessarily, but he also does it to himself. Johnson has gotten to the rim slightly more frequently, has drawn more fouls, and simply has better vertical ability at this time. Springer doesn't seem to believe he can get there quite as easily. It's led to a lot of 10-footers from the paint that aren't nearly as reliable as just getting to the rim: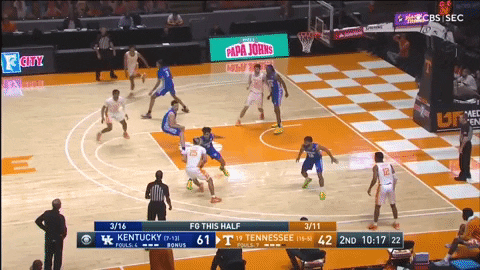 As a team, Tennessee has taken an astounding 180 mid-range jumpers from 8-14 feet. I watched about half of these to provide myself with a decent sample for this post. To be honest, almost none of these are "open" in the traditional stats.nba.com sense of not having a defender within four feet of the shooter. Tennessee's taken 128 of these jumpers in the paint and has hit just 39 of them for a 30.5% hit rate. Whether you like these jumpers or wish they never took them, pretty much everyone can agree that this is way too much time spent on these shots. In particular, Springer is a putrid 8-for-37 on these shots.
So I'll revise my answer: they aren't anywhere close to the problem, but they can be a little too reliant on non-analytically-friendly jumpers.
John Fulkerson's surprising regression?
Wes Rucker of GoVols247 said this weekend that he kind of hopes it comes out in April that John Fulkerson had some sort of mystery injury he battled from November to March. It's honestly hard to disagree, because otherwise, there isn't a rational explanation for why he's gone from All-SEC John Fulkerson to roughly Tennessee's fourth-best offensive player. Last year, John Fulkerson made 33 of his 64 two-point jump shots. His ability to hit these shots, particularly from about 7-11 feet, made him a real weapon and pushed him to become the player Rick Barnes imagined he could be: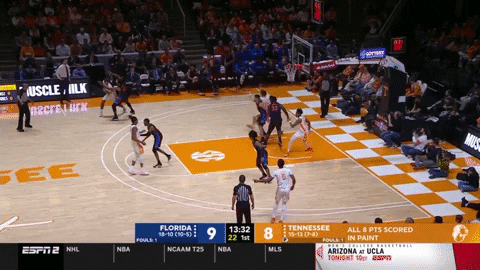 This year, it's as if that imagination was just that: a mirage we all made up. Fulkerson is just 13-for-39 on two-point jumpers, has barely taken any shots from beyond 11 feet, and simply looks a lot more hesitant than he used to: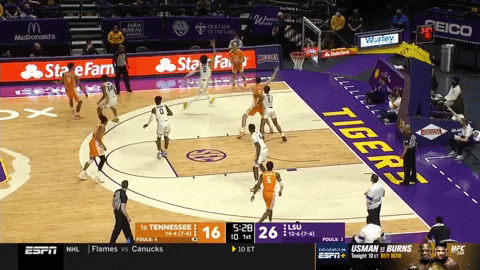 This obviously hasn't helped, but perhaps 2019-20 was always going to be the outlier. Over Fulkerson's first three seasons in a Tennessee uniform, he took just 12 jump shots of any kind and made three of them. For that same player to go from roughly four jumpers a season to 64 last year and make over half of them was pretty unlikely. Perhaps we're seeing a harsh, but somewhat logical regression to the mean.
Of course, it would be one thing if it was just the jumpers not falling for Fulkerson. We know from watching the games that Fulkerson hasn't quite looked the same in terms of rebounding, aggression in getting to the paint via his post-ups, and has looked a tad slower than I personally remembered on defense. I asked Jimmy Dykes, ESPN and SEC Network commentator, his thoughts on this particular issue: "[Tennessee's] post-up game seems to generate more of the 6-8 foot shots than shots at the rim." 
Fulkerson isn't the problem, but his regression is an unfortunate event that has limited Tennessee's production from its center spot.
A lack of personnel that fits the theoretical system?
If Tennessee had wanted to be as great of a jump shooting team as they were in 2018-19, perhaps they should've loaded the roster with great jump shooters. Easy enough! I could see both sides of this one. On one side, Tennessee actually did start this season with three career 36%-or-better 3PT shooters: Santiago Vescovi, Josiah-Jordan James, and Victor Bailey. They've gotten varying output from those three this year, but as of now, they're all above 34% on the season and Vescovi is hitting nearly 38% of his threes.
To add on to this, Tennessee added Jaden Springer. High school stats are very hard to come by for IMG Academy players, as the school locks down info very well. However, Max Preps states that Springer made 45 of his 101 three-point attempts in his first two years of high school. He's gone 15-for-32 this year, which is probably not sustainable but has made up for a lack of three-point improvement from Yves Pons.
Still, Tennessee probably could've used another 36%-or-better shooter this year. The fantastic Ross Homan sent over the following high school stats from one Keon Johnson. Against high school competition at his actual school, Johnson was a roughly 36% three-point shooter. That's not bad. However, Johnson did make just 65.6% of his free throws, which is right in line with his 70.7% hit rate this season. On the travel circuit with EAB Tennessee, Keon shot 25.8% from three on 97 attempts and was a particularly poor off-the-dribble shooter. That's not great for a system that encourages off-the-dribble two-point shooting.
And yet: Johnson has actually been much better in converting his mid-range attempts than Springer. You could argue that it's a problem Tennessee has barely gotten anything of note from the 4 or 5 spots in terms of jump-shooting, and Yves Pons certainly should be better than 27.9% from three this season. Still, Pons has been excellent on his two-point jumpers: 29-for-65 (44.6%), per Synergy.
The personnel isn't perfect, but it should be more than enough to be avoiding the current outcome: a team loaded with talent that ranks out as the 72nd-best offense in America, despite having several talented jump shooters and general competency across its main seven-man rotation. Something still isn't working. What is it?