7. Can you still score if you have a big man that can't shoot?
This is the easiest one to answer: yes. Teams that don't have at least some potential shooting option at the 5 are growing thinner and thinner, and in general, you want your center to be able to somewhat reliably hit a 10-foot jumper these days. Still, you don't need an E.J. Liddell or a Jordan Bruner to get a great offense. Ask Loyola Chicago and Cameron Krutwig, who is precisely as unathletic-looking as John Fulkerson yet three times as damaging.
Loyola's offense is heavily built around Krutwig, a senior center who began balding at age 12 (citation needed). He almost certainly doesn't have an NBA career ahead of him, and sometimes, it appears that he is moving at half-speed. I am describing one of the ten best players in college basketball, by the way. Krutwig's stuff works because he is patient in the post, doesn't back down from anyone, and prefers to bowl his way to the rim rather than away from it.
I'd like to reference the Jimmy Dykes quote from earlier about how Tennessee's post-ups more frequently result in shots from the 6-8 foot range than actual attempts at the rim. Unsurprisingly, this is backed up by data. Per Synergy, 75 of Tennessee's 121 shot attempts from post-ups this season are from 6 feet or deeper. In contrast, Loyola Chicago has taken 131 shot attempts on post-ups this season. (109 of these are Krutwig's; no one else has more than 8.) Just 28 of these shots have come from 6 feet or further out, a 21.4% rate compared to Tennessee's 62%.
If Fulkerson really were so thin he couldn't get to the rim, this would make sense. Yet last season, with even less spacing and offensive firepower, Fulkerson alone got 71 of his 110 post-up attempts within five feet of the rim. This year, it's just 26 of 48 – again, 54.2% compared to 64.5%. (Yves Pons skews the numbers both years, but Tennessee is up about 6-7% on post-ups away from the rim this season as a whole.) The blueprint exists, and it's from the same team that beat Tennessee three years ago.
If taking the Loyola path is too uncomfortable – they do only get 19.9% of their shots from the mid-range, after all – look to Winthrop for inspiration. Former Tennessee roster member D.J. Burns has helped Winthrop get to 20-1, and they aren't even a truly great shooting team – just 35.3% from three (102nd), 52.2% on twos (83rd). Winthrop still gets about 27% of their offense from non-rim two-pointers, so Barnes could be reasonably okay with that. (It is worth noting that Burns is 6'9" and 275 pounds. Fulkerson: 210.) 
While Burns has quite a few pounds on Fulkerson, the main message remains the same. Of 129 Winthrop post-up attempts, only 57 have come further than five feet from the rim, or 44.1%. Surprisingly, it's actually been Burns who has gotten 60.5% of his shots away from the rim…but he's hitting 23-for-49 on these, so he can get away with it. The main point: stop backing away from the rim and embrace the contact. If D.J. Burns can do it, so can Tennessee.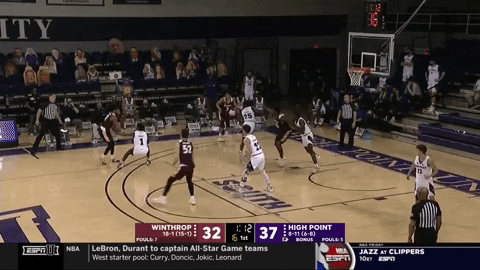 8. Is the mid-range jumper a thing of the past for great offenses?
Maybe. I think that, at minimum, you're seeing it being phased out of the top offenses in college basketball. In 2010-11, the average top 25 shooting offense got nearly 30% of their shot attempts from non-rim two-pointers. In 2020-21, this number has fallen all the way to 20.9%, and it hasn't cracked 25% since 2015-16. Yet Tennessee is still taking the same number of mid-range jumpers that they were taking in 2015-16. Why is this so?
We all know that Rick Barnes loves being able to score at all three levels of the court. That's an admirable mission, to be sure, and it's the same mission as pretty much every coach I can remember being successful in the 2000s. However, is this still actually the case for offenses with great success?
Statistically, the answer is no, as outlined above. No team in the current top 100 of eFG% in 2020-21 gets more than 33.7% of their shots from non-rim twos, which is a full 2.3% less than Tennessee. In fact, only six of the top 50 even crack 30%, which was the average just ten years ago. Among the current top 25 in eFG%, no team is anywhere near Tennessee's 324 mid-range jumpers on the season. Only one team (Campbell) even cracks 200 mid-range jump shot attempts on the season. Lastly, the expected Points Per Possession on a two-point jumper from 8-14 feet is roughly 0.732 (36.6% FG%) and 0.704 (35.2%) from 15-20 feet. An average team would have to shoot 24.4% or worse on threes for these shots to technically be advantageous. Tennessee makes 34.4% of theirs.
Does Tennessee have a better shooting percentage on mid-range jumpers than they do threes? Yes: 38% versus 34.4%. But think about the value of the shot. Shooting 38% on mid-range twos gives you a PPP of 0.76. 34.4% on threes, meanwhile, results in 1.032. That's a 27-point difference across 100 possessions.
So what's the deal? To figure this out, I need to stop typing and ask some actual basketball coaches. I polled a few that I know for their answers. Two key ones I got back were from my friend Nathan Diambra (assistant coach at Johnson University and a Tennessee fan), St. John's (MN) head coach Pat McKenzie (73-11 the last three seasons, ranked in the top 25 of Synergy's nationwide offensive efficiency rankings for five straight seasons), and Lincoln Memorial head coach Josh Schertz (30+ wins in five of the last six seasons, third-most efficient offense in 2019-20). Their responses are below:
Diambra: "It definitely feels like [Tennessee] takes more than most teams when you're watching the game. I think that the offense doesn't always lend itself to drives all the way to the rim because there's usually one or two offensive players already within 15 feet. . . . I'm fine with pull-up jumpers that are in the paint. I can't stand when [players] take the one dribble pull-ups at like 17 feet. I'm not sure why they can't take one or two more dribbles to get inside 10 feet."
McKenzie: "I think the decline in midrange attempts is driven by analytics. The data seems to be overwhelming that there are more efficient ways to score. . . . I think a great offense does need the ability to score in the midrange. I also think a great offense can focus on threes and layups. While the focus can be on the "analytically sound" shots, the reality is that with a shot clock and against good defenses, sometimes the ability to score in the midrange (particularly at the end of the shot clock) can be an X-factor."
Schertz: "I think the decline is due to analytics and a better understanding of what leads to maximum offensive efficiency. If you look at points per shot, the mid-range jumper is generally the lowest value shot in the game . . . I think there is a difference between shooting a shot if you're open and shooting one because it's a great shot. If you have an individual or individuals who are efficient and effective from the mid-range, then it makes sense to let them shoot those shots. However, I do think that the foundation of any elite offense centers around layups, spot-up threes, and free throws."
Essentially, there can be a role for the midrange jumper in today's offense. It's more about if you can hit those shots, if you should be taking them in the first place, and if there are better shots to be had. Tennessee hasn't answered any of these three questions in a reassuring manner to date.
9. Can you fix this with a lineup change, simply because it's a bit late in the year to overhaul a system's philosophy?
This is one of those that's hard to tell, I guess. Tennessee only has 113 possessions of SmallVols data to work with, but the data is quite promising. When five of Santiago Vescovi, Victor Bailey, Keon Johnson, Jaden Springer, Josiah-Jordan James, and Yves Pons are on the court, Tennessee…
Turns the ball over nearly half as often: 9.7%

with

the SmallVols, 18.1% without.

Takes just 27.8% of their shots from mid-range, as opposed to 35.6% in all other lineups.

Gets outrebounded – surprise – but

also

has a better defensive rebounding percentage, at 25.9% vs. 27%.

Forces the defense into tougher shots: 30.3% mid-range attempts forced with the SmallVols, 24.8% forced without.

Most importantly: offers a luck-and-schedule-adjusted Offensive Rating of 126.4, which would be third-highest nationally over a full season.
Would all of those numbers hold the rest of the way? Almost certainly not; college basketball is too high-variance for anything to be truly predictable. But when you look at that data, something seems pretty obvious: Tennessee's crunch-time, starting, and closing lineups need to go small. Things have simply been significantly better when they do versus when they don't.
So, after all these words, I'd like to offer a temporary fix in lieu of the larger, more systematic fix I would implement in the offseason. Rick Barnes, if you'd like to see this team accomplish everything it can, the following lineup needs as many minutes as possible: three of Santiago Vescovi, Victor Bailey, Keon Johnson, and Jaden Springer to go with Josiah-Jordan James at power forward and Yves Pons at center. The SmallVols represent Tennessee's best chance at Tennessee achieving what they set out to achieve, both statistically and aesthetically. Let's see it happen.
If you're still here, thanks for reading. Do you feel a certain way about this article? You can let me know on Twitter @statsbywill or at statsbywill@gmail.com.