4. Does Tennessee need more ball screens or modern sets?
Among the 347 teams playing Division I basketball this winter, only ten teams have fewer overall possessions developing from a ball screen, per Synergy. In fact, Tennessee has the second-lowest usage of ball screens among all power conference teams, with only Purdue being lower. Could it do Tennessee good to have more mobile big men who can come up top, set screens, and be a threat to either roll to the rim or pop for an open shot?
While there's a million different ways to win a basketball game, the trend for a decade-plus has been towards offenses having more ball screens. The usage of the ball screen has nearly doubled since 2006, with the continuity ball screen being the craze that's swept the college basketball nation. If you'd like to see how this works for a team that does get a lot of non-rim two-pointers, South Dakota is your team. Per CBB Analytics, they're one of only seven teams in America that ranks in the 90th-percentile or higher in percentage of shots taken from both the 4-10 foot range and from 11-15 feet. (Tennessee is also in this group.)
South Dakota has what I'd call a 5-out-ish system, in which all five members of the starting lineup can shoot threes but their center averages about 1.5 three-point attempts per game and largely stays inside the perimeter. Still, their center, Tasos Kamateros, is 6'8". It's not as if he's a giant; you don't necessarily need giants to make it work in college basketball anymore. Almost a third of South Dakota's possessions develop from some sort of ball screen, per Synergy. What's unique about the Coyotes' ball screens, at least in this comparison, is that both the 4 and the 5 man are encouraged to come and set screens. Look at how Stanley Umude (the same height as Yves Pons and Josiah-Jordan James) slips the pick here and moves quickly to an open 8-footer: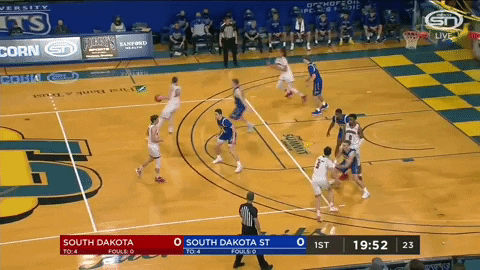 Here's one where Kamateros actually sets a screen, but sees an opening and sprints straight to the paint for an easy two: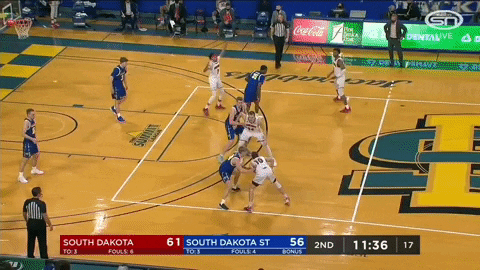 It simply doesn't feel like Tennessee has anything available that's like this. It's long been confusing to me that Tennessee doesn't run more ball-screens where Yves Pons is the screener. Pons has the ability to roll, slip, or even pop for a wide-open three just like Umude does in this example. Someone with his athletic ability should have more than 12 P&R Roll Man possessions this season, especially with how efficient he's been when using them: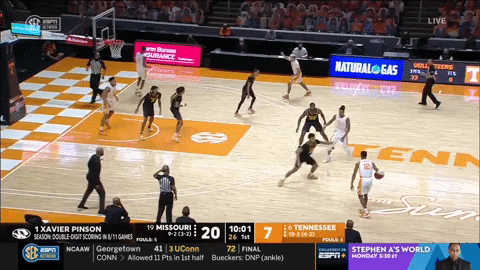 And yet, maybe Tennessee doesn't need all these ball screens. Purdue certainly doesn't. The Boilermakers are the one power conference team in America that gets fewer possessions from ball screens than Tennessee does. Instead, the Boilermakers primarily rely on a 4-out, 1-in motion that keeps Trevion Williams inside the perimeter and allows for lots of post play. It's similar to what Belmont has run for 25 years, but Purdue is even more post-focused than Belmont ever was. 23.8% of Purdue's possessions develop from a post-up, which is the highest rate in America, per Synergy.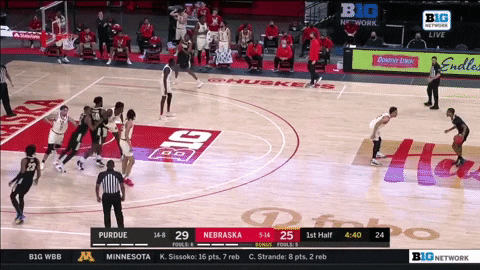 Obviously, it helps that Williams is a large slab of beef masquerading as a basketball player, coming in at 6'10", 265. Tennessee has nothing like that. But what about all those off-ball screens that result in open twos that Davidson used to run? Purdue's got those: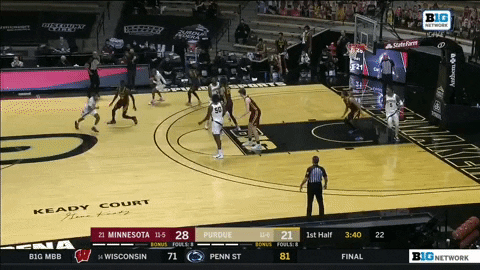 Purdue doesn't take nearly as many true two-point jumpers as Tennessee, but they get about 29.9% of their shots from non-rim two-pointer land. South Dakota is even more extreme, sitting at 34.6%. I'd personally prefer fewer, but Purdue is the 27th-ranked offense on KenPom and South Dakota ranks 80th in eFG%, 81 spots above Tennessee. It's at least worth trying some more off- and on-ball screens for variety's sake, no?
5. Should John Fulkerson (or Olivier Nkamhoua, or E.J. Anosike) have worked on becoming at least an okay three-point shooter?
This is the big one, so I've set it down in the middle. I've wanted Tennessee's centers to develop a three-point shot for a long time now. I can see both sides of the argument. I'm going to provide a case both for and against this, with the against side coming up first. Essentially, you can be the judge based on your own personal view of what's best for the team you root for.
AGAINST. Perhaps this is overly simple, but there's a litany of reasons you wouldn't want any of these three to take jump shots. One is that it is (or was) John Fulkerson you're primarily talking about, a player who was most effective when drawing fouls in the paint and forcing his way to the rim through post-ups and hilarious-looking spins. Nkamhoua and Anosike were always going to be backups, so perhaps you didn't need as much from them anyway.
If you're against this, your primary example (as it could be every year) is Belmont. The Bruins have run a 4-out, 1-in system for as long as I've been alive. It started with Rick Byrd and has happily continued through Casey Alexander's two-season tenure. The 4-out are typically guard/wing types with the 1-in being a true post-up, back-to-the-basket center. This year is no different. 
Nick Muszynski is Belmont's current featured center, and he's a legitimate non-factor with his jumper. Muszynski is 4-for-19 on jumpers this year after he made a break towards taking more threes last season (16-for-49 from deep, 19-for-58 on the whole). A jumper isn't really something that works for him at this point. How does Muszynski compensate? By posting up all the time, drawing all sorts of gravity in the paint, and either hitting his opponent with a devastating hook shot similar to Fulkerson's high release:
Or, as has been a little less frequent this year, passing out to an open shooter for one of Belmont's many threes.
The key difference between Belmont and Tennessee, of course, is that Belmont is not a two-point jumper team. The Bruins have taken all of 64 two-point jump shots this season across 25 games, or barely more than 2.5 a night. Tennessee's taken 67 two-point jumpers in the last four games alone. Only 16.5% of Belmont's shots this season have come from non-rim two-point land, one of the lowest rates in America. 
Despite having essentially the same basic lineup as Tennessee – three jump shooters, a wing-ish forward, and a true center – they don't take nearly the same amount of analytically poor shots. Perhaps Tennessee's centers never needed to develop three-point shots in the first place. They just needed to take better ones, though that can't be entirely pinned on the frontcourt.
FOR. Which brings me to the Ohio State Buckeyes. As dril once said, you don't have to hand it to ISIS. However, I do have to give credit where credit's due. Chris Holtmann has overhauled the Ohio State from a plodding, poor-shooting squad in Thad Matta's final two seasons to the current third-best offense in the nation. (Behind Iowa and Gonzaga, obviously.) Ohio State does take about 40% of their shots from downtown, which is above the national average, but there's a couple of important distinctions I would make: only two players have more than 49 three-point attempts on the season, and only two players have more than 18 three-point makes. It's not a Belmont deal where everyone can shoot.
Along with that, Ohio State is not completely opposed to non-rim two-pointers in the way Belmont is above. The Buckeyes get 31.2% of their shots from something other than a layup, dunk, putback, or a three. They've taken 233 two-point jumpers this year and are hitting 41.2% of them. That's better than Tennessee's hit rate of 38%, obviously, but a 3.2% difference that roughly adds up to one extra point per game wouldn't flip any of Tennessee's wins or losses this year. The difference, surprisingly, is that Ohio State actually tends to opt for longer mid-range twos. This is because their center, E.J. Liddell, is a legitimate shooting threat from everywhere on the court.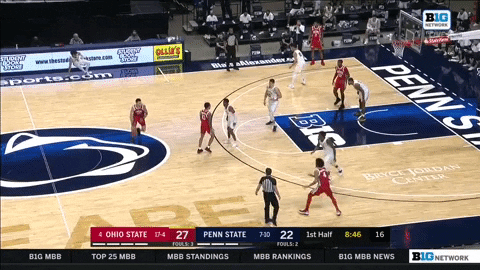 Liddell, a sophomore, is 18-for-49 from three this year and a particularly spicy 37-for-85 (43.5%) on two-point jumpers, per Synergy. Like Fulkerson, Liddell offers the ability to score in the post despite being just 6'7". Also like Fulkerson, he's an elite foul drawer. Liddell's shooting numbers on post-ups that become jump shots is a nice 14-for-30, which is right in line with 2019-20 Fulkerson: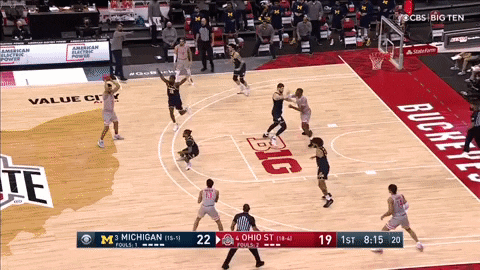 This is worth noting, because Liddell didn't display a consistent range beyond 14 feet in 2019-20, similar to Fulkerson and most of the Tennessee roster. Liddell did take 27 three-pointers in 2019-20, but he hit only five of them. On all shots beyond 15 feet, he was 6-for-30 on the season. What could've been a limiting factor has instead turned into a strength this season. Liddell has range out to 25 feet and is at least somewhat consistent in knocking them down from deep. Could you imagine how much additional space would be added to Tennessee's offense if Fulkerson (or Nkamhoua, or Anosike) had a jumper like this?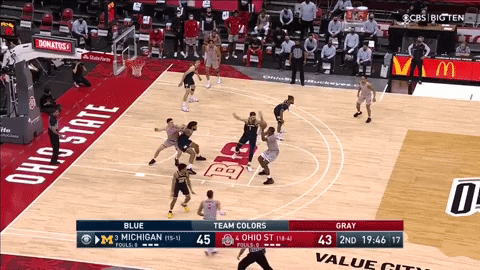 The weird thing about all of this is that, actually, Tennessee does have a center that can hit jump shots out to 25 feet on their roster. Over the last two seasons at Sacred Heart, E.J. Anosike attempted 201 jump shots. That's a lot for any frontcourt player, and I don't know that Tennessee needed him to take even a quarter that many this year. Anosike made 39 of his 131 three-point attempts over the last two years for a 29.8% hit rate. That's not fabulous, obviously, but he's a center, so I'm willing to afford some slack. He also had a 36-for-90 (40%) conversation rate on two-point jumpers. Grade that on a curve for a frontcourt, board-crashing forward and it looks good.
For reasons that no one has really explained, Anosike has been asked to not take jump shots this season. Either that or he's completely forgotten that he does, in fact, have a history of taking and making them. Across his first 21 games at Tennessee, Anosike has attempted seven jump shots. You can view the ones he's made below:
(void)
Yes, he's 0-for-7. Obviously not good! Anosike's had a brutal season thus far and has played his way out of the rotation mostly due to poor defense, but part of me wonders if he's being asked to play a role he's not totally comfortable in. At Sacred Heart, Anosike was given the ball on the perimeter, encouraged to shoot, and encouraged to drive to the rim from 20+ feet out. He did so regularly and succeeded at it! Obviously, the competition is higher at Tennessee, but do you not feel some curiosity as to why Tennessee appears to have completely ruled this out for him?
It's not as if E.J. Anosike or John Fulkerson (or, yes, Olivier Nkamhoua) have to be E.J. Liddell. It's more about the fact that no Tennessee center option appears to have developed any sort of somewhat reliable 15+ foot jump shot is quite troubling for modern college basketball. Of the current Top 25 offenses on KenPom, 15 have a center with at least 5 three-point attempts. Having your center be a non-shooter was more normal ten years ago. It's not quite the case anymore, and Tennessee doesn't seem to have adapted well to it.
6. Does Tennessee hurt itself by putting bad combinations (double-big lineups, two or more non-shooters) on the floor?
If you've followed me on Twitter, you know I've criticized the number of double-big lineups (or, alternately, double non-shooter lineups) that Tennessee runs out. For our classification here, I'm collecting the following players as non-shooters, as none of them have made a three this season and only one regularly takes two-point jump shots: John Fulkerson, Olivier Nkamhoua, E.J. Anosike, Drew Pember, Davonte Gaines, and Uros Plavsic. 
Only the first three players see serious time, but together, lineups with at least 2 of these players on the floor together make up 28.7% of all of Tennessee's on-court time. As you can imagine, Tennessee's odds of taking a three drop dramatically when any two are on the court together. Just 29.3% of all Tennessee shots are threes with these lineups; perhaps more importantly, Tennessee is nearly nine points worse per 100 possessions as a team when adjusted for luck and schedule. They're hitting just 31.8% of the non-rim twos they dearly love with these lineups.
I'm bringing this up again because it's relatively unusual at this phase of college basketball for a great offense to still be playing multiple players that aren't shooters at once. Of the current top 25 offenses on KenPom, only five devote more than 10% of their on-court time to lineups with multiple non-shooters in them. Only three – Arizona, Baylor, and Drake – go for more than 20%.
Of these, the best-case scenario you could hope for with Tennessee's roster is Drake. The Bulldogs have emerged as a top-two Missouri Valley team this year on the strength of turnover prevention, tight rebounding on both ends of the court, and, prior to Tank Hemphill's injury, a starting lineup with two players who haven't made a three this season. As far as I can tell, they're the only team in Ken's top 25 offensively that does this, so it seems apt that they indeed slide right in at #25.
Drake has overcome this in a few key ways: by avoiding possession-killing post-ups, allowing both frontcourt players to leave the paint, and, critically, restricting the amount of mid-range twos they take. The Bulldogs do take 30.4% of their shots from the mid-range, but when both Hemphill and center Darnell Brodie were on the court together, Drake actually got more attempts at the rim and used their combination of speed and strength to convert over 69% of rim attempts.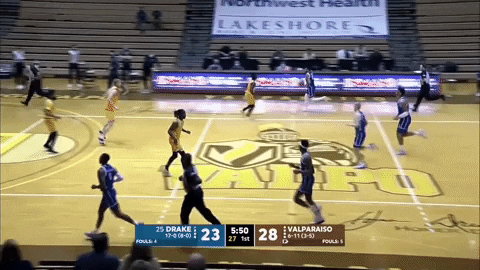 It's kind of hard to imagine Tennessee having a play like this, but we have actually seen it before. And it was with one of these double non-shooter lineups, to boot!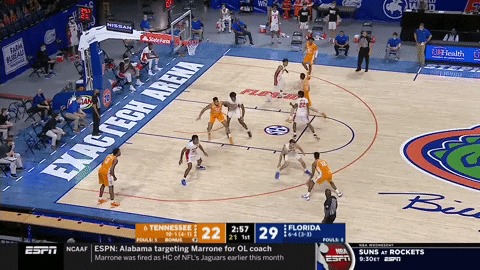 So: yes, Tennessee has a lot of bad combinations on the floor that don't make much sense in 2020-21. They should stop playing these lineups 28% of the time. And yet: a team with less talent than them has made it work pretty well, just with more ball screens and off-ball movement.